The Edgar Allan Poe Double Header at the Hanover Theatre Resurrects the Theatre Arts Just In Time for the Halloween Season (5 Stars)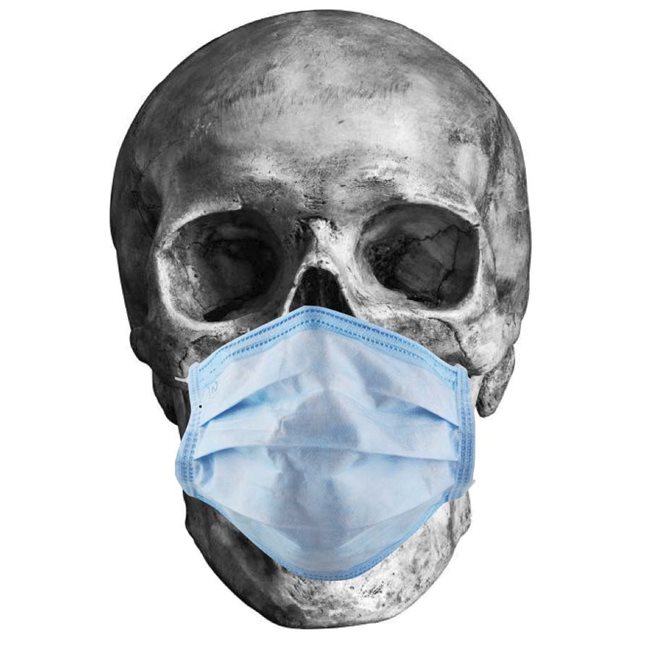 The name Edgar Allan Poe evokes a macabre, spooky and scary response in those that have spent many nights pondering over his quaint and curious volumes of forgotten lore. He may be the first American master of horror as well as the father of the short story. He towers as a literary giant while casting a sinister shadow with his reputation for terror and psychological torture.
The Hanover Theatre bring the works of Edgar Poe to life with a Double Header that is perfectly timed to begin in the month of October to celebrate the Halloween season. Nights grow longer as the sun sets earlier. The leaves change and pumpkins appear on doorsteps carved and grinning in the night. What better time is there to hear the words of a scary storyteller?
We are welcomed into the newly opened BrickBox Theatre, which is aptly named. It is a true black box theatre. It is a large square theatre space that can be configured to a different set up for every production. Many brick walls line the theatre giving the feel that space has history and character. A distinct steam punk theme can be seen in the metal rails on stairs and risers (currently unused). This is the maiden performance of this new space and with it being a flexible and unique one I hope many more are to come.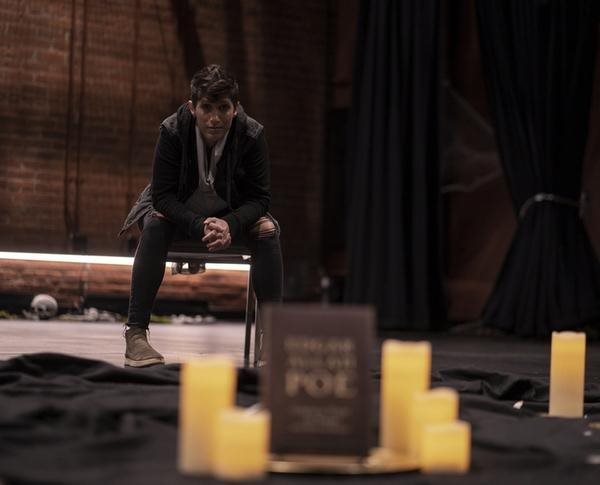 One of Poe's most well-known stories – The Masque of the Red Death – takes place during a plague. I can assure you this story was one not told here since it might be a bit of touchy subject. However that does not mean that the proper precautions were not addressed. When you enter you will have your temperature taken by a touch less thermometer to insure no one with a fever enters. You fill out a quick questionnaire about your current health and then you are ushered by your group into the theatre to prevent crowding. Safety is well taken care of.
When you leave, you must remain seated until you are told to go by an usher again to prevent crowds bunching up. Hand sanitizer is also available. Only 20 people are allowed in the theatre as audience and tables are spaced out so that you are far from one another. The seating is cabaret style, so you and your guest will have your own table. Upon it is a bottle of prosecco courtesy of a local sponsor as well as some chocolates. A perfect way for you to settle in and enjoy an evening of theatre is presented.
So what of the performance? Which of Poe's many stories do we hear? You will have to come and see for yourself, but the two tales we hear are both among Poe's most well known and most popular. If you are a fan of Poe you will not be disappointed in the choices nor the presentation.
For the most part, this is a one woman show. Livy Scanlon takes center stage literally as the sole actress in the performance. Before the performance begins she mentions her numerous roles including being the managing director of the BrickBox Theatre. Her performance has been approved by Actors Equity – the union that many stage performers belong to – as one of the very first theatre productions allowed in the country since March. We can hope many more are to follow.
Livy has tremendous energy as she recites the stories of Poe. Though only aided sparsely by additional hands, she manages to pull off the performance quite well all by herself. At times we see hidden madness at other times cold and calculating callousness. The horror is drawn out, anticipated and ultimately climaxes within the short breaths of the two stories. Livy does well to create the perfect pace of making us want to know more while also being a little fearful if we do.
The setting is at first thought to be bare. There is only some cloth, candles and a book of Poe's work. Add a chair and that is your set. However, this production is cleverer and an added dimension of using multiple layers, hidden spaces and even a few surprises that envelope our audience and bring them into the story in very ingenious ways. The audience must attend to find these out since further description will surely ruin the surprise.
From the Steampunk setting, the Victorian era costuming and the dark and ambient lighting, The Edgar Allen Poe Double Header is sure to please audiences looking for a fearful fix for the Halloween season. Get your tickets soon because audiences are very limited so you can expect them to be scarce.
The Edgar Allan Poe Double Header opens October 1st and runs until the 25th.
For more, see The BrickBox Theatre online, and see our video review below!