The Asian Lantern Spectacular at the Roger Williams Park Zoo is a Beautiful Night Out (5 stars)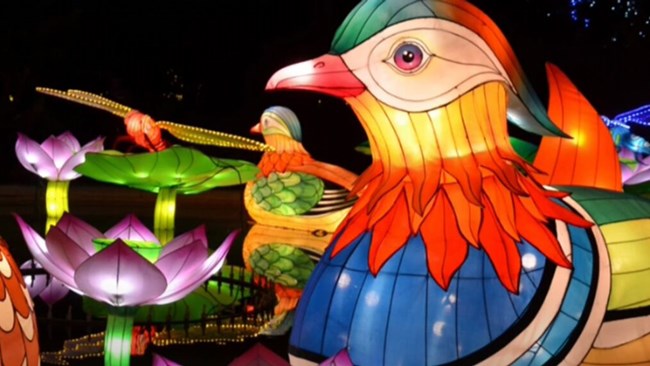 Another creative nighttime event has come to the Roger Williams Park Zoo in Providence, Rhode Island! Running now through July 4, the Asian Lantern Spectacular is an excuse to walk through the entire zoo at night, seeing "lantern" themed lit artwork, animals, and more.
The lanterns event is similar to a previous event we've reviewed there, their October Jack-O-Lantern Spectacular (4.5 stars), but you'll see more animals because the weather is warmer, and the entire zoo is open, so there's more to see. Zoo animals, which are displayed during the daytime, are chosen to be diurnal, and they mostly don't like the cold. But at the Asian Lantern Spectacular, now in May or especially in June, you'll see plenty. Something like 10% of the animals were on display.
Everyone's favorites are the African elephants, on display in a large enclosure with water and a waterfall. You'll also see Watusi cattle, a sea lion, alpaca, flamingos, red crowned cranes, bald eagles, and more.
I even heard a peacock cawing, looked up, and found that it was high up in a pine tree! I did spend some time searching visually for animals that weren't there — perhaps the zoo could hang up signs on the enclosures where the animals would definitely be absent, asleep for the night.
The zoo is 40 acres, and although the indoor attractions are closed because of the virus, the rest of the campus is available for strolling. It's a natural environment, not a cement one, so you'll see plenty of trees, there's a lovely pond to stroll past, and a food plaza.
Of course it's delightful to go on a clear night when there are a ton of stars. On a night that threatens rain but doesn't rain there won't be any crowding — the event is rain or shine — and if it's windy, that's even more virus safe. Pro tip: the event runs Wednesday to Sunday, so go on an off day.
The light displays are beautiful, and extensive! You'll see perhaps 300 large lighted objects, the "lanterns", mostly animals, but also some floral or abstract displays. Each is a metal frame, covered with a weatherproof cloth and lit from within. Some were simply animals and others had a multicolored, floral, Asian art appearance.
There are so many of them! You'll see oversized lighted peacocks, zebras, cheetahs, elephants, monkeys, hippos, parrots, lizards including Komodo dragons, kangaroos, frogs, giant dragonflies, camels, moose, bison, deer, alligators, seals, giraffes, and more. And each type of animal is shown a dozen times in lights. It's wonderful to commune with nature: the animals, the trees and pond, and the lighted displays.
Many of the animals are set into dioramas. For example the lighted penguins came in a display with lighted ice around them. There's a "garden" of lighted oversized flowers with oversized insects: grasshoppers, beetles, butterflies, and wasps, and a chameleon shooting out its tongue to catch a fly.
A few have sound effects, such as the whale with fish in an ocean setting, with sound effects of waves and the whale clearing its blowhole. And there were a very few — perhaps a dozen — with a basic animatronic motion, such as an elephant whose trunk lifted up and down.
There were also more abstract displays, such as a giant snake archway, elephants made of white ceramic plates and cups (which I'm guessing can squirt water, but were turned off), and rows of lighted flowers on their own. My favorite of these was a giant diorama of huge, towering Asian fungi and mushrooms. There were no special effects where the lights blinked, except for one peacock display where the lights flickered in a set pattern.
Magically, you'll also find lighted dinosaurs, lighted birds floating on lily pads in the pond, and a huge undersea landscape with coral and jellyfish.
Pro tip: load the Zoo map on your phone. The zoo is basically two big loops, where you could spend 90 minutes easily, or more if you have young kids. So you'll want to walk them both without making the wrong turn and getting lost. Also, knowing where you are and how much more walking to expect will set expectations. The zoo is large enough that at some point you'll want to know when you can stop walking.
Another pro tip: go at sunset, when it's light enough to see the animals — of course there are no nighttime flood lights, as this might disturb the creatures — but dark enough to enjoy the lights. I found that, a half hour after sunset, I could no longer see clearly into the animal enclosures. There's less crowding at sunset than at full nighttime, too.
You'll find the "Wild Bites Snack Shack", serving pretzels, popcorn, cotton candy, Italian ice, bottled water, snacks, Gatorade, and a Dippin' Dots ice cream booth. Gift shops throughout the park, and a main one, tell stuffed animal toys and more.
Another pro tip: Several exhibits branch off briefly from the main path. Make note of the "enter" and "exit" signs so that you're moving in the right direction. That helps keep everyone socially distanced.
Zoo enclosures sometimes have paw prints spray painted on the ground. That's meant to remind parties to stay separated, socially distanced, though nobody seemed to know that, there weren't enough staff to oversee everything, and the staff that I did see didn't appear too concerned about interrupting people to remind them about virus safety.
Speaking of which, I did see three people who brazenly weren't wearing a mask at all, but more of a problem were strangers violating social distance. Children of course have no boundaries, but even adults, understandably distracted by all the sights, just weren't watching where they were going. I was forced to move out of the way several times to maintain six feet of separation. Being constantly on guard for this undercut the peacefulness of the nighttime experience enough that I might call it 4 stars, but I've still given the event 5 stars. Just know what you're getting in for.
Pro tip: for virus safety, people are let into the zoo on timed entry. I discovered, hanging back to spend additional time with the animals, that the bulk of the people let in at 7pm soon passed me by. So plan to arrive late in your time slot, or hang back, and you'll have your section of zoo all to yourself for a few minutes before the next wave of people are let in. That was glorious. It is delightful to bond with the nighttime and the animals, in a little bubble of peace in-between the waves of people every half hour.
Finally, you'll discover an outdoor pavilion set up as a performance space, though at the time I went there was nobody in it. Instead, at a nearby vendor table, a musician, Annie Zhou, played Asian tunes on a Guzheng, a 21-string traditional Chinese string instrument.
I didn't personally see it, but the zoo also has a zipline and "interactive lanterns" that are open.
The event is $25 for adults, $23 for children, and you can spend an additional $10 to park "VIP" close to the entrance.
It's a great time, especially if you are fully vaccinated and can let go of your apprehension of crowds. Kids will go nuts for this, and for adults there's nothing better than to be outdoors at night with something to do. I'll give the Asian Lantern Spectacular at the Roger Williams Park Zoo a full 5 stars.
For more, see the Asian Lantern Spectacular at the Roger Williams Park Zoo.