Superhero Adventures to Try in Miami Even If You're Not Athletic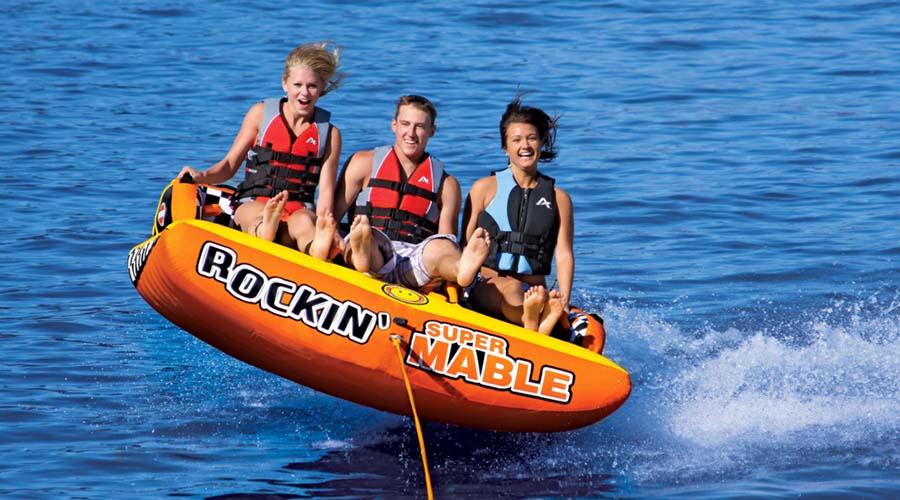 To someone like me from intellectual, cold Boston, Miami can be an alien place. I don't think of museums or culture when I think Miami, though of course like any major city they have those things. When I think of tourism, it's easy to choose Orlando instead. When I think of watersports, I feel I'm just not a jock enough. I burn easily in bright sunlight, and the beach is fun but I don't like sitting idle. Where's the Miami for me?
I found it on a recent weekend and now bring you 4 in-depth articles on adventures in Miami for the non-athletic but that will give you great photos and thrills.
Foremost is Jungle Island (5 stars PLUS), (and another 5 stars PLUS in 2019) an amusement park, water park, and animal park all rolled up into one. We spent all of our time just with the animals, and despite 13 years of travel writing, chasing down the weirdest experiences, I've never had anything quite like this level of bonding with animals. They let lemurs jump all over us. We got to feed and pet kangaroos, tortoises, sloths, and more. We got to touch a giant condor, and see the world's most dangerous bird, which is basically a modern velociraptor, up close. It's astounding! They'll have their new water park, ground-level skydiving experience, and lagoon open soon. If you have a day or two in your schedule, of course you should check out the Everglades and Florida Keys, but Jungle Island brings you world class animal encounters with the convenience of being right near downtown Miami.
You can also find world class animal encounters at the Miami Seaquarium (5 stars), where you can swim with dolpins, seals, and penguins, with dolphin, killer whale, and sea lion shows, touch pools for stingrays and bamboo sharks, and exhibits with penguins, sea turtles, manatees, and more.
Next try parasailing with South Beach Parasail (5 stars). It's the easiest sport that makes you look like a superhero in photos! You don't get wet, and you don't even have to stand up to parasail. Instead you sit at the back of a boat, the boat zooms ahead and the parachute lifts you up, and eventually you drop back on your butt. It's so smooth that you don't get super scared even at the height of 300 feet, giving you great views of the beach, the city, and the crystal-clear water.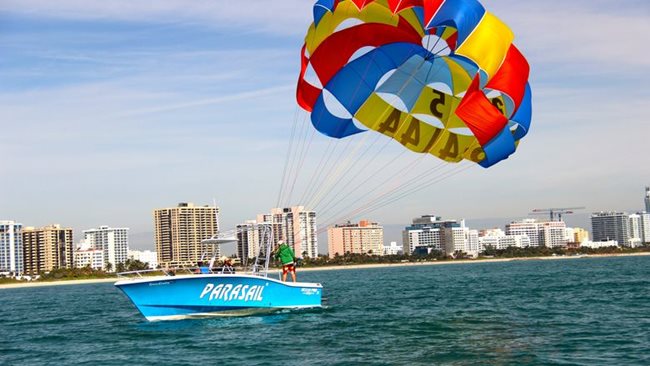 You'll also want to go tubing and try other sports with Miami Watersports Paradise (5 stars), which also will take you stand-up paddling, flyboarding, wakeboarding, and even a simple form of diving that anyone can do without SCUBA training.
And if you want an adrenaline rush, rent jet skis with BJM Rentals in Miami (4 stars), which are easy though a bit scary to drive. They will make you yelp with fright but then hoot with glee! BJM Rentals also rents boats, flyboards, and a water jetpack. Oh yeah! They work with Miami Watersports Paradise, whose guides give you an extra layer of care and comfort.
And, have you ever wanted to try surfing? SoBe Surf (4 stars) is your best chance to stand on a wave. It's Miami's best school and rental source for surfboards and stand-up paddling. They also lead stand-up paddling tours to see dolphins and manatees. It's fun for all ages and easier than you think, but watch the weather because the waves need to be good to get you moving.
There's so much to do in Miami that now I'm ashamed that I didn't visit earlier. If you're a muscle beach athlete, you can handle anything, but I found so much that kids can do (and non-macho people like me) that now I'm eager to return. I already miss those lemurs at Jungle Island!
So don't just sit around! Get out to Miami and have some fun.