Supercharged Entertainment's World Class Go Karting and Obstacle Courses are Pure Fun (5 stars)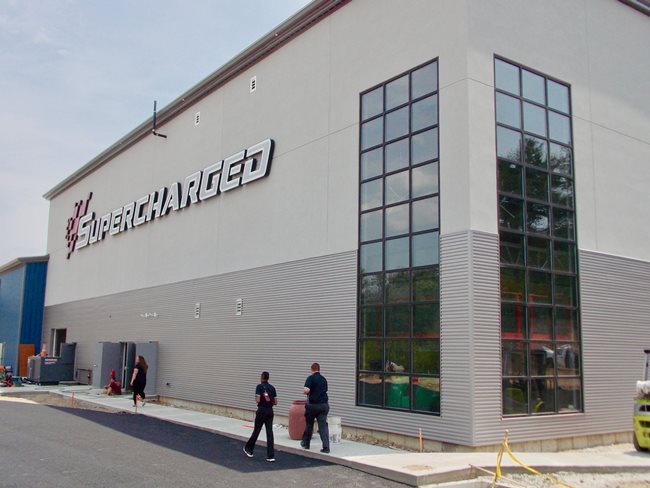 Locals have another reason to be proud of Massachusetts. The brand new entertainment complex, Supercharged Entertainment, in Wrentham, is now the largest indoor multi-level karting track in the world. I checked this claim online and the nearest rivals are the sister site SuperCharged Go Kart Racing, which is in Eastern Connecticut near Mohegan Sun and the Mystic Seaport Museum, and Kart Kountry in Kentucky, a 1.5-mile track that's outdoors. They have an arcade, a restaurant and bar, trampolines, and other bouncing games including the "Ninja Wipeout" challenge, and two go kart tracks, each a quarter-mile in length.
Supercharged compares well to X1 Boston in Braintree, Massachusetts and R1 Indoor Karting in Lincoln, Rhode Island, where they treat the racing like a sport, so you need a driver's license and to learn a lot of rules about lights and flags. Although there's something to be said about living out a NASCAR fantasy, most of us will appreciate the simpler, videogame-like Supercharged experience. The cars are electric, so they're quieter and expel no fumes. There's a simple button to reverse if you get stuck and need to back up. It's all computerized, so if someone's driving erratically, instead of needing to flag you down (though they also have flag wavers), they can just press a button to slow that car.
It's all less complicated at Supercharged. There's no membership fee, and while pre-booking is a good idea, you can always just walk in, anytime. With up to 14 cars racing on each of two tracks, there's plenty of capacity to keep waiting times low. And there's no fee or signup needed just to walk in and look around. Get a drink or a meal and just sit to watch the races from the observation area.
It all takes place in a giant warehouse space in Wrentham. Out front, they make you sign a waiver, but it's quick. Then you get a helmet and neck brace, climb into a car, and buckle in. Guests wear a "head sock" to keep their hair and the helmet from getting too friendly, and staff spray-sanitize the helmets after each use. Then you drive the course with simple accelerator and brake pedals. Pro tip: wear a full top that covers your shoulders, so that the seat belt doesn't chafe you if you crash.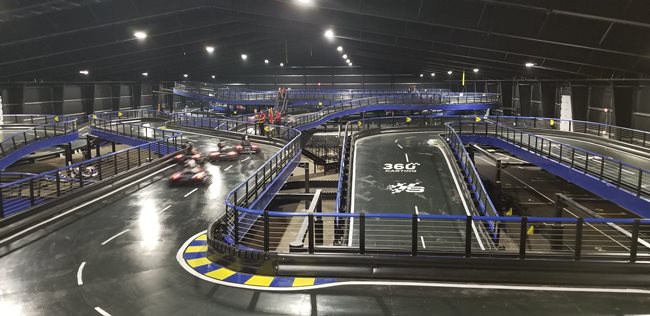 Another pro tip: if you are a wide person, don't try to ride sitting on top of the chair's raised sides. Your butt needs to get wedged fully into the chair, between the raised sides, or else you won't have good back support — something that's vital for safety. My being tall wasn't an issue, but if you're especially short it will take you some leg stretching to fully press the pedals, a factor as you're making split-second decisions on the track. There's no age limit, but you must be 4'10" to drive, though passengers can be as short as 4′. (It wasn't clear to me where a passenger would sit and be safe, but presumably in the lap of the driver, with the seat belt going over both of you?)
The racetrack is remarkably fun, especially as it takes place on two levels! So you are going up and down as well as turning around. Try to outpace your friends but without bumping the other cars, which can get you waved off the track. As a reward for good driving your "boost" button gets activated, giving you an extra rush of power when you need to overtake another car! Pro tip: Wear a very unusually colored shirt if you want friends or family to spot you from the observation deck. The cars must have numbers, but are also painted decoratively and you may have trouble reading them. Closed-toe shoes are required for karting, but they have spare shoes on hand if you forget.
Then head to the Ninja Wipeout area, which is actually a dozen different moonbounce-themed obstacle courses inspired by that TV show. There are giant foam balls to hop across, a swing where you can leap onto an airbag, a trampoline on an incline that enables you to do a forward flip, a free trampoline zone just for jumping, trampolines with basketball hoops for that epic basketball dunk, a dodgeball area, and more. Pro tip: along the side is a pizza shop if lines are long at the restaurant.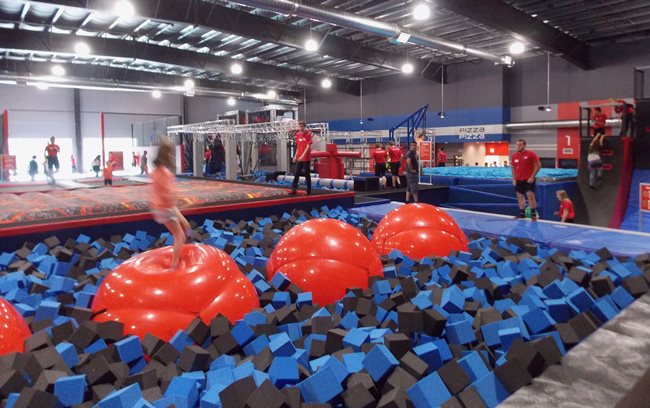 The Ninja Wipeout is wonderfully fun and safe. Everything is soft, so falling over, and throwing yourself around is harmless. You and your friends will laugh when you wipe out and cheer when you make it through. Some of the challenges are kid-sized but nearly everything is adult-appropriate, and Supercharged serves both groups with kids and those without, including bachelor and bachelorette parties. Of course they serve birthday parties and corporate events, too, with 10 private function rooms.
Falling into a mountain of foam cubes may leave you struggling a bit to get out, because the foam cubes are squishy so there's nothing to push off of, but that's just part of the challenge! (Staff kindly can come over with a foam pad that's far easier to crawl on. May I suggest just throwing guests a knotted thick rope. The faster we clear the way, the less waiting for everyone.) Thankfully, they make guests wear socks, to keep the wipeout courses cleaner.
You can also visit the Thirsty Beaver Hometown Pub & Grub, a pub that has seating for 200 people. They serve craft beers and presumably full meals, but I didn't get a menu and didn't get to sample the food. They don't bake cakes on site but bring in caterers for big functions. Their restaurant even has a mascot, someone in a beaver suit.
There's also a large arcade with dozens of premium games. You'll find air hockey, a piano game, bean bag toss, ring toss, bowling, and basketball games. They also have partially-enclosed games including Tomb Raider, Halo, Jurassic Park, and others, where sometimes you wear a VR headset to play, and sometimes you're sitting in a chair to drive a virtual car or fire guns. They have an extensive "redemption center", where you bring the tickets you've won to get items from silly putty, a water bottle, and a desk lamp, up to a drone (35,000 tickets).
Supercharged Entertainment does a good service being a place where teens can hang out. Teens are too young for bars and nightclubs, and they can't just linger at a restaurant or in a mall all night. The go karting tracks and wipeout arenas are great for adults, too! They're also a good mix for adults who just want to get a drink and watch their kids. It's a good value, with a single race being only $25, and you can try the Ninja Wipeout field (including buying clean socks) for only $21 for an hour of fun. One of my friends crashed full-on in the racetrack, but was fine. I epically wiped out in the ninja arenas, and was fine.
A few rough edges are sure to be polished soon, especially given all the experience that Supercharged has with their existing go kart site in Eastern Connecticut. The interior is too dark, although out front they do have windows.
Half of the arcade games are only games of luck, such as Big Bass Wheel, Tower of Tickets, Spin-N-Win, Treasure Quest, and the DC Superheroes Coin & Card Pusher basically lets you collect cards. They have 5 crane games, and most people don't realize that there's a switch on the back that governs how often you're allowed to win, so that's a game of luck as well.
These games may legally count as games of skill, but at their heart they are gambling games, because of the addictive rapid-repeat play deliberately built into how the game works, their lack of any real theming, and the lack of any real skill to play them. At best these games are boring and not very classy, a touch of casino in a theme park. At worst, deliberately addictive gaming is wrong for adults, and especially for kids.
Despite these concerns, I'm glad to give Supercharged Entertainment a full 5 stars. The racetracks are giant and modern, with deep thought given to getting you through with a minimum of fuss. The function rooms give you great privacy and views, and there's nothing like their Ninja Wipeout arenas to bond friends into friends for life. It is truly unique and a must-see destination for everyone.
Cody Browning, General Manager, kindly agreed to an interview.
Events INSIDER: This is an amazing facility. The two tracks look like one, but they intertwine, don't they?
Cody Browning: They do. It's actually two distinct, uniquely designed tracks. Each one is a quarter-mile long, multi-level, and occasionally we can combine them into what we call supertrack, a half-mile long track.
Events INSIDER: What is the 'boost' you get for being a good driver?
Cody Browning: The computer measures your driving performance using key metrics of the cart. If you're driving consistently, maintaining a constant speed level, the cart will reward you with a speed boost.
Events INSIDER: Other go kart places make a big deal about being "real" racing, a sport. Supercharged seems different.
Cody Browning: We're less of a racetrack and more of an entertainment venue. Your general family is not coming in to drive race cars. They want to have fun.
Events INSIDER: And it's nice that the electric cars have no stink.
Cody Browning: The entire facility is climate controlled, fume free, so you never get that noxious headache from the gasoline, or worry about combustion issues. You don't get that smell, and don't have to smell like it when you leave.
Events INSIDER: It's also dead quiet here in Party Room 7, even though we have a great view of the track.
Cody Browning: We have 10 party rooms, and each one gives you that private feeling, and each one's tailored to different sizes, for different groups. We want you to have a great view, and enjoy everything, but have privacy.
Events INSIDER: How do you handle scheduling?
Cody Browning: You don't need to have a reservation. Even if you're not into racing, you can just walk in, go to the arcade, come to the ninja wipeout center, and have dinner and a drink, and just walk the racing.
Events INSIDER: Some of the games, the claw games and token games, seem not like games to me.
Cody Browning: I have to avoid those myself. If you've been to a casino, you know you can get into a bad habit of standing there at the machine too long.
Events INSIDER: Are the games basically gambling? Kids come here.
Cody Browning: No, they're just arcade.
Steve Sangermano, the owner, also kindly spoke with us.
Events INSIDER: It's nice to have a facility like this because older kids, under 21, can't go to nightclubs or bars. But they can hang out here.
Steve Sangermano: So those are the tweeners, 15, 16, 17, 18, 19, those people, we have a tremendous… We have the arcade and the dodgeball, which those kids absolutely love. You're welcome to drop off your kids here, but we have stuff for adults too, so the moms and dads often stay, have a drink. They actually enjoy watching their kids, because we give them so much viewing.
Events INSIDER: Will you have special events like tournaments or theme parties? A karaoke night?
Steve Sangermano: Right now we specialize in birthday parties, so we're going to have 20, 30, or 40 birthday parties on a Saturday or Sunday. People are a little bored right now. They're bored with bowling, and they're bored with the movies. We give everybody the next level, one-stop shopping, a better product, at affordable prices.
Steve Sangermano: We'll have all kinds of special events. The Thirsty Beaver has a place for bands down there, a trivia night. We'll do a Halloween contest, we'll give away free stuff, events like that.
Events INSIDER: Thank you very much.
See superchargede.com.