Strike It Rich and Learn Science at the Herkimer Diamond Mines (5 stars)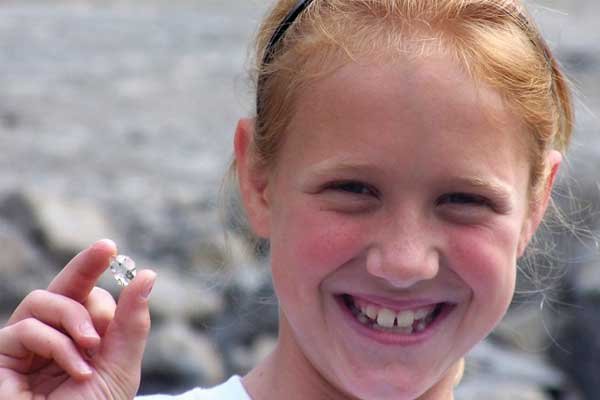 Based in Central New York, between Syracuse and Albany, Herkimer Diamond Mines is an above-ground attraction where you can mine your own diamonds, learn about geology and fossils, and buy diamonds and other jewelry. They have a stunning themed campground and elegant but family restaurant, too. We visited and reviewed it all.
The main attractions are a dozen large open fields, the mines, where you get the experience of mining and can keep anything you find. Surprisingly, they don't have giant machines scarring the earth, and there's no gaping hole that leads you underground. Instead, the mining must be done by hand, crouching or sitting, at ground level. They don't even allow precision power tools, at least not for visitors. You literally hammer at likely-seeming rocks, hoping to cleft them open to find gems inside.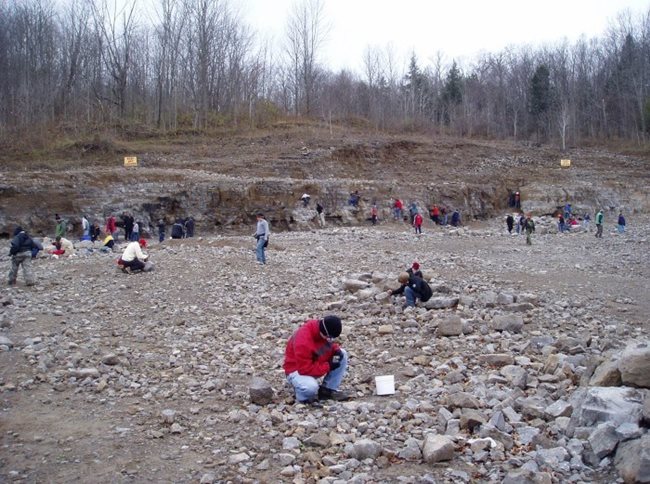 The crystals lie 5 to 10 feet underground, so that top 10 feet of dirt, called the "table layer" or "overburden" has been removed for you. So what you see is a hill with a big bite taken out it, like you've eaten half of an apple, some 10 feet of dirt with the layer of stone revealed underneath. Some rocks form the walls of the now reduced hills, and there's also a junk-heap-sized mound of rocks next to each wall to sort through as well. Anyone can go into the mines and try their luck. If you are able-bodied enough to spend an hour on your hands and knees, you can do it.
It seem nuts that they would let members of the public come in and try to find diamonds. The catch is that the Herkimer Diamond is a brand name indicating not a real diamond, but a beautiful, high-quality quartz. Don't feel cheated; these are real gemstones with a real value, though they are not as rare or valuable as true diamonds. The Herkimer Diamond (quartz, whatever) is tougher (a Mohs scale of 7.5) than ordinary quartz (a Mohs scale of 7). That's hard enough to scratch steel, and hard enough to use in jewelry without worrying about scratching the gemstone. However, they're not as tough as true diamonds (a Mohs scale of 10), another reason why machines don't crush rocks at the Herkimer Diamond Mines.
It's easy to overlook the exaggeration. You're hunting for treasure the old timey way, by hitting the rocks, which are a type of limestone, with a mallet. With patience and skill, it's possible to find $20, $100, and even more valuable gems in the mine. This draws professionals looking to make a profit as well as tourist visitors. There is also a commercial section in the mine, whose crystals are sold all over the world for research and jewelry. Also, you can find fossils in the mines, but a great deal of luck would be needed twice to find a fossil and extract it without destroying it.
Pro tip: Most crystals form in little voids in the rock called vugs. They are a pocket spaces in the rocks where ancient water may have poured through, and somehow that makes diamonds. High quality quartz, I mean. So the first thing to do is to look for rocks that seem to have acne, dozens of pock marks, on them. Then find a crack in the rock that you can extend with a bang from your mallet, cracking it open. Hopefully you'll find a big vug inside with gemstones, and the pros hope to find a vug with hundreds of sparkling gems. For jewelry, of course, you're going to prefer the best of the best, B, A, or AA. The grades are determined by the clarity, the sparkle, the size, and whether you've banged it up or it's still got gem-shaped facets. Most of the gems you'll find will be C or D grade quartz, which you wouldn't collect except for fun, and it is a lot of fun to hunt down gems and then take home a souvenir that you ripped from the ancient Earth yourself. To me, it was the first skill I ever learned that might be useful during an apocalypse. Fruit magically appears in the grocery store, I have no idea where electricity or gasoline come from, and I have zero hunting skills, but now, if I absolutely had to, I could flee to Herkimer in the zombie aftermath and find my own diamonds in the wild. Quartz, that is.
When you see a gem you want to extract, put your thumb over the rock so that it doesn't zip away as your banging liberates it. Or maybe a piece of tape would work? Don't hit your thumb with the mallet! They offer gloves, which we should have used. Another pro tip: sometimes there's no way to get an embedded gem out of the rock without destroying it. You can scratch or destroy a Herkimer Diamond with your mallet. So sometimes the rock and gem are more valuable as a single piece together than just the gem on its own.
The staff are friendly and share their energy with you. You pay the admission fee, rent a mallet, and then get to go out and just go to town smashing rocks! It's fun if you don't take it too seriously, and exploring you can bond with the people you're with. It feels magic that there could be gemstones in a rock nearby, if only you could find it! When you get exhausted, which is easy to do if you're wailing full force for a half hour, take what you've found up to the mine store for an appraisal. They don't buy gems, so you can be sure you're getting an honest estimate of what you got.
As press we got let into the commercial area. Our guide Jeff was wonderfully knowledgeable and helpful. Having never hit rocks before, but with his guidance, with no trouble we found 20 gemstones worth from $5 to $60 each. Then later we went into the general admission mines and it was much harder, though still fun. You need to get a comfortable place to sit, ideally out of the harsh sunlight, and it is easy to cut yourself, so be careful. Definitely wear those goggles, because chips of rock can go flying. Pro tip: wear contacts, so that your glasses don't fog up underneath the goggles.
Returning from the above-ground mines, you can explore the entire complex. After a fire a year ago, they are rebuilding an education room, the Rockhound Academy, and replacing their historic Diamond Rush Barn with another historic barn which they purchased, transported on site, and are fixing up for festivals, education, and private events such as weddings.
Out front is Prospector Pete's Panning Place, a sluice where you pan for gemstones. You buy a bag of sand, which has been pre-loaded with goodies, and then you pour the sand into a pan and put it into the running, waist-high water flow of the sluice. Voila! You find shark teeth, fossils, arrowheads, fools' gold, and gemstones. It's more of a kids' thing and takes just a moment to get the sand out, so pan slowly. It's a delightful way to end your day if you don't strike it rich out in the mines.

As part of the same complex, you'll find campground-style bathrooms, a brand-new gift shop, The Trading Post, where they sell a wide variety of rocks and crystals, and actual jewelry as well, plus of course, the usual T-shirts, mugs, cups, and other tourist merchandise. They've got a counter where you can take the stones you've found and make jewelry. You glue the rock on an attachment, or put a crystal in a cage of wire, or wire wrap it, or ensnare it in the metal prongs on top of a ring. Or you can ask staff to do it for you.
Have lunch at The Canteen Café, an old-fashioned lunch counter where they sell ice cream, chicken strips, hamburger, fries, grilled cheese, burgers, the usual fried food, but mixed vegetables too. We got a Miner's Burger, which is a double stack quarter pounder hamburger with fries. It's on Texas toast, that itself is grilled and buttered, so it's greasy, though interesting. It has a real crunch to it. Adding cheese seemed too much for me, personally. Some hamburgers, elsewhere, you can barely taste because they're so overwhelmed by the toppings or sauce. At The Canteen Café, the meat is hearty, fulfilling your craving. If you had to order a gut buster, this is a delicious one.
We also tried The Matrix, a grilled cheese sandwich with chicken fingers, onion rings, and bacon, on Texas toast. It's even more buttery, but it's an artery clogger that's worth it for the taste. Just don't try to eat it all in one bite. We ended up, for example, pulling out the onion rings and eating them separately.
Their crinkle cut fries are only just lightly fried, which was nice to find. French fries should taste like this, like potatoes. They also have healthy options such as the mixed vegetable plate with ranch dressing, and salads.
While the Canteen Café is far from fine dining, it's a big step up from what you'd expect at a hamburger shack. Their meals come with creativity, culture, and variety.
We were glad to be able to interview Dr. Renee Scialdo Shevat, owner and President of Herkimer Diamond Mines.
Events INSIDER: Herkimer Diamond Mines is family-owned. Did you grow up in this business?
Dr. Renee Scialdo Shevat: No. It's been a family business since my father bought it 1979 as a hobby, but I got my PhD in collegiate administration, the strategic planning and finance of colleges. It's the psychology of organizations, really. Then in 1997, I was Vice President of a college, and ready to jump into a presidency, when I got called by my father.
Dr. Renee Scialdo Shevat: He said, "I need help. This little thing that I bought as a hobby is turning into a global business." Coming here, I found it absolutely fascinating that there could be something from Mother Nature that's a half a billion years old, that is a single source mining opportunity. Nobody else can find it anywhere else in the world.
Events INSIDER: You use the word "diamond", but it's a slight misnomer.
Dr. Renee Scialdo Shevat: The Herkimer Diamond is 500 million years old. So it's the oldest type of "diamond", but it's geologically classified as a quartz crystal.
Dr. Renee Scialdo Shevat: Now, because it's the oldest, it's also the clearest. It's also the hardest crystal in the world. It's a 7.5 on the Mohs scale, where all other crystal is a 7. The 7.5 gives us the edge in cutting as well as research and development. Another reason we're famous is that this is the only material in the world that Mother Nature has already faceted by giving it 18 faces, or "facets", or "sides".
Events INSIDER: There are other mines in the area. What makes your destination special?
Dr. Renee Scialdo Shevat: Everything we build here has to have to have two goals. It has to demonstrate a scientific outcome that's impressive, and it's got to entertain people, to make science fun. We not only have the oldest quartz crystals in the world, we also have the oldest fossils, called stromatolite. [These are layered-looking fossilized mats of ancient bacteria, the first complex organisms.] They're 900 million years old, and they're found in our mine. A lot of people come here to find fossils as well as crystals.
Dr. Renee Scialdo Shevat: So we've got that history, that timeline, with the geology, the gemology, and the paleontology. Now were trying to tie in the multidisciplinary sciences here, and become the science KOA resort. We also run six weeks of science camp here. Herkimer is edutainment. We're educating people in very entertaining ways.
Although Herkimer Diamonds aren't real diamonds, the term predates the Herkimer Diamond Mine, and is an acknowledged industry buzzphrase, not a marketing trick. You'll find creativity, class, and attention to detail everywhere there. Giving us a personal tour of the campgrounds, Dr. Shevat stopped to pick up a plastic bag, and greeted guests with warmth. 5 stars for Herkimer Diamond Campground. There is a lot of heart here in this place of rocks.
See herkimerdiamond.com, and read my review of their Miner's Table Restaurant (5 stars) and my review of their Herkimer Diamond KOA Campground (5 stars PLUS). The same owners also run a regional visitor center and marina, Unlocked Legends, and Erie Canal Cruises, which gives daily and special event boat tours, educational and entertaining, of the Erie Canal and its 100-year-old shipping locks.