Strictly Ballroom: The Musical is Romantic Comedy with Life-Changing Inspiration (4.5 stars)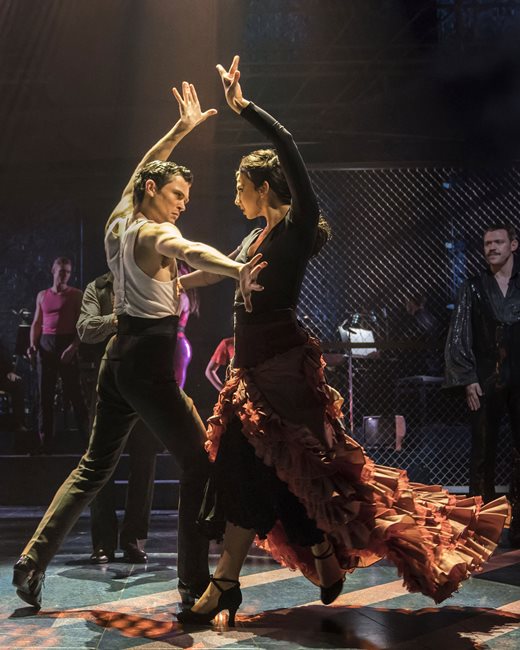 Baz Luhrmann's Strictly Ballroom, created by Baz Luhrmann, Book by Baz Luhrmann and Craig Pearce, Orchestrations by Simon Hale, Music Consultation by Anton Monsted, Musical Arrangements by Marius de Vries, Vocal Arrangements by David Caddick, Dance Arrangements by Ben Atkinson, Musical Direction by Ben Atkinson, with Producer Carmen Pavlovic, Executive Producer Patrick Murphy, Musical Supervision by David Caddick, Sound Design by Gareth Owen, Lighting Design by Howard Hudson, Costume Design by Catherine Martin, Set Design by Soutra Gilmour, Directed and Choreographed by Drew McOnie, is now playing at the Piccadilly Theatre in London.
When you've been raised since childhood to win Australian ballroom dance competitions, what happens when you want to just dance for yourself? Strictly Ballroom is a romance, a coming of age story, and an inspirational story about facing one's fears. The 1992 film was created by Baz Luhrmann, whose successor film Moulin Rouge was nominated for 8 Academy Awards.
The writing in Strictly Ballroom is perfect. The characters are set up with such yearning for change that it doesn't matter that the stakes are only a dance competition. Their lives are wrapped up in the limitations and their desire to break them. It's so heartbreaking that you'll root for them earnestly to succeed. The entire cast is strong, with great chemistry between Johnny Labey (Scott Hastings) and Zizi Strallen (Fran). I just wrote a review of Dirty Dancing the Stage Musical, which is also about two strangers learning dance steps together, and didn't drive the relationship between the characters. In Strictly Ballroom, there's wonderful growth of the characters, and several plot twists as well.
Although the play is all about ballroom dance, you don't need any interest in ballroom dancing, because it's not really about dance at all. It's about conflicting passions and defying authority, even if in this case, hilariously, the authority is just the judges at the Pan-Pacific Latin American Dance Grand Prix. A woman sitting next to us in the theatre said that she was a former ballroom dance competitor, and that even the "strict" dance moves in the show (meant to contrast with the renegade new dance steps of the protagonists) aren't strictly international ballroom steps. That doesn't matter, and you won't notice. Outrageous costumes by by Catherine Martin add a surreal comic feeling to the importance of dance to the characters.
The show is intentionally campy, and you'll laugh out loud throughout. Kudos to Anna Francolini as Shirley Hastings, who had the most physical comedy as the high-strung mother who just wants a trophy for her boy. The most powerful scene, except for the ending where they involved the entire audience, was the Paso Doble scene, with kudos to Fernando Mira, as Rico, for the evening's best dancing. Unlike Dirty Dancing, this was an evening so full of great dancing and music. There really is nothing like it.
Strictly Ballroom is such a great story that I'm pulling my hair out to not give it 5 stars. Unfortunately I must mention a couple of problems.
I guess someone told them that musicals need a lot of big dance numbers. During intimate scenes that involved only one or two characters, often they changed it into a group dance. For example, in one scene Scott is dancing on his own, out of frustration and loneliness. Isolation is the central emotional theme of the scene. Meanwhile, a hidden person overlooks his anguish. For some reason they added extra dancers, which was distracting and undercut our focus on the two characters involved. This was a recurring problem. Don't put actors in the odd black staging consisting of construction scaffolding overlooking scenes that don't need them. They pull away the focus. Although the Piccadilly Theatre doesn't have an orchestra pit, the six-piece band could have been placed off stage or in the box seating to one side, to make space on the small stage.
Even worse, and also recurring, was the intrusion of the narrator into intimate scenes. Will Young (Narrator) is a famous musician, at least in Britain, the first winner of the Idol TV franchise, and with multi-platinum albums. But being famous is not a license to dominate every scene. Even when two characters in the play have their first kiss, Young is not only standing right there, he touches and pushes them together, as though he is a invisible spirit. It's intrusive, stealing the spotlight from the two actors the scene is all about. I've never seen anything like it in all my years as a theatre reviewer. Actors should work together, not compete for attention. If it's not the result of a big ego, it sure comes across like that. Or perhaps it is a telling lack of faith on behalf of the director or funders that the show can stand on its own without a ghost narrator and backup dancers. A dance number added to the beginning, perhaps as an excuse to have Will Young sing, telegraphs the show's story arc and seemed unnecessary. 
That's my intuition, because the play otherwise, directed by Drew McOnie, hits its other notes so well, improving upon the movie. The removal of the children was a good call, reducing the complexity of the plot. The explanation of Barry Fife's mania helps to set up the final encounter. (See whether you can pick up two mannerisms relating Barry Fife to Donald Trump.) Kudos to Gary Watson as the hilariously drunk, but impossible not to love Ken Railings.
Strictly Ballroom has such intensity, such comedy, such romance, and such great music and dancing that to me it is irresistible despite these concerns. It recently opened in March 2018 at the Piccadilly Theater in London, so as it evolves, they are sure to refine it. It has such a powerful message of living life to the fullest. The film is in my Top 10 of all time. You should absolutely see Strictly Ballroom: The Musical, and I give it only 4.5 stars but with my heart saying that it is a must-see for anyone with a dream. It may very well inspire you to courage in your own life.