Story Land is a Whole Day of Fun for Kids in the White Mountains (4.5 stars)

Story Land, the theme park in New Hampshire's White Mountains, has small town charm but is far more extensive than you might think. Without going on any rides or eating, even just looking around took us 90 minutes! You could easily spend all day there.
While you don't need a child to attend Story Land, it is certainly a child's amusement park, where you'll see tons of cute kids ages 2-10 and beyond. Though it's part of a conglomerate, you get a homemade feeling from the signage and attractions, and it doesn't feel corporate. Unlike, for example, Six Flags, parking is free; they don't try to squeeze you for money for every little thing. Once you're inside there are no additional costs except food, gift shops, and face painting. They also have locker, wheelchair, and stroller rentals, and free pet kennels.
And also unlike Six Flags, it is genuinely a "park", a place of genuine nature. It's a beautiful setting with real mountain views on all sides, trees, and a river with swan boats. Everything safe for kids, at a medium or sedate level, with many rides requiring kids to be 48″ tall (or seated with an adult). So no giant roller coasters, but I have to admit, that's how I like it. When we're reviewing the latest skyscraper rollercoaster at Six Flags, I send another reviewer. What I want from a theme park is to relax with some nature and have fun that won't give me a heart attack.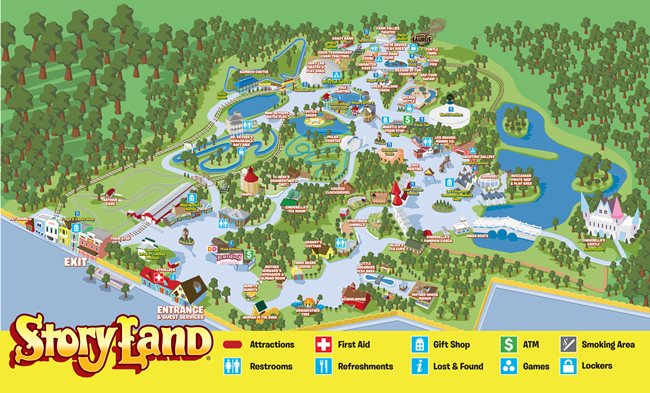 Story Land is all unbranded rides based off of public domain fairy tales, though you can see a nod to Disneyland in their prominent Cinderella castle, teacup ride, a pirate water ride, a 'Dumbo' type ride but shaped like Dutch wooden shoes, an octopus submarine ride, and a tilted shack with a bottle that seems to roll upwards (like the Haunted Shack at Knott's Berry Farm).

They have plenty of truly unique rides as well. My favorite was Splash Battle: Pharaoh's Reign, a riverboat ride decorated like Ancient Egypt with hieroglyphs, a Sphinx, and statues of Ra. The boats come with water cannons for you to shoot your friends back on shore, and they have their own water guns to shoot right back! Great fun. Oh, the kids go so nuts on this ride. You'll laugh and laugh. The pirate ride, the Buccaneer Pirate Ship, has water cannons, too.

Also! Don't miss Loopy Lab, an indoor arena where using toy guns you can shoot foam balls at other people, down from the balcony above, or up from the floor below. The foam balls, which show their use and I wonder if they get washed, get dropped from crates above, or blown up from blowers below. It's insane, with kids and foam balls seeming to take over the planet, and there's a stage with a magic show, too.
Story Land takes the fairy tale theme a lot further than Enchanted Water Park Safari in New York. Near the entrance is the fairy tale Old Woman who Lived in a Shoe, with a live actress! There's a tiny house for Goldilocks and the Three Bears cottage that you walk go into, press a button, and hear a recording. There's even an animatronic wolf in granny's bed, from Little Red Riding Hood. It's silly but charming.
You'll find plenty of gift shops and restaurants, for example with burgers, steak and cheese subs, fresh-squeezed lemonade, hot dogs, grilled cheese or turkey club sandwiches. There's a make-your-own sundae shop, you can make your own slushie or get a Hawaiian shaved ice. Get fried dough, or there's even a Dunkin' Donuts. The Pixie Kitchen serves fried foods and Dip n' Dot Ice Cream. There's a "Friends Around the World" World Fair pavilion, where apparently all your international friends around the world want is burgers, fries, pizza, chicken tenders, hot dogs, or a grilled cheese sandwich. They have special events, after the park closes, for you and your kids to come eat there with costumed performers and then take the kids' train ride.
The park just goes on and on! We saw a merry-go-round ride, the Polar Coaster roller coaster, and Dr. Geyser's Remarkable Raft Ride, where you sit facing your friends and family in these circular floats that go along. There's no steep drop — it is all on one level — but the ride shoots water at you. There's even a diorama of a steampunk era inventor with a "rain machine", a rainbow, and a pot of gold. Bamboo Chutes is a log flume ride. The Great Balloon Chase is a short Ferris wheel with an old-time balloon theme. There's even a wild west town with a shooting gallery and "mining", where you buy a bag of gems and your kids sift for gold. There you'll find the Los Bravos Silver Mine, an underground tour like a kiddie Halloween house. They pretend that you're going through an abandoned mine, with inexpensive animatronics and remarkably a homemade 'vortex', a walkway whose room spins around you, made of wood.
There's even a live animal section where they keep up the fairytale theme. The pigs are from The Three Little Pigs, each with their own house of straw, sticks, or bricks. The live chickens are from Chicken Little. They've got sheep, ducks, and more. Kids can drive old-timey cars that run on tracks, so they can't go wrong, around a loop. There's a Story Land town hall and school, and a farm stand with animatronics that sing to you.
Stand in line to get on Cinderella's pumpkin coach, an electric buggy with fiberglass horse statues that takes you up the hill (or you can just walk) to Cinderella's castle. There you can get your photo taken on the throne, and they have special events including a meet-and-greet or tea with Cinderella. The Rap-Tour Safari is a train where you sit in cage cars and get pulled through a forest path with dinosaurs! The Roar-O-Saurus, a wooden roller coaster ride, is their most thrilling attraction.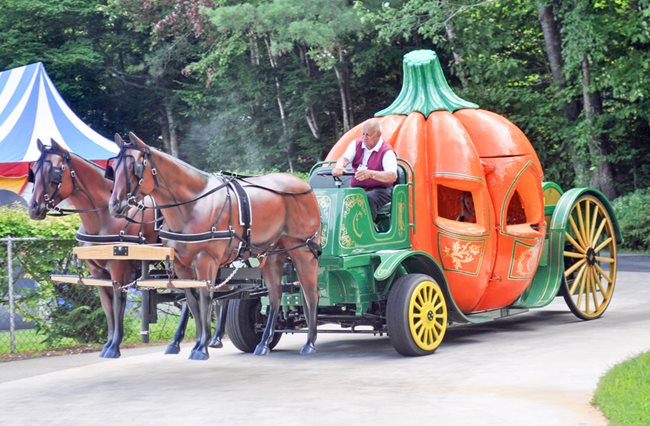 Story Land lacks the high-end production value of most theme parks, and don't have a fast track ticket option. But their low budget creativity will strike you as innovative. You'll see so many cute kids, and there's plenty to do and see, even if you don't go on any of the rides. Going to New Hampshire is for mountains, not theme parks, and while your kids will love Story Land to bits, it might sag at bit for parents, and is not really for adults without children. I'll give Story Land 4.5 stars.
For more, see Story Land online and look soon for their soon-to-open Living Shores Aquarium attraction!