Stone Zoo's ZooLights are Boston's Closest Winter Lights (4.5 stars)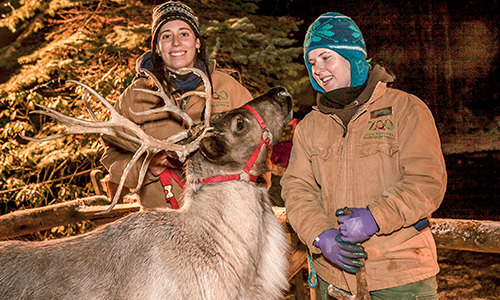 New England is full of holiday light displays, but ZooLights is the closest to Boston, excepting commercial malls and the static displays on Boston Common. It takes place at the Stone Zoo, in Stoneham, Massachusetts, a short drive up Rt. 93.
This year the Stone Zoo showcases a big expansion! It's a welcome upgrade. My last review was only 3.5 stars, and I found the animals mostly sleeping or poorly lit. This year the attraction seems twice the size with animals all around!

We saw beautiful black bears featured right at the entrance, but also flamingos, Canadian lynx, bald eagles, a falcon, and a reindeer — no petting or feeding though! It's a small attraction, but it's worth walking through it twice because it's easy to miss seeing some of the animals. On our second walk through we saw my second favorite animals, the beautiful blue macaws.
There's an indoor building for Santa photos, a merry go round and a few small kiddie rides, and a maze of aging but somewhat endearing dioramas. They include model train tracks with Santa riding high, gingerbread people, a wishing well, and elves, some animated, including an elf directing a chorus of penguins. (Since a zoo is educational, I should note that penguins are from the South Pole, not the North Pole.) Most of the lighting was on trees, but they had some free-standing displays as well. It was a beautiful stroll.
The attraction was well lit, and we got to really see the animals including a few that were sleeping, the arctic fox for example, and cranes. It would have been nice to have some cages marked as "don't bother looking, they're sleeping", such as the monkeys. Holiday music plays, but it's secular, "Frosty the Snowman" type music, so if you're Jewish, atheist, or humbug, it's 100% safe and inclusive to attend the Stone Zoo. I don't think I saw a menorah on site, but neither is there a creche or 3 wise men, so it's all good. You can buy fried dough and other treats.
You can go indoors to shop and warm up, or hold your hands over small outdoor fires. They even have smores kits for $3 to roast your own marshmallows! Delightful. This is really a 5-star attraction, but it's small. So I'll give it 4.5 stars this year, but staff tell me that a further expansion is planned!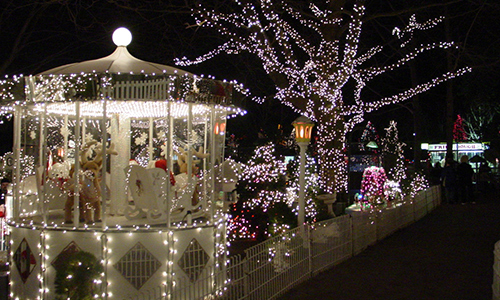 It's remarkable. The Stone Zoo is so convenient to the metro area that it is now a must-see destination if you have kids and it's great fun just for adults as well. Bundle up and enjoy the brisk night air, see the sights, and celebrate the arts of New England at the Stone Zoo's ZooLights.