Spirit of Boston Fireworks Dinner Cruise is a Classy, Magical Night Out (5 stars)

The Spirit of Boston is a small, upscale cruise ship that gives tours of Boston Harbor. It's a party on the water where you alternate between standing on the deck admiring the view to going indoors for dinner and dancing. They offer lunch cruises and sunset dinner cruises as late in the season as November, and we got invited to review a very special cruise with fireworks from Boston's Harborfest.
The ship itself is magnificent, an upscale vessel of three floors, each with a bar and service for serving a buffet meal. The first two floors also have dance floors! It is spacious and classy — guests are asked to dress up, too — and the elegant tables have real water glasses and cloth napkins.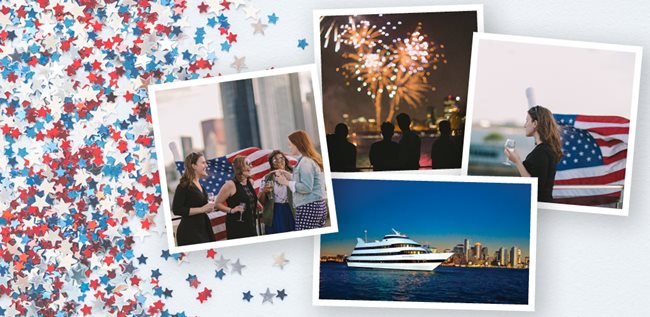 Have dinner first before you go out to view the sunset. At your table you'll get a server to bring you drinks and specialty desserts, or go straight to the bar. One trick to most buffet meals is that with variety it's easy to hide ordinary food such as pasta. But the food aboard The Spirit of Boston delighted and impressed us.
Pro tip: At any buffet, look at the choices instead of just loading up on the first dishes you see, which are often the least interesting. At the Spirit of Boston's buffet, there's plenty of variety! They offer bread and butter rolls, which were pleasantly soft, roasted broccoli florets, a creamed corn and cheddar cheese casserole, baked ziti pasta, and mashed potatoes. For the health-conscious, they offer six types of salad: mixed greens, a spinach & kale salad, a green bean salad, and kidney and chickpea salad, a red beetroot salad, and a bow tie pasta salad. Find the entrees in the back: flounder fillet, honey and sesame chicken with scallions, Italian beef meatballs in a mushroom cream sauce, and a chef carving station serving prime rib. The prime rib just falls apart in your mouth, without hardly chewing, delicious though with some fat. And the chicken was perfectly cooked. It's quite a high-quality buffet, and although you can go back for another serving, you won't need to. One plate is satisfying and hearty, not oily.
Skip dessert or find coconut cake, carrot cake, brownies, fruit salad that's mostly melon, a vanilla mousse, and pound cake. You'll want to visit the coffee station and bar, too. Drinks are not included, but you can buy an upgrade that includes alcohol and a guaranteed window seat. You'll also find self-serve free water jugs by each bar. Thankfully, during dinner the music wasn't too loud for conversation. The below deck space seemed spacious, with plenty of room to mingle and dance. Dinner music was crowd-pleasing, easy-listening music from the 80s and 90s that was perhaps too 'wedding' for us, a bit generic, but the mood eventually switched to dance music. The bathrooms were large, clean, and modern.
Of course, on a cruise, you'll want to spend most of your time out on the decks. As the sun sets, the day cools off and the wind is pleasant and warm. Even for a Boston resident this is a view worth seeing, a view of Boston that you've only ever seen in photos. Stunning views are all around you, and you'll see tons of other boats and Boston landmarks. (This not being a historic cruise, there's no one to tell you what you're seeing, but bring a Bostonian on your trip to point things out.) The dinner cruise route takes you east past Boston's financial district and wharf area, and then south down the inner harbor.
You'll sail close enough to shore to get a good view of everything, and for a feeling of progress as the buildings go by. You'll also see all the other tour boats and yachts, some very elegant, and some old-timey with sails.
The music is not overwhelming, so you'll be able to find a quiet, intimate moment to pretend that you have the boat and the whole harbor to yourself with your significant other or friends. Because this was a special fireworks night, we got into a lighted boat parade, but from our vantage point we couldn't really tell that we were in a line of ships. The fireworks were spectacular, though of course for safety reasons you see them from the side, not just underneath, which makes it similar to seeing fireworks from land.
The whole idea of a harbor is that it shields you from ocean waves, and the Spirit of Boston only rocks minimally because of the wakes of passing boats. So you shouldn't get seasick, but if you feel uneasy, go out on the deck and fix your eyes on buildings in the distance. That will help you feel stabilized. They do that thing where they politely force you to take a photo as you board the ship, and then surprise you with asking to buy your photo on the way out. Of course the better photos to take are while the ship is underway.
The Spirit of Boston Dinner Cruise is a significant expense, but it's a classy, romantic night out on a well-maintained ship with great food and even better views. Of course you can rent out their ships for corporate events and group functions. The fireworks made it an especially magical experience, but I sense that any dinner cruise would be a night to remember. I'm glad to give the Spirit of Boston a full 5 stars.