The Sound of Music Could Be the Best Musical of All Time (5 stars)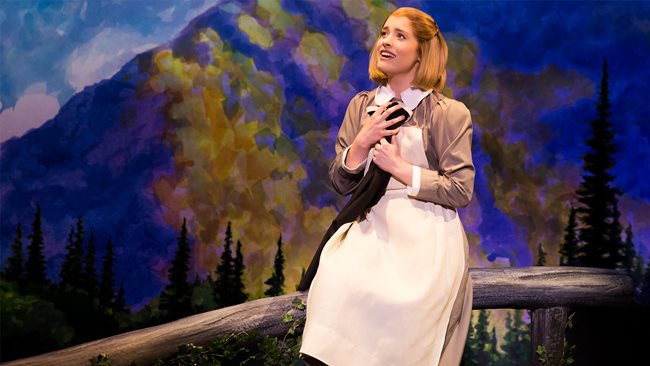 The Sound of Music, music by Richard Rodgers, lyrics by Oscar Hammerstein II, book by Howard Lindsay and Russel Crouse, suggested by The Trapp Family Singers by Maria Augusta Trapp, with Scenic Designer, Douglas W. Schmidt; Costume Designer, Jane Greenwood; Lighting Designer, Natasha Katz; Sound Designer, Shannon Slaton; Costume Coordinator, Jimm Halliday; Hair and Wig Designer, Bernie Ardia; Music Coordinator, John Mezzio; Music Director/Conductor, Michael Uselmann; Orchestrations by Robert Russell Bennett; Dance & Vocal Arrangements by Trude Rittmann; Production Stage Manager, Mary Dennis; Music Supervisor, Andy Einhorn; Choreography Recreated by Jonathan Warren; Original Choreography by Danny Mefford; Directed by Matt Lenz, runs May 1-3, 2018 at the Boch Center in Boston, Massachusetts.
The Sound of Music is perhaps the best musical of all time. Even if you don't like musicals you will love it. It's about family — kids love it. And it's about war and romance — adults love it. And the music! Just the opening three numbers, Preludium, The Sound of Music, and My Favorite Things, will thrill you to your bones. This national tour, by Networks Presentations, is as good as the movie or any production of The Sound of Music that I've seen. There are at least six well-known songs that you are bound to recognize, perhaps most famously The Sound of Music and Edelweiss. (Sadly, Edelweiss was written for the show and is not a traditional Austrian song. In fact, this show and movie were banned in post-war authoritarian Austria, and most Austrians even today have not heard the music.)
The play is not religious, but it does begin and end with nuns, and one named Maria who is nun too conventional. She just can't stop singing in the abbey. So they send her to nanny 7 children, none of whom want a nanny. It all takes place in 1938 Austria, with the shadow of a possible German invasion looming over everyone.
The characters in the play are wealthy, and the staging, by Douglas W. Schmidt, matches that opulence, effortlessly changing between scenes, and matching the Alps with an alpine slanted roof that enchanted me, and a painted and impressionist mountainscape that would have had more impact if it had been a giant photo or even a video with clouds passing by. I was struck by the powerful lighting, by Natasha Katz, which was stark and blue to represent night. Then instead of using a spotlight to brazenly highlight characters, mottled shadows are used to tone down the setting, helping us focus on what's important to see. Maria's wig struck me as unnatural. Choreography, recreated by Jonathan Warren, and originally by Danny Mefford, keeps the characters constantly in motion, and often to humorous effect, such as the kids pretending to be a clock with a cuckoo, in the song, So Long, Farewell. Kudos to costume designer Jane Greenwood especially for Elsa Schraeder's dresses. Elsa's appearance is cosmopolitan and fancy, a contrast to the mountain people she befriends, and a great foreshadowing. In this show, the clothing signals so much.
The Boch Center is an excellent venue for this setting. The seats are comfortable, bathrooms aplenty, and you can get snacks, drinks, or buy show merch readily. It's allergy season and unfortunately there was quite a bit of coughing in the audience. The show has a live orchestra, and during the healthy intermission of 20 minutes you should wander down to the orchestra pit and peek in. The musicians each have a computer screen on their music stands, so that they can watch what is happening on stage and match the music to it. There's no diversity in the cast.
The production is heart-warming and heart-breaking. There's such pathos and such joy! It's hard to bring seven actual children to the stage, but even the smallest is surprisingly good. Kudos to Lauren Kidwell as the mother superior (a nun), who balances authority with empathy.
Also kudos to Adam Ross Glickman who is scary as hell as the Nazi leader, with barely restrained malice. This is much needed in a script that doesn't have much wartime teeth. In 1959, World War II was still such a trauma in America that you hardly needed to play up the Nazi threat, and I suppose they wanted a break from the harshness. So, no fault of the production, as written the play deals with German issues without overt horror. (But the production could have modernized it for a 2017 audience, for whom World War II's horrors feel so remote.) Still, it's safe for young kids this way.
The play is softer in other areas, as well, which is why I cannot give it a 5 stars plus, as I sometimes do. Mike McLean (Captain von Trapp)  seems to telegraph the ending instead of playing up his character's initial defining traits. Elsa Schraeder (Melissa McKamie) allows awkwardness but not ugliness in her portrayal. When two adult characters let the war divide them, it should be a cruel slap in the face, but they're rather pleasant about it.
The story will bring tears, laughter, and even teach you about life, such as how to handle adversity, or when the mother superior tells Maria, "The love between two people is holy, too." It's an easy 5 stars for this production of The Sound of Music.
See The Sound of Music at the Boch Center, and don't miss upcoming shows at the Boch Center including Dirty Dancing, The Wiggles, Rock of Ages, Dr. Seuss' How the Grinch Stole Christmas, The Musical!, and A Charlie Brown Christmas Live on Stage.