Something Rotten Parodies Shakespeare and Stage Musicals (4 stars)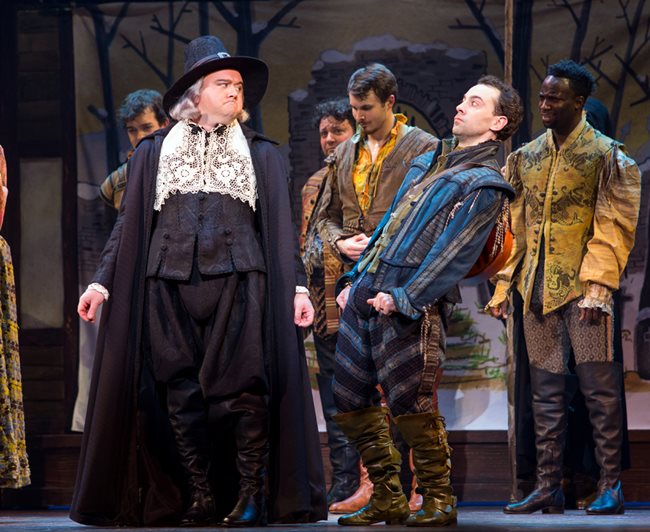 Something Rotten, book by Karey Kirkpatrick and John O'Farrell, music and lyrics by Wayne Kirkpatrick and Karey Kirkpatrick, conceived by Karey Kirkpatrick and Wayne Kirkpatrick, with Scott Pask, Scenic Design; Gregg Barnes, Costume Design; Jeff Croiter, Lighting Design; Peter Hylenski, Sound Design; Jeff Norman, Production Stage Manager; Steve Bebout, Associate Director; Eric Giancola, Associate Choreographer; Brian P. Kennedy, Music Director & Conductor, directed and choreographed by Casey Nicholaw, runs February 20-25, 2018 at the Hanover Theatre in Worcester, Massachusetts.
Something Rotten is a musical comedy set in the time of Shakespeare, but centered around competing playwright Nick Bottom (Rob McClure). Nick wants so badly to be a success like Shakespeare. But how? He, his wife, and brother get into madcap antics along the way. And he may even get entangled with a Puritan minister in Britain who has not yet left for the New World… and his daughter. This is the first US tour, and with a different cast, than the original Broadway run.
You'll find Monty Python type surreal humor, with physical comedy gags that will make you laugh out loud. The supporting cast is especially worthy of note. Autumn Hurlbert as Portia goes over the top like with the insane laugh of Amy Pohler in her interpretation of a good girl who wants to go bad but doesn't know how. Blake Hammond (Nostradamus) doubles the laughter by adding body language and double-takes that steal every scene he is in. And kudos to Scott Cote (Brother Jeremiah), who more than anyone else in the cast took serious lines and twisted them to add humor underscore the hypocrisy of his role.
The play comes with a dozen huge and impressive sets, by Scott Pask, spun on and off stage in an instant on wheels, mixing and matching in pieces, and with lighting that sets the mood well by Jeff Croiter. You'll find big dance numbers, including dancing, with good use of props to accentuate the craziness. Kudos to costume designer Gregg Barnes for the omelet and egg costumes that take the last scene to a strange new level.
Something Rotten is intentionally silly and raunchy, with many great scenes. For example, Shakespeare giving a reading to a crowd is played up like a rock concert. There are also some touching moments, such as an entire song based on "To Thine Own Self Be True". You don't need to know much Shakespeare to get the jokes, but knowing a lot about musicals will help.
Unfortunately, flaws are many in the story. Sometimes a comedy is focused so much humor that it forgets to set up a real plot and characters we want to root for. There isn't much tension in the story. Despite the outstanding supporting performances, notably Adam Pascal as celebrity rock star Shakespeare, who shines with confidence and immodesty, there's little chemistry in-between the characters. There's no reason for the audience to root for Nick Bottom, an unlikeable character. He's filled with hatred about Shakespeare, blocks his wife and brother in following their dreams, and his instinct is to cheat and steal. He's not even a talented underdog; his brother has the talent.
The script has structural issues as well. How the play interprets Shakespeare is a bit mean-spirited. Nick's wife Bea (Maggie Lakis) has a dream but her plot hits a wall and is forgotten. The use of Nostradamus to see the future is a deus ex machina, a device forced into the plot that comes from nowhere. The play contains two scenes that are only imagined (they never actually happen), which confuses the audience. I've got no problems with comic morons in the theater, but this play's portrayal of Shylock, a Jewish banker, it's drawn too much from stereotypes, making the humor tasteless. Some sexual humor can be fun, but the play overdoes it. It's hard to empathize with one of the major characters whose big change of heart comes way too late, after doing something terrible and after getting caught and really having no choice but to repent.
More importantly, the comedy sags in places. Repeated pop culture references to famous musicals substitute for jokes and get tiresome. The first song has no point except to say, "This play is set in the Renaissance era", not setting up any plot or character arcs. I have to wonder if it's a deliberate take on SPAMALOT's opening number about Finland. Unfortunately, the humor in Something Rotten is not Monty Python level clever. Puns like mishearing "Hamlet" and producing a play called "Omelet" aren't funny to start with and then are "beaten" to death. I didn't find myself humming any of the tunes the next day, and the heartfelt "moral lesson" of the play is copied from Shakespeare, instead of being original. Finally, the play is just too long at 2 hours and 30 minutes including an intermission.
Something Rotten has many high points, including an inspired song about the Black Death where the Grim Reaper and friends come in to dance. It just has too many storyline problems and the comedy is not witty enough. I'm tempted to give 3.5 stars, but it would be wrong of me to inject too much of my own personal tastes into a show meant perhaps for others. It's more of a parody of musical theatre than a parody of Shakespeare. If you're expecting brainy Shakespeare in Love or SPAMALOT, reset yourself to expect something more like Shear Madness or the old Medieval Manor show. I must be in a minority, because the play, with its original Broadway cast, was nominated for 10 Tony Awards in 2015, including Best Musical. And the audience seemed to love it.
Thus, a full 4 stars for Something Rotten. Today, Sunday Feb 25, is your last day to catch it at the Hanover Theatre in Worcester. See thehanovertheatre.org/somethingrotten.