SkyVenture New Hampshire is New England's Best Small Adventure Park (5 stars PLUS)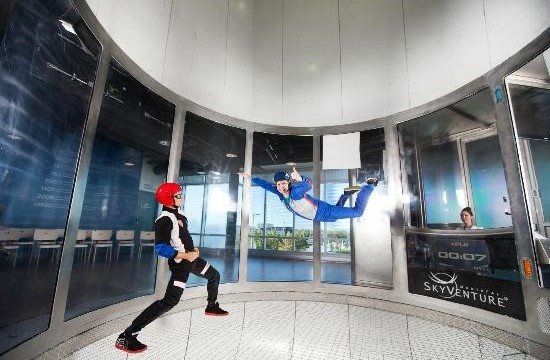 New England has many full-sized amusement parks such as Canobie Lake Park, Six Flags New England, Davis Mega Farm Festival, Water Country, Water Wizz, and Lake Compounce. And it also has smaller destinations, adventure parks or fun parks, which include F1 Boston, Great Wolf Lodge, Salem Willows Arcade, Funway Café, and other arcades, ice skating rinks, roller rinks, and go kart places. These destinations are small enough that you might rent the entire attraction for a large birthday party. (Halloween attractions and zoos fall into other categories.)
So categorized, SkyVenture is the best small adventure park in New England. It's located in Nashua, New Hampshire, just a 45-minute drive from Boston. Unlike F1 Boston, which is for adults with a driver's license, and unlike most fun parks, which are only for kids, both kids and adults can have a great time at SkyVenture. Also, unlike Great Wolf Lodge (formerly CoCo Key Resort, an all-indoor, all-weather water park), SkyVenture features unique, bucket list activities that you just can't get elsewhere — at least not so conveniently and safely. You can go "skydiving" without leaving the room in their vertical wind tunnel, try surfing in their static indoor wave pool, go rock climbing, and tumble in a giant plastic bubble called the Fish Pipe Water Slide. It's just large enough that you could spend an entire day there.
The place has a family atmosphere, but it's too pricey and classy to devolve into a Chuck E Cheese type kids scream fest. Most of the activities take place in a giant heated room where you'd swear it was a hot summer's day all year long. The center of the space is a cafe where you can take a break from the action, or for members of your party who prefer just to watch. The food is midrange, far better than what you'd expect at an arcade hall, but not quite restaurant level. You can get a healthy salad or wrap, or a pizza or hamburger, with a few treats such as seafood cakes, smoothies, and waffle fries. They've got wine, rum, margaritas, and beer, too. Staff are friendly and have good energy. They seemed to understand that they're there to support our being brave in trying something new. Thanks to Tracy Connell at the cafe who went beyond serving food to making us feel guided instead of confused about where and when to go for our sessions.
Once you get wet, you don't want to go back, so we tried indoor skydiving first. Our instructor was Joe Winters, who put us at ease right away with his happy energy and patience with our questions. Instead of just showing us a video, Joe went through all the safety signals and even showed us physically (by lying down on a table) what position to take in the vertical wind tunnel, so that the giant fans would lift us like skydiving properly. Having just been to a vertical wind tunnel in Orlando, I can confirm that SkyVenture was warmer (less corporate), and had clearer instructions.
You go into the wind tunnel in groups, and they'll take kids as young as three years old who are toilet trained, or adults up to the 80s. The experience isn't as scary as you'd think. It really is just a giant fan beneath you blowing you up. And your instructor enters the wind room with you, keeping you calm, and adjusting your body posture with hand signals, or physically if needed. They let you do it twice for two minutes each. The first time is just to experience, what is happening? But the second time, you got this!
If you're adventurous, ask to have the wind turned way up so that you and the instructor can fly up and down 20 feet. But without that request, you'll stay safely within a few feet of the wire mesh that forms the floor. Indoor skydiving is the most braggable adventure activity that is secretly super easy that you will ever do, except perhaps ziplining. Of course they shoot photos and video for you, or you can shoot your own from outside the glass wind room.
Then we went for the indoor surfing. This is an indoor shallow pool, less than a foot deep, where water jets create a rush of oncoming water, which zips over a wave-height bump in the pool floor. This creates an infinite and static wave that is just right for trying some surfing. There's no need to swim or struggle to get on top of the surf board. You just stand at the edge of the pool and a guide helps you crouch onto it. Falling is no problem, because the pool's bottom is soft, not concrete, and the rushing water carries you away swiftly. I only scraped myself once even though I am a very tall person who fell many times from on high.
If surfing is too much for you, you can also try boogie boarding, where you lay down on a surf board. This is also an awesome-looking stunt that you can brag about, but is actually easier than you'd think. One sessions wasn't quite enough for me to get the 'hang' of surfing, but in the photos you can't tell that I'm always within 5 seconds of wiping out. Okay, 2 seconds.
Of course there's a shower to wash off the chlorine pool water, and remarkably, the dressing rooms were impeccably clean. We've never seen bathrooms so clean in a water park before. Unlike Six Flags New England, SkyVenture doesn't gouge you on little charges. The cafe is inexpensive, parking is free, and the changing room lockers are free. Bring your own swim suit and towel, but you can also rent them for an easy $3. Their combination package lets you surf, fly, rock climb, and tumble in the rolling Fish Pipe Water Slide for just $105 per person, but I assume photos are extra. Of course you can spend more money to get longer adventure times. For groups, you can rent a private function rooms for corporate events, birthday parties, and even a "summer camp" for kids, any time of the year. They are even open late enough that you can even go after work.
The last adventure we tried was the Fish Pipe. It's a giant plastic bubble that you crawl into. You sit in a little puddle of water while the bubble spins around you. This makes you tumble or just slide, like an endless water slide. It's safe for little kids (two at a time) or adults (one at a time). They even let us try running in place while the bubble spun up. That didn't last long!
We were too tired and afraid of heights to try the rock climbing wall. New England has many other rock climbing walls, but the one at SkyVentures is especially natural seeming, with a rock-like facade instead of just a board with pegs on it. My advice would be, eat at the cafe in-between adventures to get your energy back and then you'll be good to go. The surfing was surprisingly exhausting. Flying and the fish pipe were not.
Affordable, close to Boston, and full of unique, bucket list activities that delight both kids and adults, and with an atmosphere that works for both corporate outings and families, SkyVenture is a marvel of amusement park fun. I've been reviewing events in New England for more than a decade, and SkyVenture is as close to perfect as you're going to get. I'll give SkyVenture a rare, must-see 5 stars plus.
And see this video review contributed by Matt Martino, and see the rest of vlog at Studio Ablisteaso!
For more, see www.skyventurenh.com.