Skylon Tower Offers the Highest Dining View of Niagara Falls (5 stars)

Skylon Tower, on the Canadian side of Niagara Falls, rises 775 feet above the gorge, from which you can see the Canadian Horseshoe Falls, The American Falls, and the Bridal Veil Falls. At ground level, they have a mall with jewelry, clothing, native crafts, and souvenirs, but the reason to go is to travel to the top. Then at the top they have three levels, regular dining, buffet dining, and then an indoor/outdoor observation deck.
A pass to the observation deck is only $20 CAD and includes a 3D/4D movie, which we did not see but the reviews are not good. Your best option is to have dinner, which includes observation deck admission.
The restaurant at Skylon Tower is circular, giving a 360-degree view, and it rotates every 62 minutes! So you'll see everything. Pro tip: sit a few inches from the rotating wall, whose brushing against your side may nag you. You can visit the buffet, on a separate floor, which is less expensive and I imagine would have been fine, including several salads, your choice of mouth-watering grilled meats or fried potato or seafood, coffee, tea, cakes, and pastries. Go to the buffet early to get a discount. For this review, we instead went to the full restaurant and were given a restricted prix fixe menu meant for tour groups.
The restaurant has stunning views, being some three times higher than the Sky Wheel in nearby Clifton Park. You can see the entire falls and the surrounding city. At night, they light up some falls the colors of the Canadian flag and another the colors of the American flag. Then at 10pm they launch fireworks, daily during peak tourist season, or occasionally year-round.

The fireworks lasted only five minutes — understandably, since they do them so often, shot off from over the American Falls. Because they explode slightly below the level of Skylon Tower, you need to have a direct downwards view to properly see them. And only a fraction of diners in the circular restaurant would be on the correct side for this view. As for us, we were only one table away from a direct view, and still had difficulty, because of the diners in our way next to us. So, pro tip: Come before sunset instead. You'll get better views during the daytime. That being said, the area's outdoor attractions are lit so well at night that there was plenty to see out there at nighttime.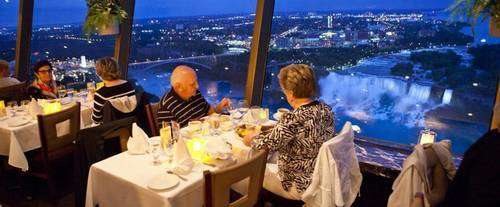 The restaurant is delightfully romantic, and features a live pianist! There's also a full bar. While some restaurants are too dark in an attempt to create intimacy, Skylon Tower has plenty of lighting, perhaps even too much, since it reflects against the windows at night, impacting the view to the outside.
To begin, they bring out free bread, which was good but not extraordinary. One batch was warm, one room temperature. Then the soup of the day, which was cream of broccoli. It comes in a glass bowl decorated with lions, thinner than expected but delicious. The chef salad was fine, but the standard tomato and lettuce.
We tried the Grilled Fresh Salmon Filet. The meat was thick, juicy, with small potatoes that seemed boiled, and half a tomato. The presentation was good, with an orange garnish and a singular oversized piece of broccoli. The salmon was savory, buttery, with a good mouth-feel. It felt wholesome, reinvigorating: just what a weary traveler needs.
We also tried the Grilled New York Sirloin Steak, medium-sized, which also came with broccoli, potatoes, and a juicy stewed tomato with bread crumbs, with juice from the steak pooling on the plate. It was full of taste, easy to chew, and not fatty. The broccoli was just right, having some real chew to it, a bit crisp but not raw.

Finally, we tried the Neapolitan Mousse Chantilly, and the Maple Swirl Ice Cream. Wow! You can tell that the ice cream is made with pure maple syrup. It's got a wonderful mouth texture, with fine grains of cold crystals. It's served decoratively, but in a small portion. The mousse is chocolate and strawberry with whipped cream. It's dense, finely whipped to be perfectly smooth, sweet but not overpowering, with the consistency of a good thick yogurt. Both were delicious.
According to the website, the full menu offers 13 main meals, include a grilled vegetarian medley, roasted chicken breast, lobster tail, sea bass, and roast prime rib, and an even broader selection of appetizers including sea scallops, duck pastrami, escargot, and Canadian smoked salmon.
Overall, while the dessert was original and delightful, the rest of our meal's presentation and taste were good as you would expect from any restaurant, rather than extraordinary. Of course it's the unique views and the atmosphere that should draw you to Skylon Tower. Noting the additional elegance of the live pianist and the indoor/outdoor observation deck, Skylon Tower deserves a full 5-star rating.
See skylon.com.