Six Flags Fright Fest Brings Big Rides, Shows, and Haunts to Halloween (5 stars PLUS)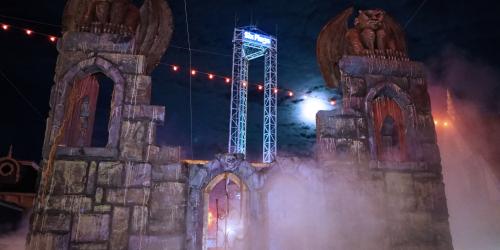 Six Flags is the biggest and best amusement park in New England, and each year they celebrate Halloween with Fright Fest. It's an enormous endeavor with dozens of theme park rides, five major Halloween attractions, plus scary performance stages and "scare zones" that you walk through seeing roaming creatures that scare you.
The event is expensive, so come early during the day to take full advantage. You will certainly want to spend the extra money for a Fast Pass, which lets you zip through the long lines. You might as well pay $30 for preferred parking than $25 for regular parking, as well.
During the day you can experience most of the park that's still open for the season, and these rides stay open when Fright Fest officially begins at 6pm. There's no better place in New England to find the ultimate roller coasters, with Batman, Superman, and the Joker being favorites. These rides scare me even in the daytime! Pandemonium and Buzzsaw are more my style. Don't expect to win anything at the carnival games, although we did see people with big stuffed "dead Bugs Bunny" dolls, who had apparently won them.
There was no way for us to see everything in the time allowed, even with press passes, so we missed most of the stage shows. What little we did see involved a lot of crowd work, such as buskers will do, and some kid-level joking around and dancing that was not core to our interests as adults. However, I wish I'd seen the Celtic Magician and the rest.
There are a ton of food options, although we struggled to find healthy choices and the lines were long — a Fast Pass will not help you there.
Midnight Mansion (4.5 stars) was the star of the show, and the attraction to head to first. It's an entire purpose-built house with very interesting old-timey set design. Actors who spooky you have real lines to say, and kudos to the ghost bending over backwards! While mostly indoor, you also head outdoors into a cemetery with animatronics. My favorite was the room with levitating chairs and books, as though a whirlwind of chaos had been suspended in time. The attraction has interesting lighting effects and is definitely spooky. Almost 5 stars, but the electric sparks were too loud for my ears, and a bit too many areas had "filler" set design such as camouflage netting and hanging strips of cloth.
The Forgotten Laboratory (3 stars) was too basic. Although I appreciated a few animatronics, it was essentially a maze of black painted plywood without decoration. Guests were sent through in large groups, causing bunching. At one point, someone turned all the lights on. That must have been a mistake?
Slasher Circus 3D (4 stars) is a haunt where they give you special glasses that make the paint pop out, as if a 3D effect. It's an interesting illusion that throws you off-balance. There were plenty of actors, and I appreciated the 3-D painted clown car and an elephant. Unfortunately most of the walls were decorated with paint splatters and murals. Do scary clowns live in houses with paint splatters? I suppose they might, but for me it was hard to keep the suspension of disbelief. 3.5 stars, call it 4 to be generous.
The Aftermath: Zombie's Revenge (4.5 stars) had some fog effects and 3D lighting effects, and a real story to the attraction, so there's a solid theme. At the end you'll find a spooky ghost tunnel with fog and lighting. This attraction has a real woods walk, and walking through any New England forest at night is spooky. There is not enough natural beauty at Six Flags compared with, say, Canobie Lake and Lake Compounce, so I was really glad to find this attraction. A bit too much "filler" with hanging plastic, hanging sheets, and paint splatters for 5 stars, but the walk was a nice long one.
Wicked Woods (4.5 stars) was even better, with fog effects, attractive graveyard dioramas, and it was the most thematic, story-based attraction. You'll find beautiful faux stone archways, a mine shaft, a fog room so thick you can't find your way, and a fantastic wolf animatronic that was the best in the park. But this also a lot of camouflage netting filler, and the actors mostly had no lines to say, just screamed at us.
Taking just the top three Haunted attractions makes Fright Fest worth the trip from Boston, but of course it is part of a massive amusement park, so that takes it to the 5 stars plus level! I do want to mention that you'll find more outdoorsy beauty at smaller theme parks, expect to pay for parking, eat beforehand to avoid long lines, and we had quite a bit of trouble finding all the attractions in the low lighting, even with a map. Signposts would have been nice.
Jenny McGrath at Six Flags kindly agreed to an interview.
Events INSIDER: Six Flags has so many of the biggest rides in New England. And you also have, of course, the kids' rides. What do you have in the middle that's not for kids but not so big and scary?
Jenny McGrath: Excellent. I like to call them thrill seekers in training. They graduated from the kiddie rides and now they're going to the big extreme rides. We absolutely do. Some of the premium examples would be Thunderbolts. It's a great classic wooden coaster. It doesn't go upside down, it doesn't go to 77 mph, but it is a great stepping stone type of ride.
Events INSIDER: Also, Pandemonium. I quite liked that. It wasn't totally hair raising. It was just kind of fun.
Jenny McGrath: Pandemonium is another great example. It's a spinning ride that allows guests to have a different ride every time they experience. We also have Gotham City Gauntlet that's in our DC area, which has several hair pin turns. We have a variety of these rides. Our goal is in every area there's something for kids, something for those future thrill seekers, and then, of course, the big gun or the big show items that we have, which are so amazing.
Events INSIDER: Obviously, the lines can be pretty long. Can you give a sense of the value of Fast Pass?
Jenny McGrath: The Flash Pass is a huge value. If you want to maximize your day, maybe you're not a season pass holder and will only get here once this summer, it does add a lot of value to your day. I'm a huge proponent of it, and as you mentioned, it can even double potentially the amount of attractions you get on. If you're a family, though staying on some of those kid rides, those lines never get too, too long. It's more the big, big coasters and attractions that we have.
Events INSIDER: Can young kids go through the attractions?
Jenny McGrath: 6:00 p.m. is our witching hour. That's when it all kicks off. Right now, we're almost there tonight even, but for our guests who are kids, we have thrills by day, fright by night. On the map, we use a skull ranking system and I always encourage parents to please trust us based on what we've selected that's appropriate. A one skull is kid/family friendly. A two skull we say maybe is about ages 10 to 14 or 15. Then, of course, three skull, that's the scariest.
Events INSIDER: What's the best way to navigate the park, to "beat the system"?
Jenny McGrath: My trick of the trade, that I don't share frequently, is when you get to the gazebo, take a left, and do an entire circular motion of our property. Most of our guests head down to the DC area and you'll basically beat them and then follow their lead as they're one step ahead of you and it works very, very well.
Events INSIDER: What else would you like readers to know?
Jenny McGrath: This is the first year ever we're premiering "Holiday in the Park". We open November-December.
Events INSIDER: So the park is open with holiday lights at the end of the year?
Jenny McGrath: Yeah.
Events INSIDER: I'm so excited.
Jenny McGrath: Yes, I am excited too. Weekends November 24 through New Year's Eve.
Events INSIDER: What if there's snow?
Jenny McGrath: I hope there isn't, but if there is just a little snow, we're still able to operate… Millions of lights, we'll have 26 rides open. We'll have Santa, Mrs. Clause, we're going to have shows. It's just going to blow people's minds and I can't wait.
Events INSIDER: Well, I list 180 haunted attractions in New England, but I also list about 50 holiday light displays.
Jenny McGrath: You've got to come back.
Events INSIDER: Oh yeah. Thank you!