Simcock Farm's Spooky Sundae is Not-So-Spooky But Great for Kids (4 stars)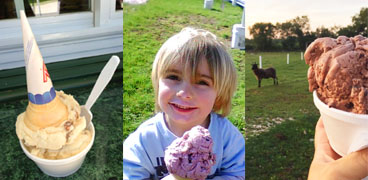 Simcock Farm is a 4th generation small family farm in Swansea, Massachusetts, close to Fall River, that's open to the public. During the day, they have pumpkin picking and pumpkins for sale, a corn maze, an ice cream stand, and animals to pet and feed. They even have a sunflower maze! And during Halloween, theirs is one of the first attractions open for the season, in mid-September.
It's a kid's-level attraction that is not-so-spooky. When you enter, for example, there's an outdoor tent for taking photos with an animatronic witch and her mannequin witch friends stirring a bubbling cauldron. You'll see a 115-year-old barn decorated with a spider's web of holiday lights, and 2D bats as if from a craft store. Guarding it is a 12-foot-tall Nightmare Before Christmas looking inflatable ghoul, a cartoony inflatable dragon, and an inflatable Frankenstein. It's safe even for small children, and I saw several there. They have bug spray available.
First, you take a 9-minute hayride, sitting on real bales of hay on a flatbed pulled by a tractor. It's lovely. It's quiet and you can hear crickets. You're far enough from city lights that you can see the stars, even early in the evening. The hay ride has no actors, but several dioramas — shacks and a cemetery — made from scrap plywood and hung with orange string lights. Although there was a mailbox with a hand sticking out, and a guy with a pumpkin head, the ride was mainly amateur displays or storebought, flat plastic skeletons.
Then you arrive at the corn maze, where you can turn left to explore the maze, which takes 6-10 minutes, or turn right if you want to just directly get out. It's so dark that the maze, so tall, is quite fun. It's not hard to do, and I didn't have to backtrack at all just making random turns. There are a few storebought props in the maze. You can bring a flashlight or use your cell phone to guide yourself through. Pro tip: to avoid nighttime bugs, keep moving, don't halt. The paths are quite narrow and it was occasionally confusing which route was a valid path and which route was simply the gap between rows of corn.
You pass a giant scarecrow built from a basketball hoop stand, a coffin, and arrive at their ice cream stand! They serve you a bowl of ice cream and have more than a dozen toppings to choose from. You can sit in a covered tent area with tables and a spider hanging from the ceiling, while kids-level Halloween party music plays.
Simcock Farm's Spooky Sundae features only amateur decorations, but they are endearing and wholesome rather than annoying. Just the natural outdoors is the real attraction. At night, the farm is a comfortable place full of joy. While it's non-scary, just for kids, adults will also enjoy the excuse to be outdoors getting some exercise (and ice cream) on a crisp fall evening. While it's not a huge destination, the combination of hayride, corn maze, photo center, and ice cream stop is more than many Halloween attractions offer. You can hang out with your friends or family, sitting, talking, and admiring the night sky. There are tons of cute kids to see.
I'm glad to give Simcock Farm's Spooky Sundae 4 stars.
See simcockfarm.com.