Shoot or Be Eaten at Zombie Outbreak in Orlando (3.5 stars)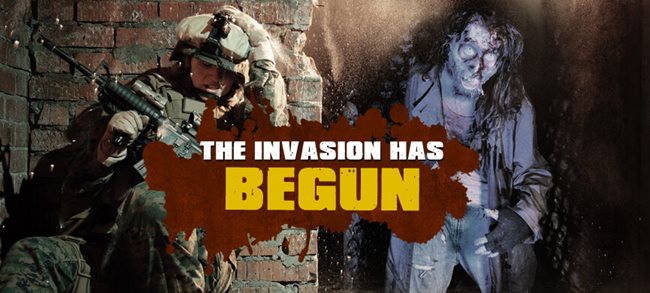 Do you like Halloween attractions? We do! Events INSIDER has reviewed more than 50 haunted houses in New England and beyond, so of course on our Orlando trip we had to visit Zombie Outbreak, which has locations in Orlando, Florida and Parkway, Wisconsin.
It's a laser tag experience where you are led through a Halloween house type maze and get to shoot actors dressed as zombies. You begin with a short training course and end up with a scoreboard telling you how many zombies you shot and whether they got close enough to you to bite you. That is all mediated by laser tag sensors of course.
On one hand, it was pretty cool to attend a scary attraction with so much interactivity. I've done four zombie paintball experiences in New England, all of which no longer exist, and one theme park attraction in Connecticut, a ride where you shoot wooden ghosts. Zombie Outbreak is about in the middle.
On the other hand, the story and staging are basic. The attraction feels more like a laser tag place that set up a theater, rather than theater geeks who set up a laser tag place. The attraction does try to set up a story for the experience, through an overly long video. You're in a government center that gets taken over and must work your way out. It's nice that the guns are heavy and have recoil, to give a sense of realism, but since we're not well-muscled military people, hefting the guns was a distraction. (Laser tag guns are usually plastic.) The set design and acting were rudimentary, more a series of plywood and warehouse spaces than real sets. I appreciate the guide leading us through the space and the energy of the actors, who each reappeared multiple times in our journey, giving the effect of more zombies to shoot. But the experience was awkward enough that it didn't feel much like a challenge to avoid getting bitten and to shoot zombies. It was more luck than a sport.
The attraction was short, less than 15 minutes. It's safe for more mature kids. They have a VR ride as well but it was broken the day we visited. They are right next door to the Titanic Museum. See my review of the Titanic Dinner Gala.
I can only give Zombie Outbreak a no-so-great 3.5 stars, perhaps because I'm more theatrically driven and tend to appreciate creative sets, stories, and acting. Perhaps for a certain laser tag or military personality it's 5 stars.