Sherlock's Last Case Parodies the Great Detective at the Huntington Theatre (3 stars)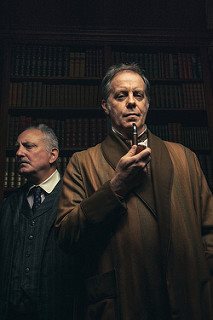 Sherlock's Last Case, by Charles Marowitz, Directed by Maria Aitken, with Scenic Design by Hugh Landwehr, Costume Design by Fabio Toblini, Lighting Design by Philip S. Rosenberg, Sound Design by Mic Pool, Casting by Alaine Alldaffer, Production Stage Manager Kevin Schlagle, and Stage Manager Alycia Marucci, runs through October 28, 2018 at the Huntington Theatre in Boston.
Sherlock Holmes is easy to parody. We love the stories, yet acknowledge their flaws. Holmes is so perceptive that he's seemingly omnipotent. He's rude to people yet risks his life to help them. He's so talented that others work with him despite his rough edges. It's an archetype that we've seen from M*A*S*H to House to nearly every crime show out there with a maverick who flouts the rules but gets the job done. There have also been many parodies of Sherlock Holmes, including the 1988 film Without A Clue and the stage comedies The Hound of the Baskervilles and Miss Holmes. Sherlock's Last Case also makes fun of the genre while also being an adventure with a mystery.
Set design, by Hugh Landwehr, was remarkably detailed, immersing us completely in the late 19th century. The play features two sets, the inside of Sherlock Holmes' apartment, and an underground lair. The home is cluttered with diagrams and scientific instruments, and you can even see through its back "windows" to the alley beyond. The entire set retreats from the front of the stage to the back of the stage, giving a "zooming out" effect when switching scenes. Kudos to whomever built that 19th century "dentists' chair"! The authenticity of the staging, props, and costume design by Fabio Toblini, put us in just the right mindset. The cast features five actors.
There are many laugh-out-loud scenes, and kudos to Malcolm Ingram (Inspector Lestrade) and Jane Ridley (Mrs. Hudson) for providing the most physical humor in the show. At one point the victim of a crime begs for a drink. So Lestrade pours a drink, and… downs it himself. At another point, two characters become too close and awkwardly pull apart. At other times, it seemed that opportunities for physical humor were missed. For example, Holmes gets a message by carrier pigeon, getting it by carefully reaching off stage to retrieve a prop that might have been thrown in as a gag. We expect a play to have a mountain of dialogue, but too much of the play is standing and talking without reference to props or the set.
Unfortunately, flaws in the show add up. Some come from the script, but a script can be and sometimes should be adapted by the production. For example, the play was written in 1984, and has misogynistic comedy that could have been removed. One laugh line is the insult, "old cow", banter includes, "You're getting to be like an old woman," and when Holmes discovers an invention whose purpose is rape, he is bemused by its ingenuity instead of horrified.
The show uses no microphones, so that its actors must raise their voices. It's difficult to avoid speaking in a monotone when your voice is at a shout, and it's especially a challenge with the stilted British English of Sherlock Holmes. We certainly expect erudition from Sherlock Holmes, but the show has too many lines such as "Now that the cucumber sandwiches have been digested, do you think we might return to the matters at hand?" that have too many syllables to be delivered with a comedic slap. Phrases like "I must admit that no matter how contemptible it sounds" obscure our understanding at times. During a fast-paced scene with death in the air, the phrase "Would you both please oblige me by shutting your mouths?" slows it down too much. The funniest scene in the play is when two characters play a word association game, with very few and quickly spoken words.
Red herrings and unlikely coincidences pile up in the show. Avoiding spoilers, I can say for example that Sherlock is only 43 years old, and the play isn't his last case. There's no real crime that needs solving, but rather some circular shenanigans that are not properly foreshadowed, and take 20 minutes to begin. One scene with an implausible parade of impostors, and another involving 40 seconds of air, seem poorly written, the opposite of the clever plot twists we expect in a mystery.
Of course, in a comedy coincidences need not be a problem. One can do anything in a madcap, raucous comedy! But Sherlock's Last Case is played straight, not silly, by both Rufus Collins (Sherlock Holmes) and Mark Zeisler (Doctor Watson). In a comedy, you typically need a funny man, who does something nutty, and a straight man, whose reactions we laugh at. It's fine for Sherlock Holmes, the funny man, to be dry in his strangeness, but as the straight man Doctor Watson shouldn't be dry as well. We need his awkwardness to show for the humor. (After the intermission, the lead actors do banter more.)
One also wonders whether we are parodying Sherlock Holmes because we love it despite its faults, or whether this is a parody of bursting the balloon, intended to mock and cut Sherlock Holmes down a peg. There's something nasty about the play's primary plot twist — a main character does something — that goes beyond poking fun to bastardizing the Sherlock Holmes genre. It's not joyous the way that this plays out, as one would hope from a comedy. Without spoiling the plot, I can say that this twist reminds me of the play Dog Sees God, where Charlie Brown and the other kids from the Peanuts cartoon strip are all grown-up. Instead of retaining the core themes of Peanuts — the kids are sweet-hearted with deep thoughts about life — as grown-ups they're crass and cruel to each other. That is a mocking, not a loving parody of Peanuts. Sherlock's Last Case doesn't seem to stick to themes, however parodied. Sherlock is abrasive, but he risks his life to help strangers, so he should be treated with love, like a hero. As with any detective story, he should be faced with something unknown, and then solve clues to uncover it.
It's more challenging to make a comedy than you would think. A comic play must be silly enough that we laugh, but if it's too silly, we lose interest in the characters and plot. I love Sherlock Holmes, having even visited the tourist trap at 221B Baker Street in London, and wanted to love this play, but it's neither silly enough for continual laughter nor clever enough for a good drama. The primary tension between characters is not resolved either believably or comically at the end. Is that sound off stage towards the end what we think it is? That's horrifying! Just three stars for Sherlock's Last Case, on the strength of the set, costuming, and prop design, and the physical comedy of the supporting actors.
Sherlock's Last Case runs 2 hours and 10 minutes including an intermission. Seats are comfortable, and they sell snacks, wine, beer, soft drinks, and coffee in the lobby. Also check out Sherlock Holmes and the Case of the Emerald Necklace, a separate production which is a series of original audio plays that interact with the outdoor fog exhibition — that's right, an outdoor exhibition made from fog effects — along the Emerald Necklace ponds in Jamaica Plain.