Shakespeare in Love Both Parodies and Honors Shakespeare with Laughs (5 stars)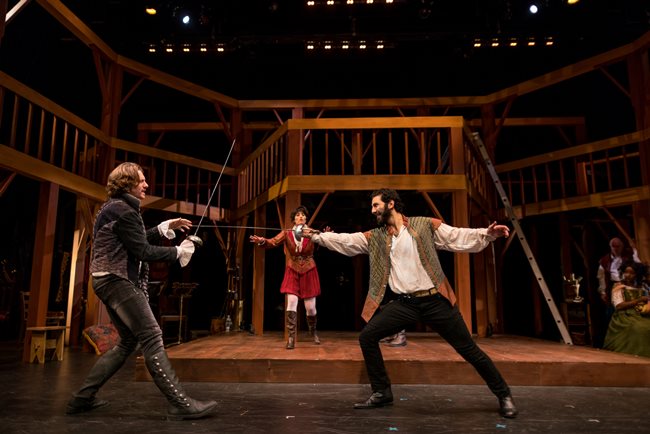 The Calderwood Pavilion Resident Theatre Company at the Boston Center for the Arts, with Paul Daigneault, Producing Artistic Director, presents Shakespeare in Love, based on the screenplay by Tom Stoppard and Marc Norman, adapted for the stage by Lee Hall, Directed by Scott Edmiston, Original Music/Music Direction/Sound Design by David Reiffel, Choreography/Period Movement/ by Judith Chaffee, Fight Direction by Ted Hewlett, Scenic Design by Jenna McFarland Lord, Costume Design by Rachel Padula-Shufelt, Lighting Design by Karen Perlow, Props Design by Abby Shenker, with Dawn Schall Saglio, Production Stage Manager, and Dominique D. Burford, Assistant Stage Manager, runs Jan 12-Feb 10, 2018.
In age where we love comic book movies, which each hero has an origin story, what is the origin of Shakespeare? And one of his most famous plays, Romeo and Juliet?
Shakespeare in Love is a comedy set with young Shakespeare who has not yet become famous. Simultaneously, he writes and produces Romeo & Juliet, while falling in love himself, with scenes in the play and play-within-a-play that mirror each other. It was originally a movie with Massachusetts natives Ben Affleck and Gwyneth Paltrow, winning seven Academy Awards including Best Picture and Best Actress, by noted playwright Tom Stoppard, who also wrote the Shakespeare adaptation play Rosencrantz and Guildenstern are Dead. (Weirdly, Boston also has a stage, the Central Square Theatre, showing Proof, with also has a movie adaptation with Gwyneth Paltrow.)
Now SpeakEasy Stage Company brings it to the Boston Center for the Arts, in a creative production that reaches heights and will make you laugh out loud throughout. There is great chemistry between George Olesky (Will Shakespeare) and Eddie Shields, (Christopher Marlowe, a contemporary writer in Shakespeare's time whose plays such as Doctor Faustus are also still being produced), as they scheme for love.
The production is well-rounded, with live cello music (Paul Alperin), lighting by Karen Perlow, set design by Jenna McFarland Lord, and costuming by Rachel Padula-Shufelt each being a strength of the production. The set design is open, so you can see into the back of the theatre, which brings you "backstage" into the play-within-a-play. The set is the globe theater, with folios from Shakespeare's work hanging overhead like a future to come but, for the moment, just out of reach as Shakespeare struggles with his muse. Stage changes were instant with a trick of lighting, creating a wedding chapel, a waterway, a tavern, and switching between the Globe Theatre (with a balcony), to Juliet's home (with a balcony). Moving blue sheets indicated water. The staging was never ambiguous, even as scenes switched from back stage during a show, to front stage during the same show. The costumes are traditional from the 16th century, notably the queen's elegant dress, but with a welcome twist, as the more artistic characters got dressed in leather and sunglasses to heighten their coolness.
The ensemble cast worked well together, with even the supporting cast each having a standout moment. Kudos to Jeff Marcus for his hilarious mime performance during "auditions" for Romeo & Juliet. And it's always a treat to see Remo Airaldi, who I feel is Boston's best comedic actor, who turns from stern moneyman to starstruck fan of the stage. I was delighted that Nancy E. Carroll played both Queen Elizabeth I, though there might have been a twinkle in her eye to offset her sternness, but also a prostitute. Lewis D. Wheeler (Lord Wessex) as a hapless antagonist is fun to hate and yet not a cardboard villain. Omar Robinson sells a difficult switch in his character's attitude towards Will Shakespeare, and Ken Baltin (Henslowe) is a poor wretch who's bet his life savings on the stage production, but is sure that "It will all work out". How? "It's a mystery." That kind of faith in the goodness of life permeates
The play features a lot of Shakespearean in-jokes, but if you know the plot of Romeo & Juliet, you know enough to follow. And there's the cross-dressing, mischief, and stage fighting that you expect from a Shakespearean play. The cast has 14 men and only 4 women, unfortunately, but is otherwise diverse.
It's easily a 5-star production, but not quite a must-see from a few imperfections. The stage combat and parts of the staging seemed mechanical at times rather than organic. Does Romeo & Juliet really teach us something about the true nature of love? I'm not sure what that takeaway is except poor decision-making from some idiot teenagers. We don't become fully engaged by the chemistry between Viola (Jennifer Ellis) and Shakespeare, or by Will's reaction to Kit's storyline. While hugely entertaining and funny, the play doesn't quite double as a drama where we care deeply about the characters and the outcome — except poor Ken Baltin (Henslowe) whom one really must root for. Instead, as written, the play distracts itself with commentary on Shakespeare and the parlor tricks of clever Shakespeare references, with a tangled ending. But it never takes itself too seriously, or becomes so erudite that it shuts out a lay audience.
But put all that aside. The SpeakEasy Stage Company fires on all levels at all times, supporting cast, main cast, crew, designers, without any weak links, and this all without microphones — it is hard to sell intimate scenes spoken loudly! You will laugh and laugh from the physical comedy and gags. I'm glad to give Shakespeare in Love a full 5-stars.
See http://www.speakeasystage.com/shakespeare-in-love/. And join the artists' forum February 4 following the 3pm performance.