Shabu-Ya Has a Fun Atmosphere and Adventurous Hot Pot That's Accessible to Non-Koreans (4.5 stars)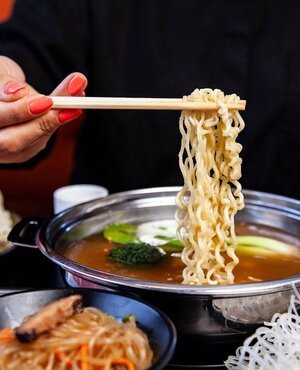 Before founding Facebook, Mark Zuckerberg wasted years at Harvard before dropping out. Kwanghyun Yoon, the founder of Shabu-Ya, is ahead of the game. He dropped out of Harvard before even attending.
"I came to the United States to follow The American Dream," he tells me. "First I worked in international banking in Chicago, and then I moved to Boston and applied to Harvard." But it takes time to apply, hear back, and wait for Orientation Day. During that year, his daughter was born and Kwanghyun decided he needed a job. So he dropped out and founded his first restaurant in 1985, Shilla, and then this new place, Shabu-Ya, in 2008.
It's not Facebook, but Shabu-Ya has that a Facebook look and feel. It's fantastically bright, modern but not corporate, and Japanese in that 1960s Moon Future style where the decor all curves. There are two bars, but they don't dominate. One is off to the side, and the other is a self-contained circle whose televisions don't distract the people in the rest of the place who want to pay attention to their friends, not be distracted by a soccer game. The decor is upscale, but with fun colors and happy upbeat music that allow you to relax.
In a heavy accent, Kwanghyun tells me that he can't find a good Korean restaurant in Boston and that Shabu-Ya is his answer. They serve Japanese sushi, Korean entrees, and "shabu shabu", Korean hot pot, which is fun to say. Try it. Shabu shabu. Shabu shabu.
Here's how it works. Every table has a hot plate and a pot of broth, which comes to a rolling boil quickly. Using chopsticks, you put meat or vegetables in the broth and they cook in just a few seconds. Then you remove it to cool, and eat! You get cabbage, bok choi, watercrest, tofu, broccoli, shittake mushroom, and thinly sliced black angus beef. If you worry about such things, you can use one pair of chopsticks for the raw meat and another for eating.
I love it! The beef is delicious, sliced too thin to chew but not to savor. The shittake mushrooms chew a little rubbery but the vegetables are hearty, and so are the thick noodles, although I don't know how anyone eats them without making a mess. And unless you're careful it's easy to burn your mouth. So the interactive meal is a creative idea for a date, but maybe not a first date.
On the side, you're given a "ponzu sauce" that you can keep virgin or sprinkle with condiments. Kwanghyun adds a pinch of scallions and garlic for me, but nothing from the tiny container of Chinese BBQ. "That's too hot for you," he says, and I make my sad pouty face. So when Kwanghyun is not looking I sneak a taste. It's not that hot, but it's alien, a paste that could be powdered pork butt for all I know. I don't add any to the ponzu.
The ponzu is interesting and complex, like my favorite Chinese dip, the King of Soy Sauce that comes with Peking Ravioli.
Then Kwanghyun tells me to sip the broth. "Other restaurants just use tap water in their hot pot," he says, "which has no flavor. Ours you can drink: it is a soup, it is part of the meal. Depending on what kind of broth you have, the taste is totally different." It comes in miso, kimchi, and tomyum flavors.
He is right. The tomyum tastes like hot and sour soup, and the kimchi hot pot is less potent but not plain either, like a vegetable soup that comes with garlic, ginger, Korean radish, scallion, red hot pepper, and onion. He lets the kimchi ferment for 7 days so that it sours just right. I try some actual kimchi. This is the side dish that won the Boston Kimchi Festival, and it has a really potent pickled taste. It is a little too hot and exotic for me, but undeniably good.
Usually Chinese food has a lot of oil and starch, Kwanghyun tells me, but here it's fresh and boiled, without much oil. "I strongly believe that this is the healthy food of the future," he says.
He also serves sushi at reasonable prices, between $10 and $14. I try the dragon maki. The presentation is fantastic — but although solid, the taste itself was average. The avocado on top cools it, a counterbalance to the spicy inside. It has a good crunch but is just not outstanding. Unfortunately, I did not try any other sushi, but I'm told they have spicier rolls. So maybe I am wrong to judge based on that one dish.
It is a shame that I only tried two entrees. I would have liked a tie-breaker between the one wow and the one good-but-not-wow. But in the restaurant category (not "fine dining", see our ratings) I highly recommend the atmosphere and the adventurous fun of shabu shabu. It's just as upscale and exotic as Korean Restaurant & Garden in Allston but more accessible to those who aren't Korean. With individual tables instead of long rows of shelves, it doesn't pack you in like that place I can't remember the name of, the hot pot place in Chinatown that might be Shabu-Zen. It's a great dinner destination to come to with a group of friends, and they also have a lunch buffet on weekdays for $8.50. Say it along with me. Shabu shabu! Shabu shabu! I want some now!
For more, see Shabu-Ya.