See Ice and Pumpkin Carving at the Jack O'Lantern Journey at the Franklin Park Zoo (4 stars)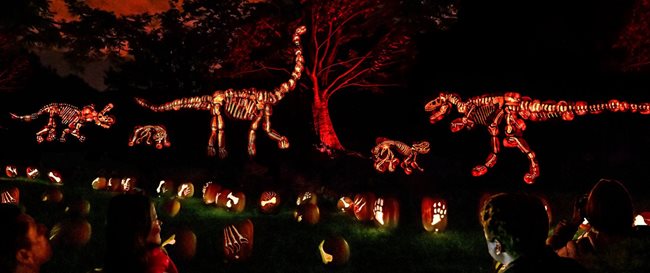 The Jack O'Lantern Journey at the Franklin Park Zoo is a non-scary pathway with thousands of carved pumpkins and dioramas, and other activities.
Just walking the zoo grounds at night is delightful. The air isn't too cold yet and you can smell the trees. Don't expect to see any animals, because the zoo is closed at night and the animals anyway are diurnal, sleeping at night or huddled away from the cold. However, there is one enclosure where you'll see cranes.
Instead you are free to walk the main pathways from the Zebra entrance, the one that you arrive at using their address in your GPS. You'll find vendors selling fried dough, fried Oreos, and hot chocolate, and the Giddy-up Grill is open, which has real bathrooms and sells soft pretzels, nachos, hot dogs, chicken tenders, and drinks.
There's a kids' carousel, which seems like it might be too small for adults, and a tiny kids' Ferris Wheel that only goes 15 feet up. There's a photo op area where you'll meet costumed characters, who do not charge for pics, a giant pumpkin to pose with, and a wooden mural with holes to stick your face through.
Delightfully, you'll also see an example ice carver shaving ice blocks into statues with a tiny chainsaw, and a professional pumpkin carver. There's a field of pumpkins that you can buy, tiny and large, from $3 to $10, and you can even get your big pumpkin professionally carved for $30.
The Jack O'Lantern Journey itself is only a 12-minute path, though you can take as long as you like, because the paths are wide enough that you won't get pushed from behind. The evening that I went, a Sunday, attendance was low, and so I had plenty of mental space to commune with nature and take in the dioramas.
The pathway starts with a bang, with hundreds of pumpkins hanging in the trees and on the ground, lit from within with different colors. They play upbeat rock music and you'll pass numerous dioramas. Because the path goes through a wide grassy area, with 20 feet or more of space to both left and right — unlike the Roger Williams Park Zoo — there's plenty of room for pumpkins to be set up and spread out.
You'll see a glowing orange tiger made from pumpkins, a skeleton on a motorcycle, a dozen large dinosaurs surrounded by pumpkins with dinosaur bone and footprint carvings, zoo animals, and a castle whose windows have pumpkins with Disney characters.
Although you'll see hundreds of real, carved pumpkins, more than half of the displays are plastic, including the large ones, which are shaped as though a dozen carved pumpkins were assembled like LEGO bricks into the larger displays. This is odd. If you look closely you'll see that they are plastic half-pumpkins taken from molds and nailed onto wood. It's okay at Halloween to simply have some giant animals and dinosaur displays. There's no need to pretend that a 15-foot-tall giraffe is carved from an assembled pile of pumpkins that fit together just so! Just have a giraffe, perhaps with Halloween fog or glowing red eyes.
There are pros and cons. The dioramas are spectacular, but the real 2,000-pound pumpkins at the Roger Williams Park Zoo's similar pumpkin path in Providence were more impressive and natural-seeming. The Franklin Park Zoo is a curated environment with paved paths, despite the trees and out-of-sight animals.
Still, it's an impressive accomplishment. One display features blank pumpkins and then animated cartoon faces are projected onto the pumpkins, a video projection that makes the pumpkins seem like they are singing hip hop music. There are gravestones with joke names next to "ghosts" that are white-painted carved pumpkin heads with sheet bodies. There's a Winter Wonderland with snowflakes carved into pumpkins, a New England pride section with Paul Revere and the USS Constitution, and an astronomy section with blinking lights in starry-carved pumpkins and pumpkins carved for Venus and the other planets. Most impressively, there's a whole carnival display, with a pumpkin Ferris wheel and carnival games. You don't meet actors in costume on the route.
The Jack O'Lantern Journey has impressive displays, although creatively the unnecessary "they're all made with pumpkins" theme makes the larger plastic displays seem odd. Although the pathway was shorter and less an immersive nature experience than I'd hoped for, and includes no animals, if you stop to take photos, buy a pumpkin, admire the ice and pumpkin carving, and have kids to ride the carousel, you could almost spend an hour there. That makes the ticket price of $20 for adults and $16 for kids, which is the same as admission to the entire zoo during the daytime, not quite a value. That being said, it's far more convenient to visit than driving out an hour to a Halloween attraction, which are all outside of Boston proper.
I'll give the Jack O'Lantern Journey at the Franklin Park Zoo a good but not perfect 4 stars.
Jack O'Lantern Journey continues past Halloween, through November 10. See jackolanternjourney.com.