See Florida's Natural Beauty with BK Adventure Eco Tours (4.5 stars)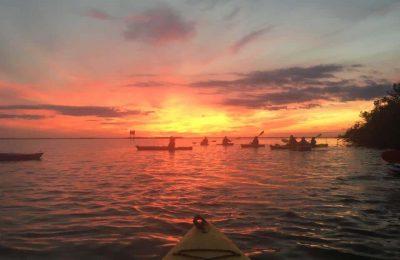 When you're traveling to Orlando, of course you'll want to visit the giant man-made attractions like Universal Studios, but Central Florida is also a place of great natural beauty. An hour's drive from Orlando to the ocean, near Merritt Island, you'll find BK Adventures, ready to show you it all. It's run by Ram BK, who founded Lonely Planet most recommended rock climbing and canyoning company in Nepal. And even today they can hook you up with a Mount Everest trip. It's that kind of spirit that they bring to Florida.
You can go on half day and full day biking tours, and they'll also take you kayaking. First, we went on the Sunset Kayak tour with Avi and Ben. Avi was the lead guide, a herpetologist, an expert on reptiles. They were very knowledgeable about the wildlife we were seeing, but also they didn't talk constantly, allowing us long moments of peace to just take it all in.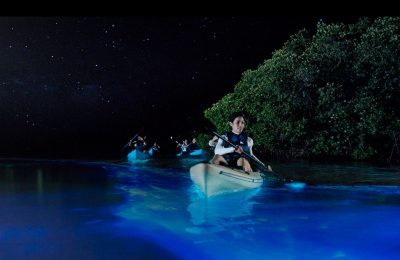 The kayaking on the sunset tour was easy, so don't worry if you're not athletic. We learned about paddling and just had a good time in the canoe, watching the sun set and seeing dolphins playing in the distance in the water. There was a great horizon line and we saw lot of birds including turkey vultures. The sunset was nice to view from the water instead of from shore. Ben and Avi see alligators very rarely and it's not dangerous. Just when we were ready for a break, we reached the halfway point, and the water carried us back to the beach. We put on bug spray and had no problem with mosquitos. At certain times of year they see manatees.
Then after a break, as the last rays of light faded, Avi took us on the Bioluminescence Kayak Tour. This was a more difficult paddle, or perhaps we were just feeling our previous kayak trip, to see non-stinging jellyfish that glow in the dark. These comb jellyfish sparkle a little for when agitated by the waves, and you can pick one up and hold it in your hand. It's like a clear hockey puck. You can find glowing jellies any time of year except April, but there's more action in the summer months. The night sky was beautiful, and the moon wasn't out so we saw some great stars. It was quiet and peaceful, a perfect outing. Avi was reassuring and let us clip our boat to his with a line. This helped with steering and at times he kindly was providing some of the power, too. It was nice that he didn't expect us to be macho. You can share a canoe with a partner, making it easier for families with kids, and for couples seeking romance.
You'll find a variety of experiences with BK Adventures, including rafting, a monkey tour, and bioluminescence tours in clear, see-through kayaks.
Overall, we might have seen more wildlife, and we did leave tired. But the beautiful views and night stars were worth the trip, and if we hadn't come in January, after a cold snap, I'm sure we would have seen more. Our guides were excellent and had good energy. So I'm glad to give BK Adventure 4.5 stars, but I'm sure it's 5 stars if you call ahead and plan the right time of the year and the right weather forecast to go.
Get 20% off when mentioning Events INSIDER and using code SON1776 for bioluminescent kayak tours or by calling 407.519.871.
Read all 11 of my Orlando reviews and suggestions, and see www.bkadventure.com.