Secret Caverns are the Awesome Discovery of The Goonies Brought to Life (5 stars)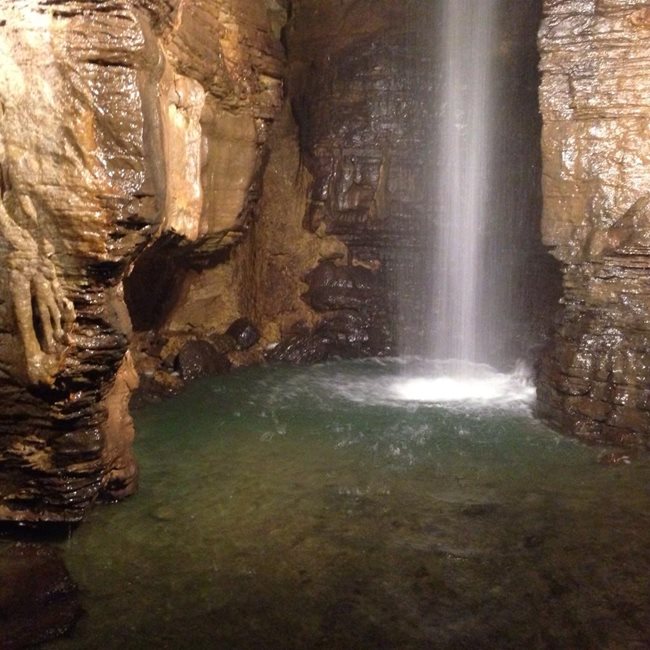 Although New England has no natural caves, you can find them just across the border in New York! Most of the caves require you to have some caving experience and equipment, but the Secret Caverns are open to the public and should be part of any trip to Eastern New York.
Unlike nearby Howe Caverns, where you definitely won't die, but the corporate professionalism stifling some of the fun, the Secret Caverns tour is homey, more real and grounded. You feel like you befriended a kid in high school who just happens to have caves you can sneak into. You visit Howe Caverns. You befriend the Secret Caverns.

You can tell from the signage that Secret Caverns are creative and counterculture. The visitor center, really just a gift shop and bathrooms, are full of trippy, fun cartoons. You'll can buy hoodies, coonskin caps, necklaces, and more, much of it cave-related. And you'll find pamphlets about the many other tourist destinations nearby.
To take the tour, you must descend a tall staircase and come back up again. Underground, watch your step and your head on the natural cave floor, which can be muddy. But the lack of an elevator and paved pathways is more than offset by its charm. The lighting is plain and white, leaving the beauty of the caves unchanged, and you're allowed to touch the rocks and walls. We even got to drink some of the water.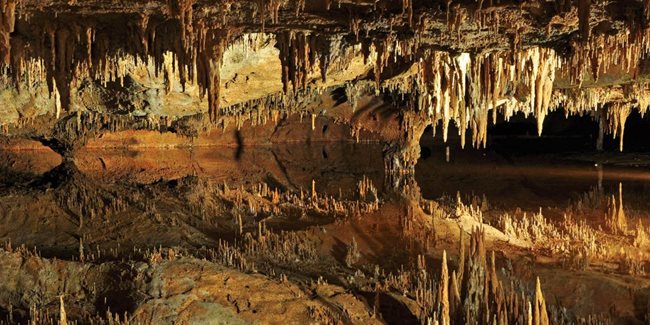 Our tour guide was Aiden, who was laugh-out-loud funny. We liked that he spent less time talking about cute names for the rock formations and more time telling us how they were formed: the science and history behind the cave. For example, you'll hear the interesting story about how they've tried and so far failed to find the source of the water that comes into Secret Caverns. In our small group of only eight people, we got to know our guide a little and could ask plenty of questions. There was plenty of quiet time in the tour for us to think, meditate, and take it all in.
At the end of the tour, far inside the cave, you'll find a striking, 100-foot tall waterfall. It is a miracle and there's good lighting for you to take your own photos. Our guide kindly allowed us to go a bit photo crazy. Don't forget to just take a big breath and admire it! You'll gasp like the kids in the Steven Spielberg film, The Goonies.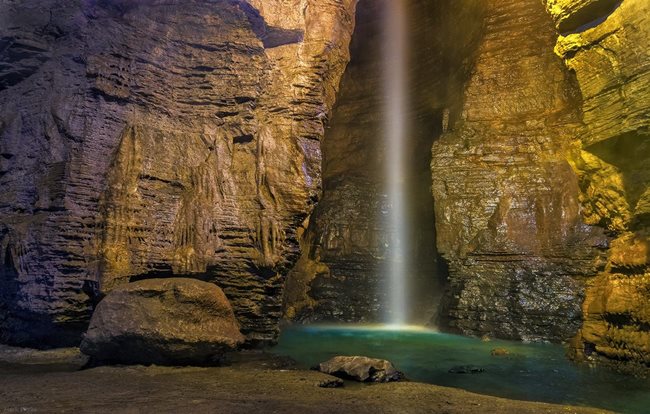 Descending on your own power and lacking pathways makes it a little dangerous feeling without being truly dangerous. I like the rebellious and off-beat attitude of the staff, although I wished for amenities such as a bathroom sink that you don't need to continuously hold down the handle for water to come out. Being less corporate and sterilized, Secret Caverns delighted us more than its neighbor, but there is undeniably less to do there. (For example, they have no get-muddy-after-hours adventure tour.) Just go see them both.

Secret Caverns is an inexpensive, exotic experience that you can't get anywhere else! It deserves a perfect 5 stars, and we hope to visit again soon. See also Howe Caverns, Natural Stone Bridge and Caves, the Iroquois Indian Museum, and many other attractions in the area. Making a weekend of the area is very much worth the 3-hour trip from Boston!
See secretcaverns.com.