SeaWorld in Orlando Brings You Sea Life and Splashes (4 stars)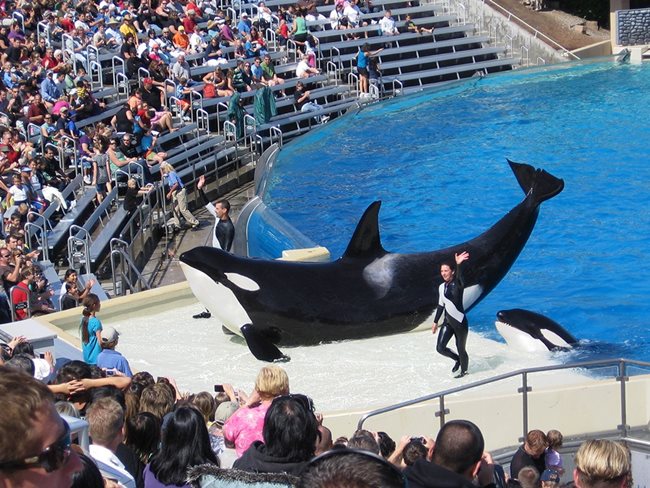 Of course you've heard of SeaWorld! On a recent trip to Orlando, I was glad to be invited to explore. I visited in January on a cold day, when some of the park was getting a late start or closed.
Parking and entering was no problem. Bag check was easy. You'll need a map and we did have some trouble navigating the park, but it was beautiful with many views and a lot of open water. Staff photographers will stop you to ask you to pay to have a photo taken, a minor annoyance but I'm sure a convenience for some. You can buy a Quick Queue to skip the lines. There's no rule against bringing in outside food and water.
We tried eating at the bakery, but couldn't get anything healthy there. Unlike Gatorland, SeaWorld has real, sit down restaurants, including the Village Smokehouse, Seafire Grill, and the Flamecraft Bar. Remarkably, you can dine at the Sharks Underwater Grill, right next to a glass aquarium with sharks. Or you can "Dine with Shamu", which I believe is a cafeteria that overlooks the Shamu Show, which is now called Ocean Discovery. More on that later.
SeaWorld has great water rides, including Journey to Atlantis, Infinity Falls, and Manta, which were of course closed for the cold weather, and roller coasters, Mako and Kraken Unleashed. We were more in the mood to meet and learn about animals, so we went to Wild Arctic.
Wild Arctic is walk-through experience, a habitat for walruses and beluga whales. They have a helicopter ride which hadn't yet opened for the day, but it's a flight simulator, and I assume they have guided walking tours, because there weren't any placards or signage explaining the animals. It was fun to see the animals, including harbor seals, but we didn't learn anything about them. We did find dioramas of what I assume represent what a research cabin in the Arctic would look like. Also no signage. We did find a sign mentioned "30,000 rescues and counting". I guess SeaWorld rescues distressed animals from the ocean? And another sign promoted recycling and saving energy.
Then we visited Antartica: Empire of the Penguin, a ride and enclosure for penguins. You get your choice of a mild ride or wild ride. It's medium-sized but fun, and a wonderful build-up to essentially just seeing penguins. If the crowd is thick and you can't see the penguins well, move to the end where there are fewer people. There's also a lower level where you can see penguins diving.
We also rode the Sky Tower, a tall tower with an elevator-like view perch. After it takes you to the top, you get beautiful views of the entire park and beyond from high above. There's a nice bridge to walk across a large pond. You can paddle a flamingo boat around the pond, seeing the fish.
The star attraction is Ocean Discovery, where you can sit and watch trainers interact with orca (killer whales). It's the big event, so also the best time to get in line when it's happening. Beware of sitting in the splash zone. The whales are trained to splash you on purpose! It's a pretty great show, just 24 minutes, but oddly, they don't say much during the performance. Again, we didn't learn anything.
To us, the actual hit of the park had nothing to do with the ocean. It is "Pets Ahoy", where seemingly dozens of pet animals will do tricks. We saw dogs, ducks, cats, pigs, a skunk, a mouse, and more perform a surprising variety of actions, even with trainers off-stage. I've seen animals trained at a circus and mostly they just do whatever they want to do, but these animals seemed spot on. Out of 150 tricks we saw maybe 2 or 3 fail. There was good energy, and it was fast paced, with a lot of clever trap doors that the animals could open. We even saw a cat climbing a rope.
SeaWorld seems a bit off their game. I've read that they are actually closing out the killer whale show and the breeding of orcas on site. To me, it's mostly for kids who want to see animals. For adults, we want to learn about the animals, and that was surprisingly absent from our experience. Somehow the rides didn't tie together as much as we would have thought. We didn't see many staff, and were surprised that coming in the morning on a weekend (Sunday) that a few things were closed. Perhaps our coming on a cold day in a cold winter month made a difference. But our experience at Disney Animal Kingdom was top notch despite the winter, a little rain, and coming on a week day. And it's not SeaWorld's fault that we didn't feel like going on roller coasters that day, which I'm sure are great.
Perhaps there's an assumption that a Sunday morning should be spent in church. I notice that SeaWorld features regular Praise Wave concerts, Christian music and fellowship. Their other stage shows are also often Christian themed. It's strange, especially with Florida's high Jewish population, to see such a thing, although to be fair there was no preaching or Christian theme anywhere while visiting the park, and as atheists we did not at all feel uncomfortable. It adds to the confusion, though. What is SeaWorld's core message / identity? It is a concert venue, a place to meet animals, a place to learn about animals, a theme park, a destination village like Universal CityWalk? I read that visitor numbers are declining, which could be a good thing for SeaWorld if it triggers a reorganization and new mission.
SeaWorld struck me as a strong regional theme park, perhaps stronger for its rides than animals, that would be the hit of any normal city area in the United States. It's only because there's so much else to do in Orlando that we were a bit disappointed by the prices, starting at $80. It's worth a visit when you're in the area, especially if you have kids, but we had more fun at the smaller Gatorland (5 stars), and at the hugely more expensive (and related to SeaWorld) Discovery Cove (5 stars PLUS), where everything is masterfully packaged and managed. I'm glad to give SeaWorld 4 stars.
Read all 11 of my Orlando reviews and suggestions, and see seaworld.com/orlando.