Scare-A-Con New England Brings Horror Fans What They Want! (4.5 stars)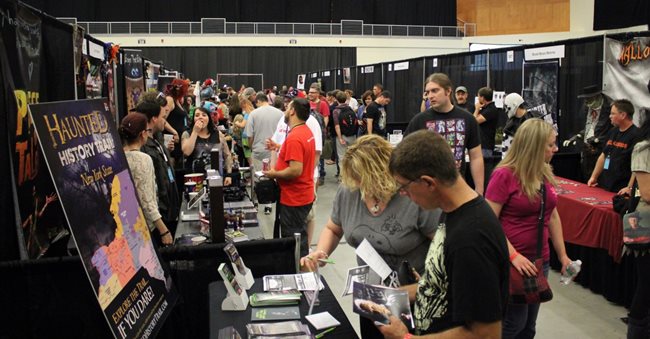 06/08/19 by
Matt Martino
Sheraton Hotel & Conference Center
Framingham, MA
Scare-A-Con New England returns for it's third year.  This time they show case two of the most well known and beloved film franchises, A Nightmare on Elm Street and Phantasm.  All this plus much more all in the horror genre.
Like all fan conventions there is merchants galore.  So take your pick of your favorite medium to consume horror with.  There are comic books, posters, movies and more.  You can find your favorite horror monsters or look at the numerous independent horror enterprises to find new ones.  Do you want a pillow with Pennywise the clown?  They got it!  How a Coffin with The Munsters?  They got that too!
This year two big film franchises are featured.  First there is Phantasm.  Six actors from the numerous movies have all assembled for you to meet.  Not far, you can take home one of the razor-filled flying death spheres inspired by the movie.
Next up is the Nightmare on Elm Street reunion.  Among those here is Amanda Wyss, one of Freddy Krueger's first victims.  And from the later movies, Lisa Wilcox.  But the most well-known is Heather Lagenkamp.  She was the first to fight back against Freddy and went on to battle him in two more of the films.  If you are lucky you can catch these folks with one of the Freddy Krueger Cosplayers and get a true fan feature – a picture of the actresses and the man himself.  
Rounding out the experience is a number of other celebrities including Terry Kiser from Friday the 13th though most known as the dead guy from Weekend at Bernie's.  Jason Lively from Night of the Creeps and Nation Lampoons Vacation.  And Billy Zane, most famous for his roles in Titanic and The Phantom he also hit the horror world with the movie Demon Knight.
Returning for her second year is Elvira – Mistress of the Darkness! Cassandra Peterson, the actress who portrays Elvira, appears to meet and greet fans and sign autographs.  She is easily one of the most popular stars there and a true horror icon.
Compared to other fan conventions, Scare-A-Con is small.  However it delivers quite a bit.  And should you also attend the numerous seminars, events and movie screenings, you can easily make a weekend out of it.  Since I began to cover this event, it has slowly made itself better and better.  The small size means intimacy, so you get to know the vendors and celebrities here.  It is not rushed like at many other cons in which you are a part of mill churning out customers.  
Overall, Scare-A Con is a fun convention just outside Boston.  With easy access from the Mass Pike, this is a quick trip for most people in Massachusetts.  So come check out the fun and horrors at this years convention!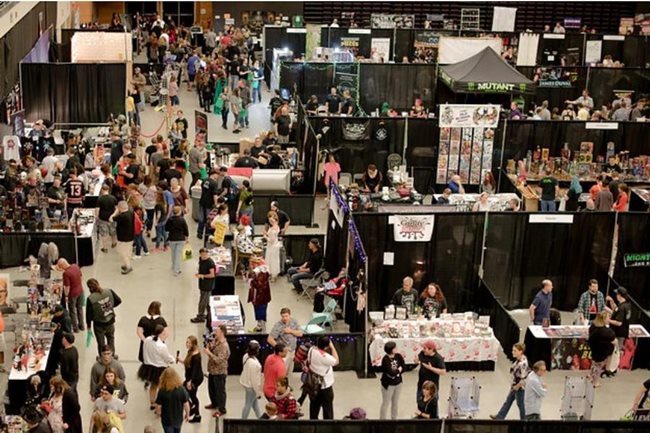 Here's our video overview of the festival.
See scareacon.com.