Scare-A-Con: The little show with a big bloody heart (4 stars)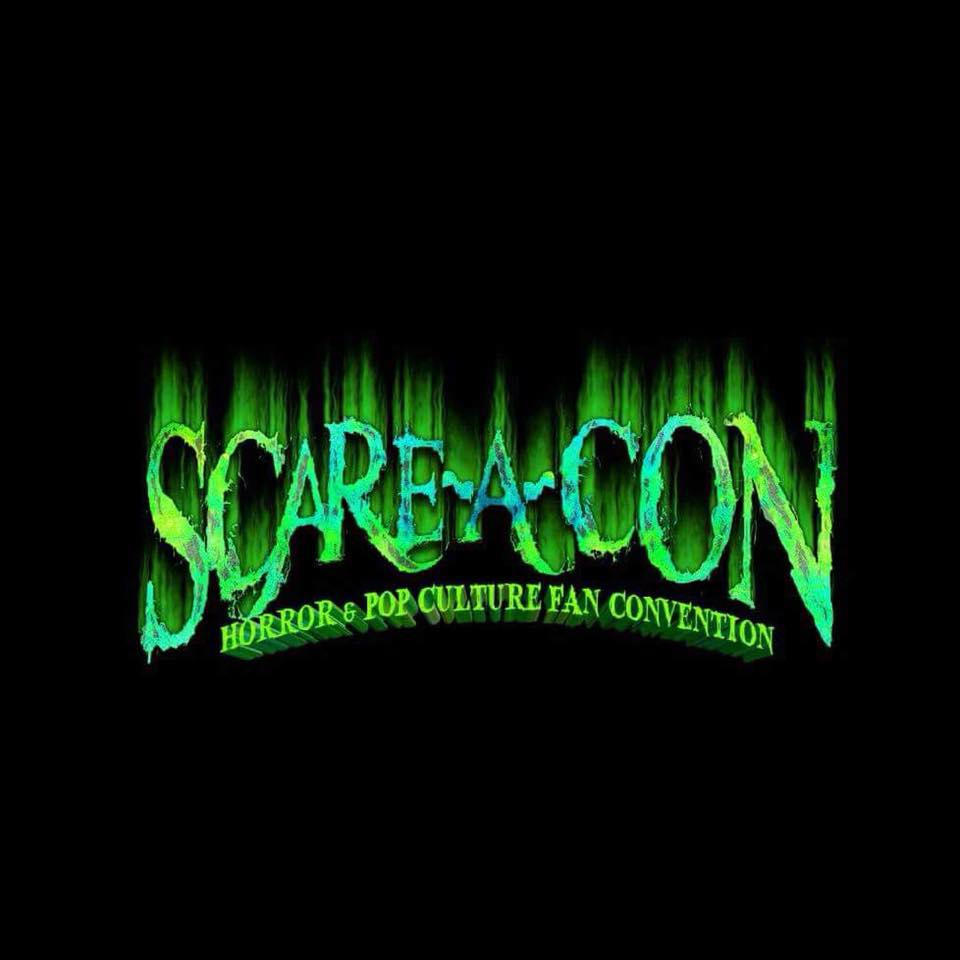 Scare-A-Con took place at the Mass Mutual Center in Springfield, MA, June 2-4, 2017. See www.Scareacon.com.
If you are a horror fan, there is nothing cooler then a horror convention. Much like their bigger cousins the comic cons or scifi cons, these offer unique opportunities to meet your favorite artists, writers and movie stars as well as meet new and upcoming talent as they ply their trade in the world of horror fandom.
Scare-A-Con provides all of this in a tiny package. Think of it as concentrated evil. And of course concentrated fun. The floor space was not as packed as at many of the larger conventions, but you seem to sense a quality over quantity approach since many cons go the route of having many of the same types of vendors with the same wares and here you see very little repeating merchants. You could quickly browse the convention floor in a half hour or spend hours, as I did, getting to know what people are selling.
And what were they selling? Everything from coffee to comic books and lots in between. I got to meet many unique vendors who are now just the little guys hoping to reach out and meet new fans. If paranormal investigation is your thing, you can meet Stephanie Burke – psychic medium and expert on local folklore. There were several comic book creators who either had fresh new works or were advertising "coming soon" projects such as InferNoct from Scout Comics. Costume vendors especially plied the Steampunk style of handmade crafts for those wanting a little Victorian horror throwback. If becoming an instant evil clown is your thing, Oneail FX had some amazing silicon masks you could check out. And if you are a zombie without your coffee, you could sample Deadly Grounds – a macabre coffee company giving out small samples of their brew.
The true attraction though are the horror movie stars and this convention had a real good mix of the favorites, the classics and the up and coming. This was no more evident then the fact that the con hosted two panels on scream queens and included such actresses as Camille Keaton (I Spit on your Grave), Felissa Rose (Sleep Away Camp), Linnea Quigley (Return of the Living Dead, Hollywood Chainsaw Hookers) and Caroline Williams (Texas Chainsaw Massacre 2). That would be enough for any grown up teen age boy to faun over and yet they added the talent of Genoveva Rossi and Monique Dupree to the line up giving us a vast perspective on what it's like to be a scream queen.
Of course the unholy trinity here was the powerhouse trio of Kane Hodder (Friday the 13th, Hatchet) Sid Haig (House of a Thousand Corpses, The Devils Rejects) and Tony Todd (Candy Man). They were perhaps the most well know of the horror icons. Also included were John Kassir (The Crypt Keeper from Tales from the Crypt), Sean Whalen (The People Under the Stairs, LOST) and Robert Mukes (House of Thousand Corpses) and a few more. All were very friendly who gave fans a good amount of attention as well as autographs.
The event was small so this meant both merchants and movie stars could spend a little more time meeting with fans. And newer artists could spend time in exposition about their craft. Numerous panels through out the day helped to break up the event. Many were hyping the cast and crew of Death House, a movie that would debut Saturday night. The way to round out the experience was to learn as much as you could about the movie and meet many of the actors who were there at the show, and then attend the premier.
Death House had a great visceral storyboard with very down and dirty visuals coupled with good gore and special effects. The story centers around a decades old government run prison that investigates purely evil criminals with bizarre experiments including virtual reality and torture. The prison is similar to Dante's Inferno in that the deeper you go, the farther you descend into evil. All hell breaks loose when the facility loses power and the inmates riots. Overall the story telling lacked real characterization. The main characters had no real arcs that I could find other than to survive and seemed underdeveloped with the little that occurred of character development going nowhere. This is forgiven when you realize the movie is packing so much in a short time and there is never a dull moment. There was numerous Easter eggs as promised such as a nod to the Russian Sleep Experiment (I won't give more away). And about 2 dozen cameos by horror actors both known and well known. Overall a good experience for those who will take something original over the predictable over budgeted stuff you are treated to every week from the major studios.
Scare-A-Con did not disappoint despite being small. There were plenty of things to do, people to see and fun to be had. The hope is that the convention catches on and grows. Though one might miss the personal touch you get when the show is smaller. If they keep up the quality at this level, we can expect an expansion once more fans find their way to the con next year.
See www.scareacon.com.
Matt Martino, a Horror Writer / Director / Hauntreprenuer, is a lifelong horror enthusiast who runs a small horror empire in his hometown of Somerville Massachusetts. He has written and director two feature films. His most recent movie Chainsaw Maidens from Hell debuted last month on Amazon and features Kane Hodder, Lloyd Kaufman and Sarah French. Every fall he hosts the largest Halloween celebration in the Boston area – The Maze of Terror – a two week long festival of music, monsters and mayhem!