Santa's Village is a Large, Fun Kids' Amusement Park, But Beats Its Single Theme Too Much (4 stars)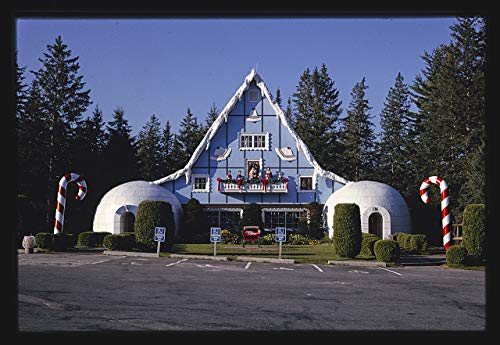 Santa's Village is a kids' theme park in New Hampshire's White Mountains that brings you Christmas joy from May through December.
Delightfully, since Santa is so heavily associated with winter, Santa's Village is open in the summer and has a water park! How great is that? For New Year's Eve they have fireworks, and I happened to visit during October when they feature the Silly Spooky Halloween, a not-so-scary Halloween theme suitable for small kids. Parking is free, you can rent lockers, they have nursing facilities, and you can borrow a stroller or wheelchair for free. You can even rent a "Gingerbread House", basically a private room, for birthday parties or whatever. In warm weather they have live performers and a kids' dance party.
The Halloween theming is pretty light, with an occasional cemetery gravestone or cobweb throughout the park. They've got upright coffins that you can stand in to pose for a photo. Their Himalaya kids miniature roller coaster has been turned into "Screamalaya", with fog effects but no other decoration. The Little Elf Flying School has been renamed the "Broomsticks Flying School". Most of the Halloween "decoration" comes from guests, the zillions of cute kids in costumes. They are adorable, and you'll want to catch the 2pm parade (and I believe there's a parade every day when it's not Halloween, too).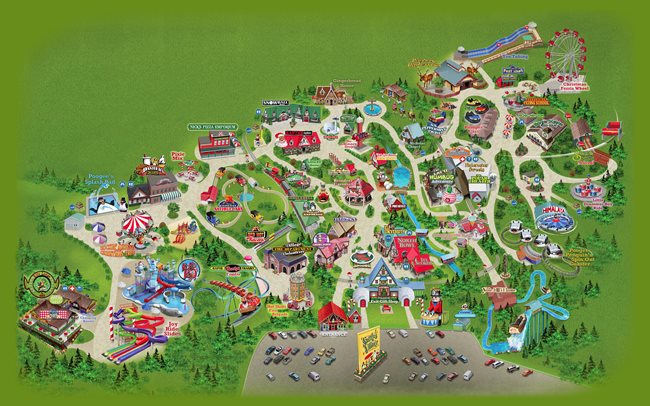 Despite the Santa and elves styling, most of the rides at Santa's Village you would find at any kids' theme park. They have bumper cars, a merry-go-round (with reindeer), a kid-sized train ride and roller coaster, and a teacup ride except it's "the Drummer Boy" drums you sit in. They have that thing where kids can drive an antique car around a loop, because it's on guiderails. Of course they have plenty of food options, and gift shops all over.
However, they do have notable attractions you won't find elsewhere. There's a monorail ride, The Skyway Sleigh, where they take, and you can buy, your photo. Of course you can meet Santa, where they take, and you can buy your photo. (Excepting photos and food, everything at Santa's Village is included with admission, and I don't think the photos are expensive.) I was so tickled to discover that they have parallel Santa rooms. I think it's three rooms each with a Santa, to get you and your kids through the line more quickly. Ssh!! That's a secret. There's only one Santa! Also a surprise, I was thinking that the "North Bowl" building might have bowling, but it turned out to be toilets: toilet bowls.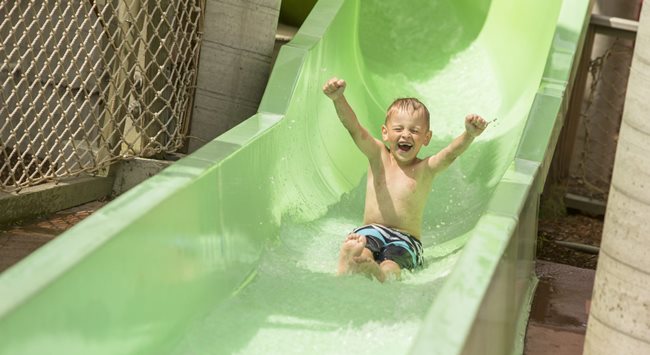 There's also a petting zoo where you can feed and pet real reindeer, with a handwashing station, and they have "tubing", where you sit on an inner tube and slide down a hill. They also have a scavenger hunt where your kids look out for 26 elf statues and try to stamp every letter of the "elf-abet". They have fiberglass and cement statues to pose with for photos. Best of all, there's the "North Pole Workshop", an arts and crafts center where you can make a hand-printed t-shirt, sand art, candle art, bracelet, etc. The park has plenty of benches just to sit, and there's a pond with baby trout. They have a ride, The Great Humbug Adventure, with laser guns where you can "tickle" (not shoot) the humbugs.
I think about many factors when it comes to rating a theme park. Did I have fun? Yes. Was it fun for the whole family? I would categorize Santa's Village as just for the kids. It doesn't have much that adults would genuinely enjoy on their own, and definitely is not for renegade teenagers. However, I acknowledge that parents like to have a place that's not full of goth teenagers to take their kids to. Adults don't need a child to enter, and as a childless adult I took great joy in seeing so many cute kids in their Halloween costumes. So many! So cute!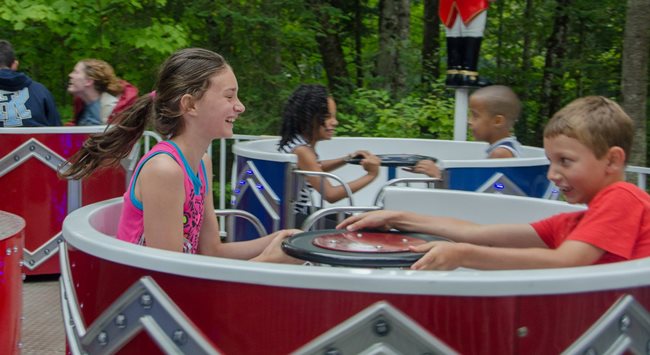 Is it really a park? You'll see plenty of trees, but they don't have a pond and there's no mountain view that I can recall or find in Internet photos. It is original and creative? You get to meet Santa, pet reindeer, and there's an arts center, but it doesn't stray far enough from its core Santa theme to have world-class creativity. Santa's Village seems to have plenty of money, but their rides are too much based on the single theme of Santa and Elves without much variety. They don't branch out into Jack Frost or Frosty the Snowman or invent their own characters. You get a good luck ring, okay. It's just elves, elves, gingerbread.
They say that necessity is the mother of invention, and it's funny, but nearby Story Land, while not as professional looking, and seemingly less well-funded, was forced to make up a bunch of crazy stuff like a kids-level haunted mineshaft and an "Egyptian" ride whose main theme is squirting water. The signs at Santa's Village are professionally designed and commercially printed. The signs at Story Land are hand painted. They look worse, but show heart.
I want very much to say that Santa's Village is for everyone, regardless of your faith, but I can't. They are most of the way there, though. They are smart to celebrate the "Spirit of Christmas" but connect it to "joy", not anything else. I was able to walk through the park without seeing anything religious. But they do have one area that's a pond with a big Christian cross, the St. Nicholas Chapel, which is a tiny church with a cross on its steeple, and a creche with a baby Jesus, wise men, and manger. That is too much. Events INSIDER maintains New England's largest list of holiday light displays, so I can write with authority that (excepting actual churches like the Attleboro La Salette Shrine), other attractions such as Edaville Railroad and Six Flags are more welcoming to everyone, in a country that is becoming less Christian according to surveys, especially in liberal New England. (New Hampshire is now 41% non-Christian, and so is Massachusetts). So I'll take off half-a-star for that and it would be good business sense to tone it down to match society's changes.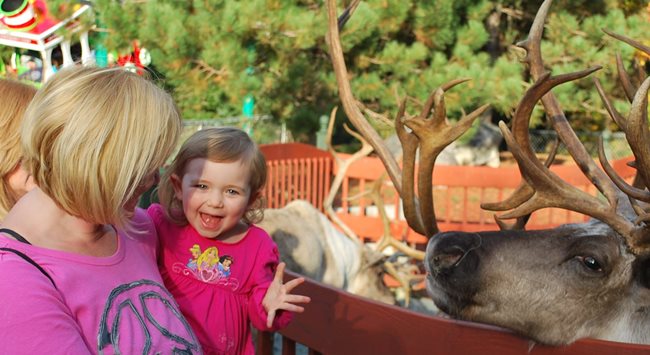 You could easily spend a half day at Santa's Village, or even a whole day. On the website, they claim to be a top 25 park in the United States and #1 in New England, which is clearly wrong. But Santa's Village is worth a visit if you're in the area and okay with Christmas overload. I'll give Santa's Village 4 stars.
For more, see Santa's Village online.