San Francisco overview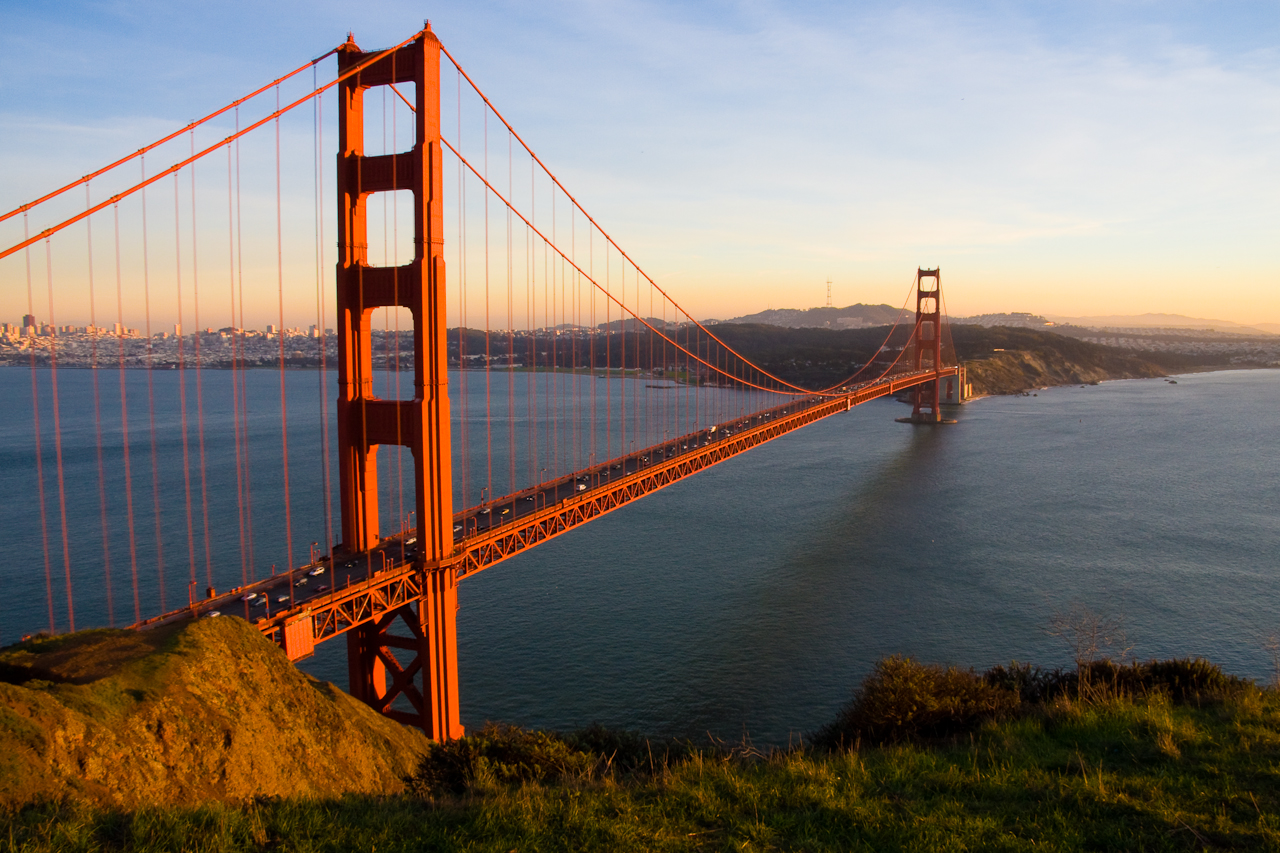 San Francisco overview
If you are going to San Francisco, be sure to wear flowers in your hair.  Or so goes the famed folk song that became a staple of the 60s counter culture that made a home in the Haight-Ashbury section of the city.  However, San Francisco serves up more than just hippies.  Should you find yourself in the city by the bay, here are a few low cost and low-key things you might want to check out. 
Cable Cars
The San Francisco Cable Car system is over 150 years old debuting in 1873.  One can travel from downtown to the waterfront area known as Fisherman's Warf.  The cable cars maintain their old-time charm and operate a century old technology in one the most advanced cities on earth.  San Francisco is after all near Silicon Valley – the home of big tech.  The car operates as they did over a century ago.  The cars must be turned around manually.  At the end of the line, you will see the cable car drivers place the trolley on a turn table and spin the car around.  They then push it into place before the passengers board it. 
Once the commuters are onboard, a person on the street pulls a lever to connect the cars to the underground cables that run under the streets.  And very shortly you are off and running up the hills.  The cars have an old timey feel being made mostly of wood and open to the air.  One may stand on the side and hang off the cable car.  You might think this is risky, but the cars never go more than 14 miles an hour.
Like many vestiges of modern life, the cable cars have adapted.  Once you needed to buy a ticket from a nearby kiosk.  Now you only need to download an app to buy a ticket.  This is Silicon Valley after all.  Show the app to the conductor and you're good to go!  Hop on.  Hop off and see San Francisco as the natives have for decades. 
Ghirardelli Square
Many kids grow with the legend of Willy Wonka.  Perhaps you are a fan of the classic version or maybe you are more familiar with the recent remake.  You may even have read the original book the movies were based on.  San Francisco has its own version of the Chocolate Factory that is known as Ghirardelli Square. 
Ghirardelli chocolates are famous for their little squares of chocolates that can be a gourmet treat for chocolate lovers all over the world.  But did you know the original factory was in San Francisco?  Long gone is the chocolate factory however the legacy of Ghiradellis lives on with the larger-than-life sign towering above the wharf and visible from far out in San Francisco Bay.  It should be noted that the sign is normally lit up at night but during June they created a rainbow with the sign in honor of Pride month which has special significance in San Francisco.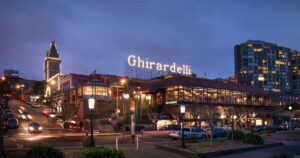 The Square has numerous places where one can satisfy their sweet tooth.  Numerous spots sell Ghirardelli's ice cream sundaes.  Many have hot fudge made with Ghirardelli's chocolate and they are typically topped by one of the famous squares of real chocolate.  At the heart there is a store that sells Ghirardelli's themed gifts and merchandise.  You can also grab a bag and fill it up with your favorite chocolate squares of various flavors.  Or perhaps you see new flavors you wish to try.  Throw them in the bag with your favorites since they sell them by the pound.  Head up and weigh your bag and you have candy for days. 
Fisherman's Wharf
Union Square is the downtown area of San Francisco.  Hop on a cable car and head straight to Fisherman's Warf to see some of the best views in San Francisco all at once.  Upon arriving you can see both the Golden Gate Bridge and the infamous Alcatraz Island.  Both are worth checking out on their own if time permits.  To visit Alcatraz, one must block off about half a day minimum since it requires you to take a ferry and participate in a tour.  But for those who have no taste for prison life, getting close enough to snap a few good photos might be all you need. 
A more casual experience can be found at Pier 39. Famous for its colony of sea lions that have made the area their home, Pier 39 has become a tourist attraction in its own right.  Walk along the wooded pier and you will see all manner of stores, shops and places to eat.  It's a bit like a big outdoor mall in fact.
If you are a lover of seafood, this is a great place to have a taste.  Many places serve fresh fish, crab and crab cakes as well as local craft beers.  Biscoff offer coffee that come with a free biscotti.  There is something for everyone when it comes food.  If you want to do some souvenir shopping this place truly satisfies with many unique shops.  There is an entire Alcatraz themed store that you can buy mugs, t-shirts and posters should you want to glamorize a life of crime. 
It is a great family place for certain.  For little kids the pier has several amusement rides and an arcade.  Street performers are plenty along the streets.  You might hear jazz musicians or see jugglers at various times through the day.  For the big kids, there are plenty of bars to quench you thirst.
China Town 
If you ride the cable cars from Union Square to Fisherman's Wharf, one stop you will hear called by the cable car drivers will be Chinatown.  Once you step off you will come face to face with the famous Dragon Gate that welcome you to Grant Street.  One of the most unique areas of any city, Chinatown in San Francisco has a long history having been destroyed in an earthquake and a fire only to be rebuilt into what it has become today. 
The first thing to strike one's eyes is the unique architecture inspired by the buildings of the orient.  You will see the sloping roofs reminiscent of the temples and castles of China.  You will also see many actual temples keeping the religions and practices of Asia alive in the Untied States.  If you look up you might see the meditation temples that adorn the roof tops that are carefully curated Zen gardens where practitioners use for prayer and meditation.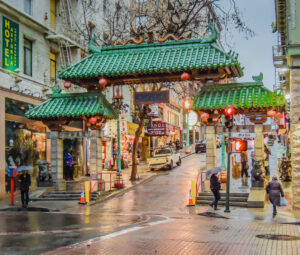 Hardly a blank wall exists along this corridor.  Murals adorn nearly ever large wall that can accommodate them.  You will see paintings of Dragons and landscapes of China.  One presence that takes up more than of these walls is the legendary martial arts movie star Bruce Lee.  Lee was born in China town before studying in Asia and the area does much to honor the native son in both painting and statue. 
Of course, there is Chinese food.  A hidden gem of the are the many Thai food restaurants as well.  The most unique has to be the Golden Gate Fortune Cookie factory.  Here you can buy the more familiar style of fortune cookie or you can opt for unique flavors such as chocolate or green tea.  Giant oversized fortune cookies make a great gift for the lover of these sweet treats.  You can watch as factory workers produce the famed fortune cookies by hand using cast iron tools. 
Lombardi Street
Older yet then the storied cable cars is one of the most unique street in the world.  Lombardi Street is known as the Crookedest Road in the world.  Cars drive down this twisty road as one might expect, very slowly due to its tight turns.  Pedestrians can walk as either side of the steep slope is flanked by stairs.  One side has 253 steps, the other 249.  A walk up and down will get you 500 steps!  Be aware going down is easy.  Climbing up is a feat of endurance. 
The street boasts 12 flower beds with multicolored hydrangeas along it's 12 switchbacks.  Hundreds of people visit the street everyday with many more on weekends.  People have even been married on the street due it's impressive beauty.  Several movies have featured the street as well.  It has become one of the most photographed places in the world.