Roger Williams Park Zoo's "Zoobilee" is a Great Stroll at Night with Restaurant Samples and Animal Encounters (5 stars)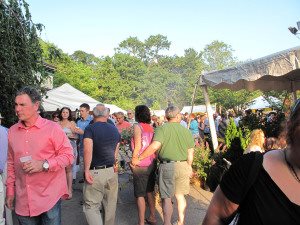 Every year the Roger Williams Park Zoo, in Providence RI not far from downtown, opens at night for a food festival! Called Zoobilee, you get to stroll throughout the zoo while the sun goes down. There you'll find animals in their enclosures, volunteers ('docents') giving live animal presentations, dozens of food vendors, and a live band and dance floor. It's great fun and a good cause, a fundraiser for the zoo.
Because it's summer, most of the zoo exhibits were open. Our favorites were the elephants. The zoo hangs a hay bale far above them, so you can see them use their amazing trunks to reach up and grab a bite. Their enclosure is an unattractive dirt field, but to one side is a lovely waterfall and wading pool for them.
Nearby, you'll see giraffes. They move slowly but with the authority of their powerful size. You'll see a harbor seal swimming in a two-level pool, so you can view them from above or see them underwater through a large window. One area is a 'farm yard' with a donkey, llama, and goats. We saw goat head-butting! One rises up on two legs and then lets its head fall as hard as it can onto another goat's head. They seemed to be just playing around, not actually fighting. Everyone's got to have a hobby. Some displays are interactive, such as a phone booth sized enclosure where you can step in and feel what the winds of a hurricane would be like.
Throughout the zoo grounds, all paved pathways, some 45 restaurants have set up a booth to give out free samples. That number is larger than you expect. Pro tip: pace yourself by only sampling a third of the restaurants, or you'll end up like us. We tried to sample every single booth — so many delicious offerings — and got to the point where we couldn't walk and couldn't possibly have eaten more. Fortunately, there are tables and chairs for setting down your food and relaxing, everywhere. The environment is set up so that you walk a single route through the zoo, from its front to its back, where you'll find desserts, a live band, and dance floor.
Pro tip: within an hour many vendors will run out of food and close up shop. So arrive early. And because the booths are spread throughout the grounds, if you walk past ones out front, going all the way back, you'll find shorter lines.

You'll also find the Roger Williams Park Zoo's brand-new rainforest building. The glass-walled, two-story building is one giant room that's been decorated with the trees and rushing water of a rainforest. That makes it a natural, attractive environment to see toucans, blue parrots, monkeys, agouti (a kind of big rodent), and more. Outside, the building has plenty of grounds for strolling including a field of flamingos.
Roaming from booth to booth was a delight. There was plenty of variety in the food, and you'll make discoveries everywhere of a restaurant or catering service that you might want to try later. Unlike most vendor fairs, once you paid admission, everything was free, so the marketing wasn't overwhelming. Only one booth — and we did feel sorry for them, salad-makers set at the back when we were already so stuffed — got pushy about giving us literature to take home.
Our favorites were:
They sell drink tickets and have bars throughout the zoo, with $2.50 for water or soda, or $5 for half a glass of alcohol. It was a classy event where no one came to get drunk, but it was accessible, not just for the wealthy, with some dressing up but most casual.
Events INSIDER receives dozens of press releases and post requests a year for benefits, and we usually reject them for lack of creativity. A mainstream audience doesn't care about a niche charity enough to spend $100 for an event that's only cocktails and a DJ. It's just not newsworthy. That's why I'm so delighted to recommend the Roger Williams Park Zoo's Zoobilee. It's a fun evening outdoors, welcoming to everyone, where you make discoveries both animal and culinary, and get to stroll with your friends or significant other in a party that spans the length of the entire zoo and ends with a live band, which this year was World Premier Band.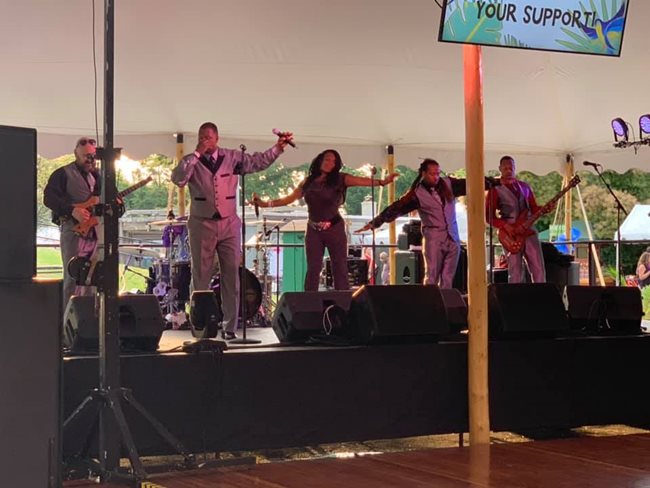 And I haven't even mentioned the best part. Zoobilee is packed with what must be 200 staff and volunteers. Their crew were everywhere, picking up trash to keep the zoo clean, helping you find your way, and showing off animals in live, up close demonstrations. They had on display ugly bugs, cute tenrecs (a kind of hedgehog), snakes, and a white lizard on a leash, an Argentinian tegu named Max. Of course you can take photos.
On your way out, you'll pass through a more forested area of the zoo, making it more natural-looking. Many of the animals were resting up, hidden away, but we saw buffalo, tortoises, and bald and golden eagles, which are unable to fly because of wing injuries, and therefore there's no netting. And there are pronghorn, which look like deer and apparently are wild in the American Midwest. Who would have thought that? They even have animal paintings on display. These aren't paintings of animals. They are paintings by the animals. Most are pretty abstract.
Elsewhere in the zoo, but not part of Zoobilee, is a carousel, and a pond where you can rent a paddle boat. Zoobilee is meant as a fundraiser, so tickets are expensive, but it's a charitable tax deduction and they have a discounted option for you to attend just the dessert and dancing. I'm glad to give it a full 5 stars. And make sure to come in the fall for their Jack-O-Lantern Spectacular (4.5 stars).
See rwpzoo.org.