RiverFire in Berlin, New Hampshire is New England's Best Halloween Town Festival (5 stars)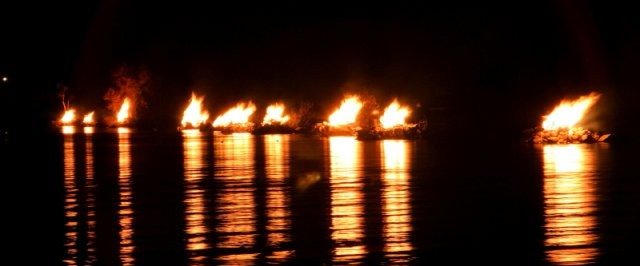 I love finding the gems of New England. New England has plenty of fall festivals, and commercially run Halloween attractions, but when a town or city government plans a Halloween event, it's usually a pretty lame trick-or-treating event organized by the chamber of commerce to drive customers to stores. (For example, the Pru Boo at Boston's Prudential Center, a giant mall where they have plenty of money, so it's super disappointing how bland their cash-grab "event" is.) Some towns also have parades with sort of nothing else. From that perspective, RiverFire is uniquely creative.
Based on the northern edge of New Hampshire's White Mountains, Berlin is a genuine residential town, not just a tourist stop for skiers. Every year, for just one day, they host RiverFire. It's similar to WaterFire in Providence, Rhode Island, except with more space and more happening. In the middle of the town's river, they've dotted little islands, which get piled with wood and set on fire at night. To this they add a kid's Halloween parade, a live music stage, hay rides, an arts and crafts center, numerous food and crafts vendors, a Halloween haunted attraction, helicopter rides, inflatable bounce houses, and they decorate a bridge with 500 pumpkins that have been carved and lit by the community. That is a lot for a small town festival!
RiverFire takes place just one day a year and because it's so far north and rather late in the season, dress for winter. I'm a proud Yankee, but even I felt that my fall jacket wasn't sufficient, and was shocked to see kids in light costumes with bare arms. These New Hampshire people are tough! Seriously, you'll be outdoors for at least a couple of hours. The festival takes place at Service Credit Union Heritage Park, but they don't seem to have enough parking there, at least not that I could find as an out-of-towner, so you'll end up parking along residential streets such as Sweden Street or Norway Street. (Gee, even their street names are making me cold.)
Though the festival really only becomes worthy of long-traveling tourists after dark, the event does run all day. In the morning, there's an ATV scavenger hunt they call a "Zombie Poker Run". More than 300 owners of all-terrain vehicles decorate them with Halloween decorations and then ride all over town collecting poker chips at town locations. Those with the best poker hands win prizes. There's no race, because that wouldn't be safe, and there also isn't really much to see unless you are participating. They have a cornhole tournament, which is when you toss a sack of corn grains at a wooden plank with a hole in it. Helicopter rides start at noon and run late, and there's also a 5K road race.
Since it's too cold to stand outdoors all day, choose the evening to attend RiverFire, when the action picks up.
Unlike Providence WaterFire, which I love but has limited walkway space along its river, leading to uncomfortable crowding, there's plenty of room in Berlin for RiverFire. They close down Main Street, which runs along the river, to create a wide, mile-long path between the park and 12th street. After dusk, you'll see a boat move from island to island, lighting the bonfires. It's beautiful and peaceful to be outdoors at night viewing the night sky, the river, and its fires. You can walk out to the bridge — a line forms, so watch the line and time your stroll — and see all the carved and lit pumpkins. Of course it's fall foliage season, beautiful to see with the leaves turning colors.
Surprisingly, there never seemed to be a long line for the hayrides, which aren't scary-themed. You sit on bales of hay, and a tractor takes you back and forth along the river. On board, a volunteer hands out candy. You'll want to switch sides during the trip, because on the way up, the river is on the right, and on the way back, the river is on the left. It was so great that I did it twice. What a fun, relaxing way just to be outdoors and see the whole expanse of the fires on the river, without the long walk. Across the river, on the other side, some families had put up Halloween decorations and the whole thing is just beaming with community happiness.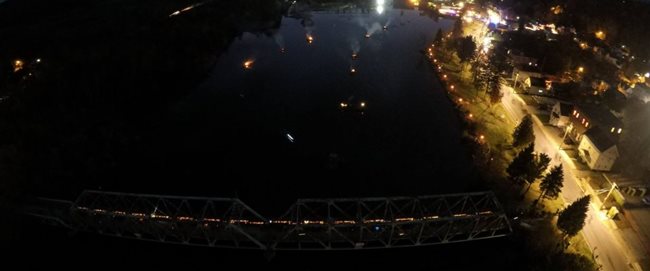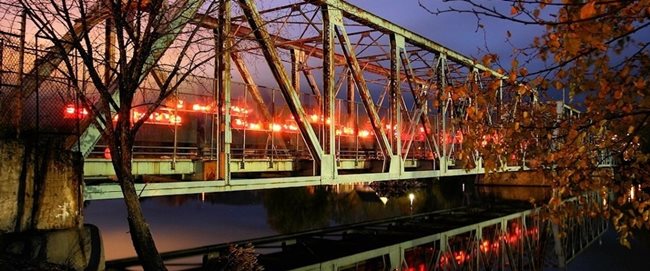 There are so many cute kids in Halloween costumes that I should list it as one of the festival's features. So many cute kids! I kicked myself for missing the kids' parade. It started at 5pm and was over in 15-20 minutes. Someone told me that they arrive at the park in a half hour, but that was wrong. It's followed by a kids' Halloween party. Go to the Cook Building and you'll see it's so crowded that it's sort of madness. But they have tables for kids' crafts and most importantly it is heated! So even without kids, I sat there for 5 minutes, warming up and getting my Yankee stoicism back. Pro tip: go to the Cook building if you're cold!
You can stroll through the dozens of vendors and bring your kids to the inflatable fun houses. There's an outdoor amphitheater with plenty of seating to eat and eventually to enjoy the live music. I didn't visit the helicopters and assume there's quite a long line, but possibly they do something smart like schedule the rides to time slots. I have read that they had a petting zoo, but did not see it to confirm that.
This year, for the first time, they brought in a mobile attraction, Buried Alive. Traveling carnivals are definitely a thing, but this was not a transportable attraction that gets extracted and constructed. It is an all-contained trailer that shows up and parks. As someone who has reviewed 70 Halloween attractions, I can tell you that this presents an impossible challenge. It just doesn't take that long to walk through a trailer, and its decorations have to be safe, powered from just a generator, and all hold together when driven down the highway. Even the most creative, dedicated, and well-funded team cannot make a high-quality attraction in a trailer.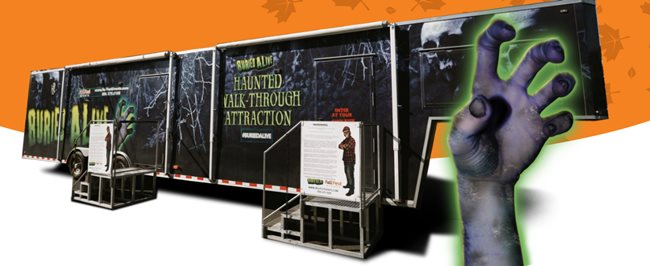 Unfortunately, Buried Alive met these expectations. It takes 3.5 minutes to enter the trailer and walk through its twisty corridors with fake plants hanging from ceiling. You'll see some interesting displays, for example severed heads and skulls, on the walls. They have the right idea by including a fake "elevator", which you get into and then for 90 seconds it rocks and shakes. By keeping you static for a moment, they lengthen the experience. They had us sit in chairs so that the shaking of the elevator didn't make us fall over. Unfortunately, the shaking was too violent. In the snug metal chairs with metal armrests, I was uncomfortable and might even have gotten bruised. It needs full padding. Or, have guests stand but give them something to hold onto, and make the bumps less bumpy. (A small bump is plenty to startle-scare guests; it needn't turn into a theme park ride.)
In another area, there's a "squeeze corridor", where the left and right walls balloon out, so that you have to push through with your face and hands. I always wonder how often they clean these things. Then there's another section that is only 4 feet tall, so that you have to bend over to get through. I get it: it's supposed to be scary because it's claustrophobic, but I have to confess I found it more annoying. I was told that typically there are three actors inside who scare you. The one that got us into and out of the elevator should have reminded us to watch our step. They have a less scary version for kids before sundown, and then a scarier version for teens and adults.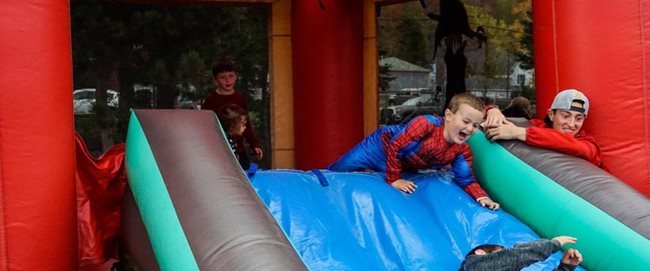 Buried Alive is acceptably theatrical, with artistic decoration, good lighting and sounds, but since it's just too short and has some annoying stretches, I could not recommend it. (To be fair, I don't know that I could recommend any haunted attraction in a trailer.) Community pride would carry an unfunded, outdoor haunted pathway with junk filler like plastic sheeting, scrap book, and hanging cloth strips, if you then added some enthusiastic local teen actors! (I believe they've done this in the past.) Anyway, being outdoors at night is naturally spooky, without any decoration, so you're already part-way to having a haunted house with no budget spent.
I haven't even mentioned yet the pony rides, vendors selling sand bags with gemstones so that your kid can "pan for gems", facepainting, a balloon artist, and that the festival is free. (The hayrides, face painting, pony rides, helicopter rides, haunted trailer, and bouncy houses have their own fees.)
This is quite an amazing small town festival, which draws 6,000 people. I might like it to be held a week earlier, for slightly warmer weather, but I know that, for most people, October 10th just doesn't feel like Halloween yet. The river is beautiful with the fires, the bridge with pumpkins, and there's just so much to do and so many cute kids.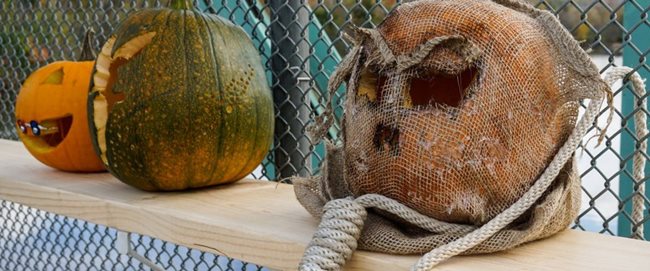 Although RiverFire is run by the Androscoggin Valley Chamber of Commerce, it takes place in a residential neighborhood without a touristy district of restaurants and cute shops to draw customers to. So its purpose seems to be neighborhood pride and fun, not sales. I enjoyed RiverFire more than larger events I've been to like agricultural fairs, which don't tend to be very creative or notable. For what it is, a community event on town property, it is flawless and filled with plenty to do. Kudos to all the volunteers who put energy into it. You are making us proud to live in the US Northeast.
I'll give RiverFire in Berlin, New Hampshire a perfect 5 stars. It is New England's best Halloween town festival. Of course you'll want to make the best use of your travel time by visiting more than one New Hampshire destination — make it a whole weekend! — but RiverFire is very much worth the drive up from Boston. I see that they are planning a Christmas Parade soon.
For more, see RiverFire online.