Rhode Island Comic Con is a Vast Expo For All Things Geek Culture (4.5 stars)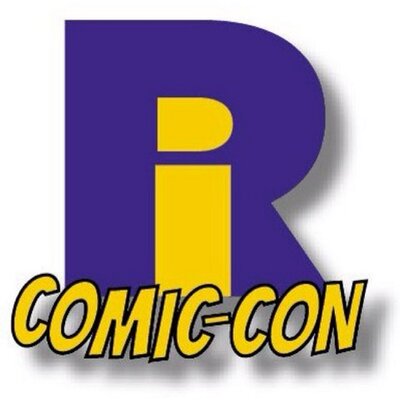 11/04/18 by
Matt Martino
Rhode Island Convention Center
Providence, RI
Entering into the Dunkin Donuts Center in Providence Rhode Island and you are transported to Comic Con, a celebration of all things in the sci-fi, fantasy and pop culture genres. All around are booths selling all kinds of collectables and memorabilia from various comic book related characters, movies and more. They range from custom made one of kind items to mass produced fan wares to must-have to rare collectables.
Let's start by meeting a few local craftsmen. Winter is coming so it's a perfect time to buy a warm winter hat. You can do that at Hooked on Sci-Fi by getting a crocheted hat of your favorite hero or even a villain. They had a Harley Quinn Hat, a Loki Hat and Boba Fett. Hypnovamp out of Lowell makes jewelry both traditionally and modern using 3d printing techniques. The artist Stephanie, even used artificial eyes to incorporate into her rings and amulets. Milton's Emporium specializes in leather work with a steam punk esthetic. If you are looking for a corset, they have it. Plus they sell very cool tea sets you can attach right to your belt. The Jolly Otter makes some great hats as well. Many were Pokemon themed but Amanda the artist also made purses with Star Wars themes, Harry Potter and more.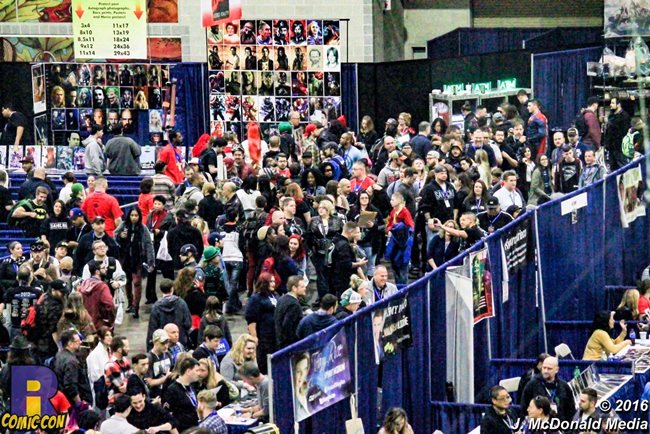 Nothing says comic books like great artists and you can find many here. We met up with local artist like Dan of Dark Arts who creates fan art and does custom work. He draws his inspiration from modern comics but also incorporates aspects of world war two pin up art. Sasha, a graffiti artist out of New York City, makes large canvas pictures of zombies, superheroes and more adding an urban anime feel to her work. If the ladies of fandom are your thing, you can check out Wicked Little Shop for your pics of Wonder Women, Harley Quinn or even Buffy the Vampire Slayer.
Among the most impressive artists there was Tina Serluca who creates near photographic charcoal drawings. Looking at her work, you would swear it was a black and white photo. Her favorite subject is the Walking Dead so you can pick up custom art of Daryl, Rick Grimes and many other characters.
This is of course Comic Con, so no expo would be complete without actual comic book creators. We got to see many locally made comics as well. Among the most unique was Samurai Cowboy, a comic in which the far east meets the wild west complete with six shooters and Katana swords. The Sun Bros, a Boston based comic duo created the comic China Town, a supernatural mystery and gangster story. Another Bostonian, Jay Kennedy created the Rhode Warrior – a Rhode Island take on the post apocalypse. Joseph Schmalke proves comics are not just for kids by creating a series of grind house style comics such as Cherry Blackbird, a story of rock star who sells her soul.
Not just comic writers made their appearance; there was whole slew of local novelists as well. We ran into Lisa who wrote the Grimaulkin series of books about demon summoning all set locally in Rhode Island. Many members of the Rhode Island association of Authors were on hand. These included Tabitha Lord who writes space operas and Mike Squartito who wrote the Overlord series of fantasy novels. Christa Carmen writes short horror story and showed us her anthology collection "Something Borrowed, Something Blood Soaked". And Author R.K. Bentley shows us Where Weavers Daire in which science fiction and fantasy blend.
Among the many draws at comic conventions are the Cosplayers. Costume players dress up as their favorite characters and show off their outfits. Many have turned a hobby into a profession as they spend much time and effort to emulate their heroes. We ran into Batman, Wonder Women, Deadpool and Pennywise from Stephen Kings IT. Among the pros was Cares A Lot Cosplay who chose to dress as Batman's sidekick Robin – but not just any Robin. She plays the first female Robin Carrie Kelly complete with sling shot looking like she stepped right out of the pages of the Dark Knight Returns. If you are fan of GI Joe you can meet the Baroness and Snake Eyes. The Revolutionary Guard came out complete with guns and military hardware to cosplay as The Real American Hero and Cobra The Enemy.
A crowd favorite was Blackman – a self-made superhero who battles stereo types by showing people they are more alike than different. His mission statement is stay positive. As he says – we all brush our teeth right? Blackman sports an afro and bright yellow costume plus a cape. He is the super hero we all need and more importantly we all deserve.
A special shout out must be given to the podcast Needless to Say… A group of drinking buddies who down a few cold ones then talk endlessly decided to record their conversations and share them with the world. Each of the members of this group had their own specialization such as comics, movies and sports. So there was something for everyone.
Another big draw is the chance to meet and take pictures with many famous celebrities. Comic Con has many to choose from. If you are a wrestling fan you can meet well know folks like Ric Flair, Diamond Dallas Page Scott Hall and Xpac plus many more. Actors like Brian O'Halloran from Clerks, Zach Galligan from Gremlins and Tony Danza from Who's the Boss as well as many of the cast of The Walking Dead were on hand. Musicians Dee Snider of Twisted Sister and rocker Meat Loaf were there as well
If the convention had one main attraction it was a celebration of Stephen King's IT – both the classic television series as well as the new movie. A convention exclusive Funko Pennywise action figure was available only to fans who attend. Then there is a Stephen King's IT museum – a collection by local John Campopiano of memorabilia from the original TV series including original books, DVDS, a genuine crew jacket and one of Pennywise's costume worn by Tim Curry. Many of the kids from the new movie were on hand to sign autographs. You could even take your picture with Pennywise himself at nearby booth. Finally, you could meet the man behind the original Pennywise – Tim Curry as he was there to meet and greet fans.
Many charities were represented at this event to help raise awareness of numerous causes. Pink Heals was a charity for cancer research complete with a giant pink ambulance with the names of cancer victims scrolled all over it. The Massachusetts Ghostbusters raise money all over New England came out in full force with costumes, proton packs and a giant inflatable Stay Puff Marshmallow man. The Leukemia Lymphoma Society had a Simpsons themed booth that took pictures to raise money. Kudos to this event for helping to fight for good like a true superhero.
My only complaint is that the show can be expensive, with food especially being on pricey but low quality.  For a family or group, this can be a big cost for even a few drinks and snacks. One could spend hundreds just on minimal expenses such as entrance fees and food. Luckily there are restaurants outside the convention center and nearby worth checking out such as Panera Bread. Access to the Rhode Island Convention Center is easy by public transit: take a left out of the train station and follow the green painted stripe on the sidewalk from the capitol building.
This only touches briefly on what the comic convention has to offer. There is so much to see and do, that one day is not enough. Other highlights include table top gaming, numerous panels and even a kids' zone for the younger fans. Get a weekend pass to take it all in. There will be wait times to meet some of your favorite stars and get pictures. So come early and plan to spend a lot of time at Rhode Island Comic Con.
See ricomiccon.com.