Rent Jet Skis with BJM Rentals in Miami (4 stars)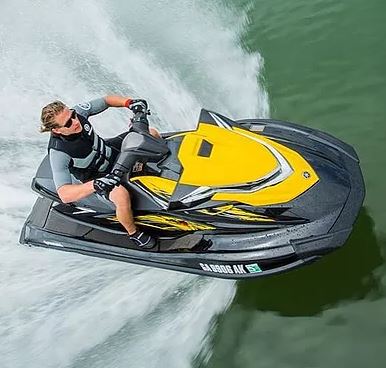 BJM Rentals has all the equipment you need for water sports in Miami. You can rent a boat, jet skis, go flyboarding, stand-up paddle boards, or even a water jet pack! We met Mike to try renting a jet ski.
Mike was very friendly, trained us well, and shot some video for us. The jet ski is easy to operate. You can put it into neutral to hover in the water, reverse it when you need to, or grab the throttle and go, go, go! The jet skis are incredibly powerful, which is fun, but that made them pretty scary as well.
I'm not personally very athletic and don't have the fantasy of going faster than fast. For example, when I reviewed snowmobiles, I found that I enjoyed going slowly through the winter snowy forest, so that I could enjoy the view and bond with nature, rather than going so quickly. It was the same with jet skiing. At 10 miles an hour, you're going slowly enough for comfort, but in the open ocean, at that slow speed, your view doesn't change. The horizon, the landmarks, go by so slowly. Bring it up to 20 miles per hour and now even limited waves can become a challenge as you worry about flipping over. I did not enjoy going to 30 mph, but I'm sure that with more practice, or if I were more of a macho guy, that I would have.
I tried it solo, and then I tried it with my partner, with her sitting behind me with her arms around me, as though we were on a motorcycle. She didn't feel comfortable driving on her own, not without reason. But I'm sure if we had fallen off that it would have been harmless. The jet ski is rigged so that it immediately stops if you lose your seat.
Unlike flyboarding, which seems hard but is actually great fun, and unlike tubing and parasailing, which really anyone can do, jet skiing takes some skill and I did feel at times that I was not really qualified to drive it quickly. It was a good experience but a bit too hair-raising for us to become enthusiasts. Mike was friendly and courteous, but not full of energy like Sascha on our tubing ride, and the boat we took back to shore was not in good repair, just a shuttle, not a party on the water. Mike kept an eye on us a little, but not continually. Sometimes he was stunt driving his own jet ski in the vicinity instead, available if we came to him, but not perfectly attending to us, keeping us calm.
Jet skiing is something I've always wanted to try, and I'm glad I did! It gets a full 4 stars, and if adrenaline is your thing, perhaps you'd rate it even higher.
See bjmrentals.com.