Ravenwood Haunted Farm Shows Promise in Its First Year (4.5 stars)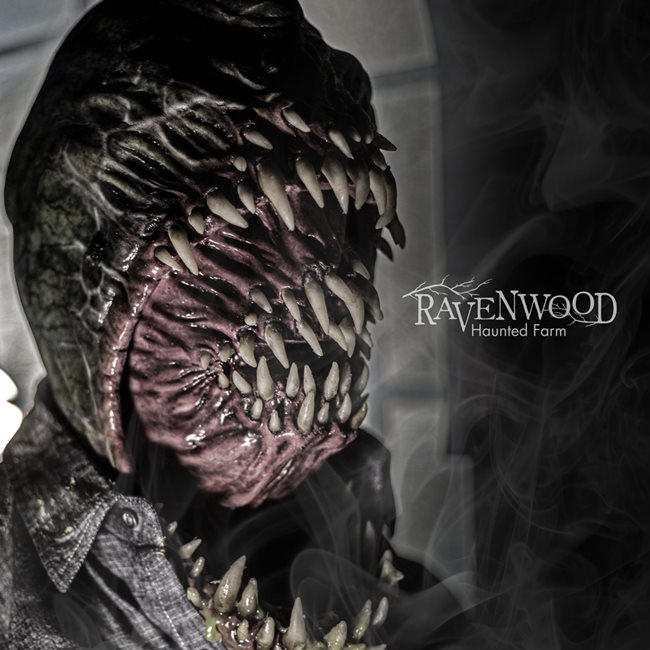 Ravenwood Haunted Farm is a brand-new Halloween attraction in 2019, on the site of Chris' Farm Stand in Haverhill, Massachusetts. During the day, they give hayrides, pony rides, you can pick your own pumpkin, walk the corn maze, and pet farm animals. On October 20th, on Touch-A-Cow day, kids can get up close to touch and groom a real cow!
Then at night, it becomes Ravenwood Haunted Farm, which is a 5-minute hayride that takes you to a 10-minute haunted woods walk and an 8-minute haunted corn maze, and then another 5-minute hayride back. Parking is free, and you'll want sneakers for walking through fields and dirt paths. VIP tickets are available to get you to the front of the line. The attraction is wheelchair accessible. The attraction is the creation of Ben Selecky and Alexis Abare of Haunted Farms of America, and Christian Krohg.
When you arrive at Ravenwood Haunted Farm, surprisingly the actual farm stand is closed, but they have a small table selling hot and cold apple cider, hot cocoa, apples, popcorn, Gatorade, and water. Come on a clear night and you'll get beautiful views of the hills around you and the stars above. You take a hayride that's not spooky, but pleasant under the night sky. It takes you to and from the main attractions. You sit on hay bales, pulled by a tractor through a field with 8-foot-tall stalks of corn.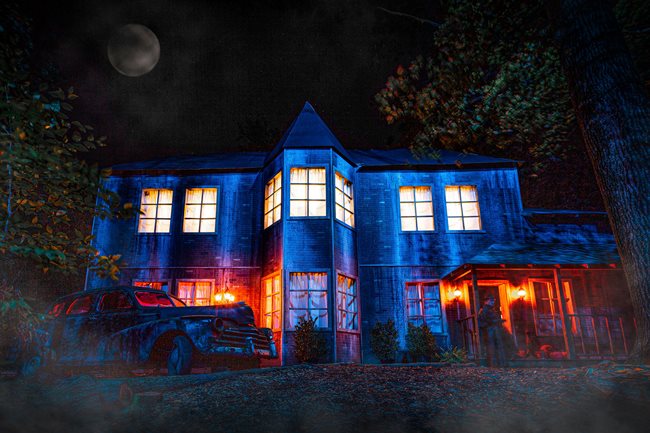 Then you walk a path through the forest, which is a nice combination of a lovely woods walk in-between sites, and then the haunted sites themselves. Walking through the woods at night is naturally spooky, and I was glad to find that their content is spread out, dotted along a long trail, creating a longer experience. Delightfully, any place in the forest with an abrupt drop they've smoothed over with a bridge, a walkway. (Though watch the sudden drop of an inch or two at the end of each bridge.)
Your path takes you to a convincing, purpose-built house in the woods, a big step up from competitors with their unconvincing plain painted plywood. The house has real-seeming walls and the interior is built up with a stairwell and second story balcony. We were glad to find realistic looking cobwebs, not the stretchy cotton you get from Target. And to make the setting look like a real house, they've hung portraits and other items onto the walls.
Later you'll come to a castle facade with cement-coated 'stone' walls, and then an outdoor garden with vines and a five-foot-tall Venus flytrap, a carnivorous plant, eating a whole man. While you won't see animatronics or special effects beyond fog, you'll find interesting mannequins, such as a spinning ballerina with a death pole, a snake eating a man whole, and a giant fly. Although the decorations were often basic, they were arrayed theatrically, without junk filler such as clotheslines, hanging cloth strips, plastic sheeting, or camouflage netting.
A third of the actors had elaborate costumes, but most just had a mask with thrift store or farm clothing, or wore black cloaks. Although most simply jumped out, a few had lines to say, which sets a theatrical scene. You'll meet a demon with a demon baby, with fog effects, a spooky tarot card reader, an actor in a plant costume hiding amongst plants, and actors with chilling pagan animal masks. We especially appreciated the fog-filled room and were glad that the squeeze chamber (where left and right walls balloon out, so you must push through) was only half-height. That allowed us to push through with our legs instead of (with Halloween attractions that have full height squeeze corridors) mashing our faces and hands against whatever the hundreds of previous visitors left behind.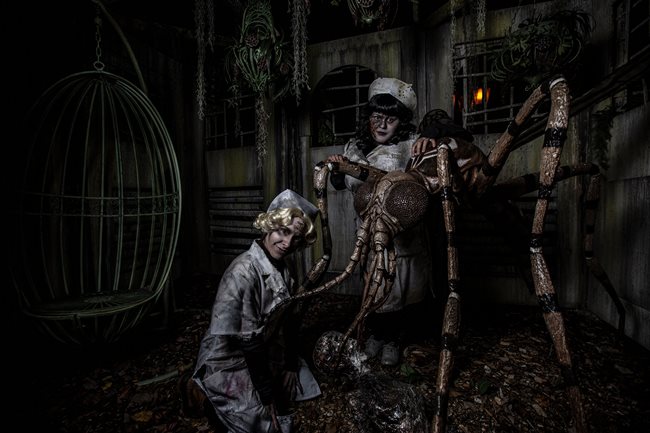 Then you walk through a corn field. It's not a maze, which is fine. The actors there wore mainly masks with farm clothing such as overalls, but showed great energy. They took hidden shortcuts through the path to scare each guest twice from different locations! There are no props or decorations in the maze, but we loved the giant wolf head.
Finally, you ride the hayride back to the staging area, where you'll find plenty of portable toilets, and it's quite a walk uphill to the parking lot.
Ravenwood Haunted Farm is just starting out, but what they have is original and interesting, and they haven't placed unattractive filler in the paths. Instead of trying to fill every inch of the paths, you are free to enjoy the natural beauty of the woods walk and corn maze, and no doubt they will add more props and excitement with every year that comes.
I have no complaints but a couple of suggestions. There's no way to secure an outdoor attraction, and no need for a security guard to wand people. The staffer on the hayride sat idle and bored while we listened to a prerecorded message; that person could have entertained us directly, or ideally, turned into a haunted hayride.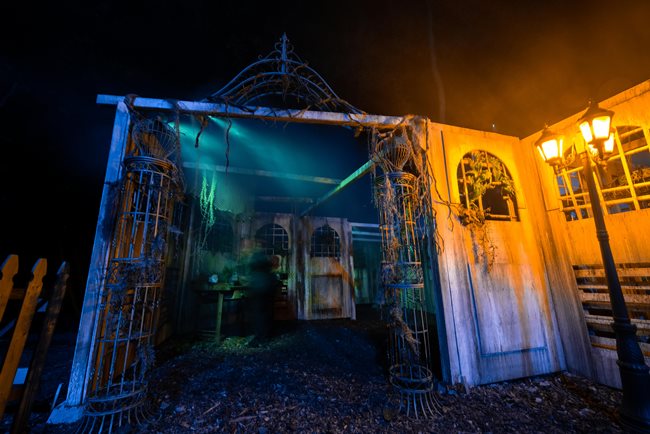 People always want "more to do" at an attraction. One way to lengthen the destination would be to turn off the heavy metal music out front, which tends to drive people away — I get it, monsters like heavy metal — and open the farm store and have a seating area with benches and a bonfire, maybe a food truck, for people to hang out and chat. Nearby Connors Farm in Danvers does this well, as does Legends of Fear. Another idea would be to turn the corn field path into a genuine maze — it would take a bit longer to exit, thus lengthening the attraction.
Partly because of my VIP ticket, and partly because my leg was aching, staff very kindly gave us a golf cart ride to the top of the hill parking lot. That is good customer service and shows that staff are well-trained. This is no assemblage of volunteers who don't know and don't care. The actors especially in the corn maze brought a passion that we appreciated.
I've reviewed a ton of low- and medium-sized Halloween attractions, and it's remarkable that Ravenwood Haunted Farm didn't fall into adding a lot of junk (bathtub) and filler (bare painted plywood) to their attraction, and there are theatrical touches to their mansion and castle in the woods. While it's still coming together, Ravenwood Haunted Farm is an up-and-coming, brand new destination with 28 minutes of pathways including the hayrides. I'll give Ravenwood Haunted Farm 4 stars, but call it 4.5 stars because if they can do this well in their first year, the experience is bound to grow.
For more, see Ravenwood Haunted Farm and Chris' Farm Stand.