Rails to the Darkside at the Connecticut Trolley Museum is a Halloween Trolley Ride (4 stars)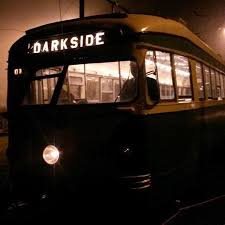 The Connecticut Trolley Museum is just what it sounds like — a museum dedicated to trolleys! They showcase dozens of old-timey trams and rail cars from all over the world, and you can go for a ride, too. Each October they host a Halloween event called Rails to the Darkside.
Your first step is to enter their ticket lobby, where there's a skeleton in a trolley diorama. Outside, they sell apple crisps and other snacks. Look for the trolley across the yard from the lobby — that's where the line forms.
Then you board an old-time trolley decorated with advertisements from the World War II era, and go for an 8-minute ride to a haunted woods location. There actors dressed as monsters plant torches around the trolley and come on board to scare you! Then you return by trolley to the museum and go through an outdoor and indoor maze with actors and special effects.
Just being aboard a piece of history was an interesting experience, with its wood and metal interior. But the lights in the trolley were a problem. With the lights so brightly on, and the conductor dressed normally and treating us normally, it just wasn't spooky, and we couldn't see out the windows, so we weren't getting the beauty of the nighttime forest and sky. Plus, the naked light bulbs glared, making it hard even to look around inside. Taking a 16-minute round trip ride for 4 minutes of monsters seemed a reversal to me. Perhaps we should have been allowed to get out of the trolley and walk around in a clearing for a while. Or had monsters on the trolley the entire time, perhaps acting out an 8-minute scene or telling a ghost story, themed for the trolley.
The spooky path just outside the museum was more engaging. It starts with a big special effect: fog with lasers spinning to make a cone of light that you walk through. Lasers in fog are my favorite Halloween effect and makes you feel like walking into a haunted dimension. Then you walk around what seems to be a rail yard, on a path of gravel. Evil circus clowns jumped out to make you shriek and then laugh with relief. Although most of the actors will stare at you or shout trying to startle you, some have real lines of dialogue to say, and one followed us and had a spooky conversation with us. That was artistic. Decoration was basic, walls of plywood and wood fencing, sometimes with blood splatter, with filler such as hanging tarp strips, cobwebs, netting, tarp, and hanging boffers. The open fire was nice to warm myself for a moment. It's a low production budget attraction of perhaps 7 minutes' length, but the projected video and scene of hanging stuffed animals was creative, and there were a couple of homemade animatronics.
Then you get let into the museum proper, on a tour taking 5 minutes, again starting with a bang with another laser fog cone. Actors asked our names and then repeated our names later in their taunts. Here you walk back and forth down aisles in-between the old-time trolley cars of the museum, while actors on the trolley cars above you jump out. Again a few of the actors had a line of dialogue to go beyond just startling you — always appreciated. Much of their costuming was just street clothing, such as a white shirt, with blood. The decoration was mainly filler such as hanging cloth strips, but there was also a ghoul making electrical sparks, a mannequin in an electric chair, and four animatronics, and a "rabid dog". Unfortunately, with the lighting so dark, you couldn't make out much of the trolley cars, which if lit from inside, could have been a more impactful backdrop.
The entire experience, not counting waiting in line, takes 50 minutes. They also have a daytime event where you ride a trolley to a pumpkin patch. The event is a good cause, a fundraiser for "Shaker Pines", presumably meaning for the museum and fire department, which host it.
Overall, it's impossible not to appreciate the historic setting — a Halloween attraction on a trolley car and in a trolley museum! But the experience didn't connect visitors and Halloween to the trolley theme very well. Despite a few stunning effects, the acting, costuming, and set design of the experience was worth the visit but not remarkable. As someone used to the (admittedly modern) subways and trolleys of Boston, it was more intellectually engaging than a visceral thrill.
There's great future potential in this unique Halloween destination, with some more theatrics. For now, a solid 4 stars for Rails to the Darkside.
See Rails to the Darkside on the Connecticut Trolley Museum's website.