The Pumpkin Place at Nature's Art Village is a Festival of Not-So-Spooky Fun for Kids (4 stars)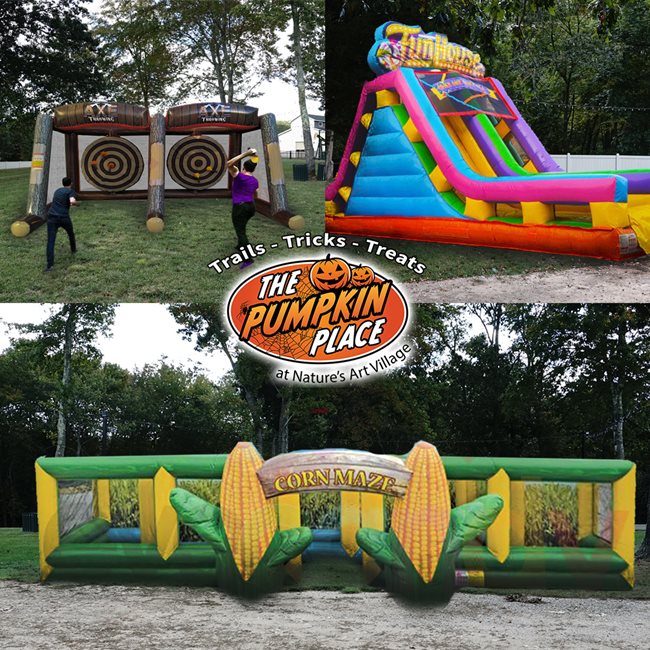 Nature's Art Village is a series of attractions set in and around a small strip mall in Eastern Connecticut. They own a crafts store, antiques store, and two old-time museums of the 19th and early 20th centuries, and to one side is Thunder Creek, where you can pan for gold or dig for gems or dinosaur bones, an ice cream shop, and a mini-golf course, which looks quite creative, with its waterfalls and dioramas including faux dynamite, a giant snake, an old mine, a train station, and a water wheel.
Then out back is a pond with a trail that runs in-between the pond and the back of the mall. Most of the year, that is the Dinosaur Place, with more than 50 life-sized dinosaurs. Now, for the first year, they've transformed a portion of that path (several dinosaurs) into The Pumpkin Place, a kids-friendly not-so-scary Halloween destination.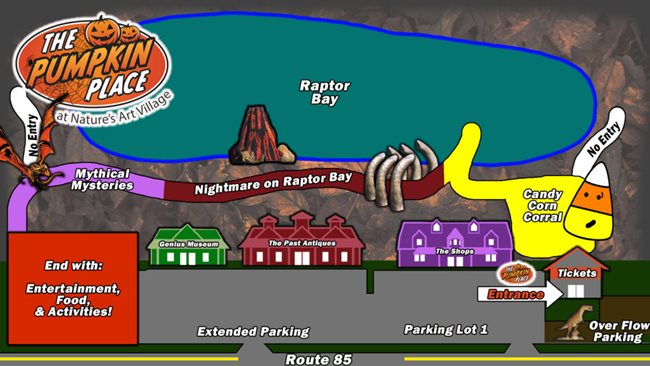 It's a 0.3-mile pathway that you can walk in 10-minutes, meeting three costumed staffers and several dioramas. The dinosaurs are still there, but now they're wearing Halloween costumes! Although the attraction is open before sundown, come after dark when the stars are out, and you can look out over the pond and see light displays mounted above the water. The Dinosaur Place features a 12-foot-tall volcano that 'erupts' every hour on the hour, and that's included with The Pumpkin Place, though they are repairing it at the time of this writing.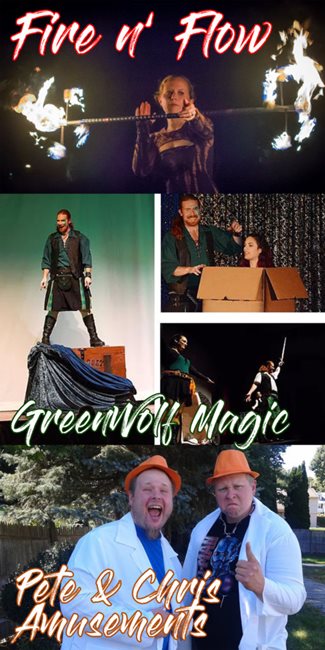 It's a comfortable, attractive journey, with gravel walkways. You'll see lily pads in the water, hundreds of pumpkins (though not decorated, carved, or lit), that stretchy white netting that's supposed to look like a spider web, and string lighting. As well as the numerous dinosaurs, you'll find a Dracula mannequin, the Day of the Dead mannequins from the movie Coco, and the "candy corn corral", a hometown farm where candy corns I guess grow out of the ground, and a staffer will hand you a packet of bagged candy corns. One pumpkin is carved so as to be "eating" a spider creature. There's a giant dinosaur in a nurse costume. Best of all, there's a 'raptor cave' that you can enter with an animatronic velociraptor and a surprise!
Delightfully, the paths are wide enough that you can stand and admire the view without blocking the way for those behind you. And you'll find benches if you want to just sit and enjoy the view. The dinosaurs and some of the installations are interesting, but most of the decorations are amateur level, what you'd buy in a crafts store. Speakers play spooky ambient sounds.
The big finish of the path is a large festival area with several food trucks, including cotton candy, and four inflatable attractions. There's a pumpkin-themed bounce house, a fun house super slide, an inflatable maze — it really is a large 'maze' of inflatable walls that kids can run around. And there's a kid-friendly 'axe-throwing' inflatable that works like this: there's no blade. Instead you are throwing what's essentially a handle and a big magnetic plate on the end, in a soft wrapper. If you hit the inflatable bull's-eye target, the metal plate sticks and your 'axe' has hit! It's easy to do, far easier to succeed with than real axe-throwing.
Best of all, they'll have magic shows and fire spinners at specific times of the night.
The mini golf, mining area, and museums are separately ticketed, and the crafts store and antiques store are of course free to enter. From what I could see, the mini-golf looks like great fun, and the museums are full of curiosities, but are more a collection than a curation with museum wall text where you'll learn something. (Pro tip: get a guided tour.) They have New England's largest steam engine, now running on compressed air so you can see it work, and some old-timey printing presses that work as well. There's a water spray park and outdoor maze as well.
As for The Pumpkin Place? It's short, just for kids, and its Halloween decorations are basic, but the dinosaurs are great, there is one delightful animatronic, the volcano when working I'm sure is great, and the inflatable attractions and performers add a festival atmosphere. The price of $23 for kids and $20 for adults seems high to me for a place that you could not really spend an hour at, but it's nice that it's next door to plenty of other attractions for an entire evening, even though they are separately ticketed. Hopefully next year they'll find a way to open the rest of the Dinosaur Place pathways for The Pumpkin Place, and get the volcano working. For now, I'll give The Pumpkin Place at Nature's Art Village 4 stars.