Phantoms & Fire at Old Sturbridge Village is an Entire Town of Outdoor Theatre (5 stars)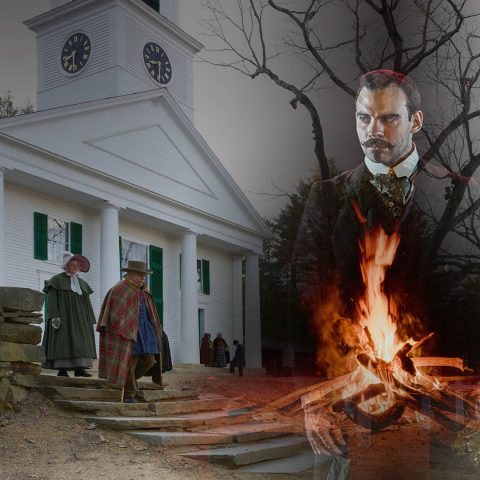 Old Sturbridge Village is my favorite re-enactment museum in New England, an entire "village" of old-timey buildings and re-enactors representing the mid-1800s. In the last few years, for Halloween, they have staged an outdoor theatre show with amazing special effects called Sleepy Hollow (review: 5 stars PLUS) which leapt to the top tier of my favorite Halloween destinations in New England. And I would know, having personally reviewed 70 of them, making Events INSIDER New England's largest audience and deepest source of information on Halloween attractions.
So despite having to brave the virus, I was thrilled to review Phantoms & Fire, a new nighttime Halloween experience at Old Sturbridge Village.
Although most of the buildings are closed, and staff do not take on their typical role of teaching history, the entire campus at OSV is open for the event, as are the gift shops, restrooms, pumpkin carving stations, and cafes. You can stroll the grounds visiting 21 locations, including 7 main storyteller stages, bonfires with family-friendly ghost stories, clue stations which if you visit them all you can earn a goodie bag of candy — a good idea to get people to spread out across the entire property — several other locations to encounter staff and performers, and a live music stage with singer/songwriter Lawrence Trailer. The seven main stages had one-person performances, themed after the stories of Edgar Allan Poe, who is the 19th century American writer most popular with the mainstream today. (Though certainly not the most influential during his time, compared with Frederick Douglass, Mark Twain, Henry Thoreau, and Harriet Beecher Stowe.)

There is nothing I enjoy more than strolling outdoors at night. The darkness is magical, creating intimacy and creating a sense of hidden treasures to be discovered. The sky and stars create wonder. Precautions were taken to ensure safety and distance during the virus, and I was delighted to find that a quarter of the attendees came in costume, including cute children. Having so much to do, over so broad a space, meant that people could spread out.
When you enter, you see the headless horseman (horse woman actually!) seated on a real horse. They give you a map of the grounds, with shows at various times, though it was not hard to navigate and simply encounter things serendipitously. You can take a horse-drawn wagon ride, admire the pond with fires burning at its center, natural pastureland setting, dirt paths, old time houses including a sawmill with a sluice gate and water wheel, and bonfires.
The performances were titled Nevermore: The Fantastic Terrors of Edgar Allan Poe, "written" (adapted) and directed by PJ Griffith for Old Sturbridge Village & Coggeshall Farm. Most were excellent, and I'd especially like to give kudos to Anna Cain and Alanna J. Smith, who used physicality to great effect and channeled madness in the perfect Halloween manner: at times spooky scary, and at times hilariously scary. One performer rushed his lines. All the shows were suitable for older children, but for smaller kids, you know, they are about murder. The only nitpick I might make is that the performers were not given microphones, making it difficult to hear them.
There's no need to dwell on the coronavirus. It wasn't here for Halloween in 2019, and it won't be here for Halloween in 2021. That being said, the lack of microphones caused the audience to pack closer to the stage than would have been necessary, with six feet of separation.

Fortunately, people who love history, and the wonderful people of Massachusetts, are largely intelligent people who kept their masks on. But many (20%) did not keep proper distance from others, and there were a few — I counted six (2%) — who didn't cover their nose or took off their mask entirely because they wanted to sip their hot cider outside of the designated dining area.
In Edgar Allan Poe's stories, someone always goes mad. Madness! Remaining vigilant for not-virus-smart people getting too close to me, or not wearing their masks properly, made me feel like I was going mad myself. Everyone around me seems not to care about, you know, death. Don't you people get it? Am I the only sane one here, or am I the one who is losing my mind? Moo ha ha!
No, seriously, being on constant watch eventually drained the fun of the event for me. As part of the crowd, I kept worrying about getting boxed in by a family who might come up too close behind me, forcing me to either bear it or have to brush past them to get farther back.
Keeping in mind that 2020 is a special circumstance, that everyone's trying to adjust to, the OSV's performers might have begun each story with a reminder to keep distance, and there should have been a few staff whose sole purpose was to stroll around reminding people to keep their masks on. They need better signage to keep your drinking and eating to the widely spaced out designated dining area. The horse-drawn wagons should have had every other row of seats roped off.
Well, as I said, the virus is a special circumstance that we'll never see again. So there's no need for it to interfere with a full 5 stars for Phantoms & Fire at Old Sturbridge Village.
See more at Phantoms & Fire at OSV. And virus conditions willing, OSV is open on weekends through the end of the year and they have a special nighttime Christmas by Candelight planned.