Paul Gertner's Miracles & Other Deceptions Puts You Close-Up to World-Class Magic (5 stars)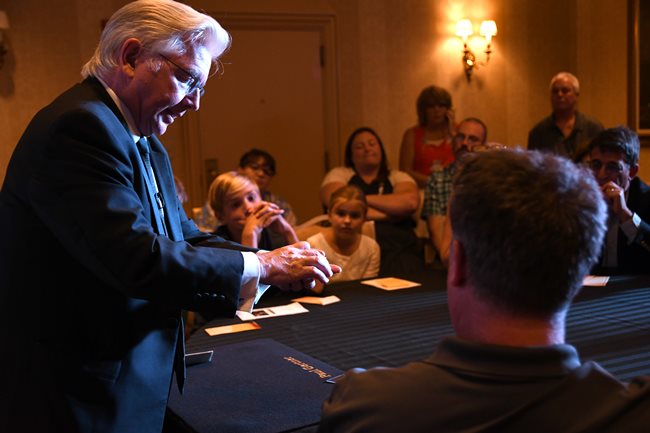 Boston recently gained a second resident magic act, Paul Gertner's "Miracles & Other Deceptions", Fridays at the Omni Parker House, a historic hotel. He is a world-class magician with the career to prove it, touring the world and appearing on television from Johnny Carson's Tonight show three times, 30 years ago, to Penn & Teller Fool Us recently, where his tricks have fooled Penn & Teller twice.
Boston got lucky when his grandchildren were born here, and he and his wife moved here. Although you would normally expect a magician of Paul's caliber to play to a large auditorium, you can see Miracles & Other Deceptions takes place in a small hotel function room that seats just 30 around a circular table. This is partially because his close-up magic is better seen in a small environment. Also, I suspect that Paul makes more money touring and that he doesn't need the overhead of going big in Boston, instead using his resident shows to hone new material.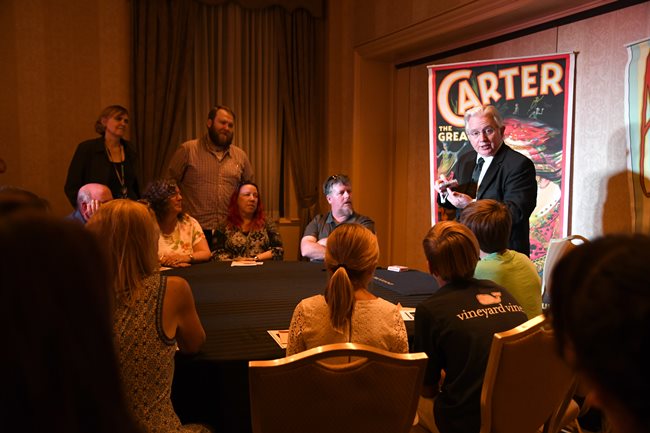 There are only three rows of seats, and it's okay to slide your seat to the left or right to get a good view. At one point in the show, Paul even noticed one guest who didn't seem to have a good eyeline, and made sure she felt comfortable shifting her chair. It's also okay to stand up, if you need to see better. You are exceptionally close to seeing everything happening. Above are metal chandeliers in a small space, and on the wall a portrait. The only decoration for the show is two banners stands of old-time magicians. They serve water and have a bowl of mints. Guests attending were all ages, from kids to the elderly.
Paul doesn't walk around during the show, but he has good energy just standing in place, seeming fresh and unrehearsed even though he's said the same thing for years, no doubt. The show is full of humor and laugh-out-loud funny at times. He told us that he wants everyone in the audience to feel like what it's like to be a kid again. His routines are audience interactive, mainly card tricks, many original, some you've seen before.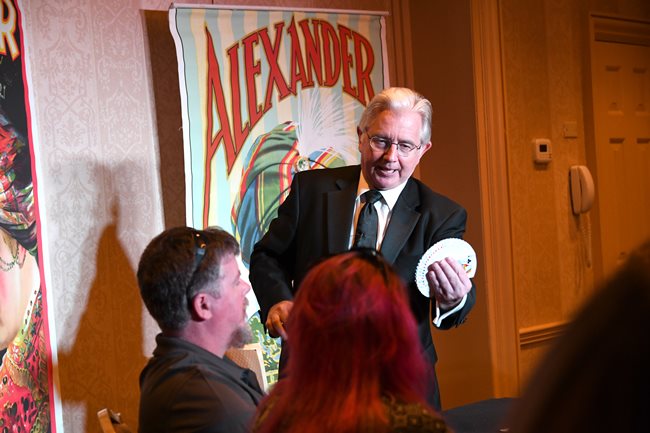 Unlike Ivan Amodei (4 stars), Paul Gertner uses quite a bit of manual dexterity, and, he and his wife are also expert inventors of new tricks. Let me say again that he has fooled master magicians Penn & Teller twice on their show, and he'll perform those tricks for you, the 'unshuffle', and a unique variant on the cups and balls. Although the show does have a couple of more basic tricks — the foam balls, for example, and the dice trick — it also has, as we say in Boston, some real puzzlahs! I was trying so hard to watch his hands and not be distracted. But I saw almost nothing. Have you ever heard the phrase, "scratching your head?" At Miracles & Other Deceptions, I discovered myself involuntarily scratching my head! That is a real thing, apparently. I found it amusing that, even when Paul is not palming something, he holds his hands like he is palming something. That is hilarious, an inside joke of sorts.
Paul is a good storyteller who told us personal stories of the first magician he saw as a kid, of meeting his now wife, and of his kids and grandkids, and his appearances on television. He also showed us a new trick that he's preparing for television. Although my friend pointed out that showing us how tricks are done is a bit of filler, not the same as performing magic, I found it interesting when Paul told us a little about palming an item, and about using distraction, and showed us bottom dealing and dealing the second card off the deck (keeping the top card in place). He even handed out a custom card trick to every audience member and taught us how to show our friends. Humbly, he did not try to sell us his books or DVDs, a bit of mercantilism that we would gladly have forgiven.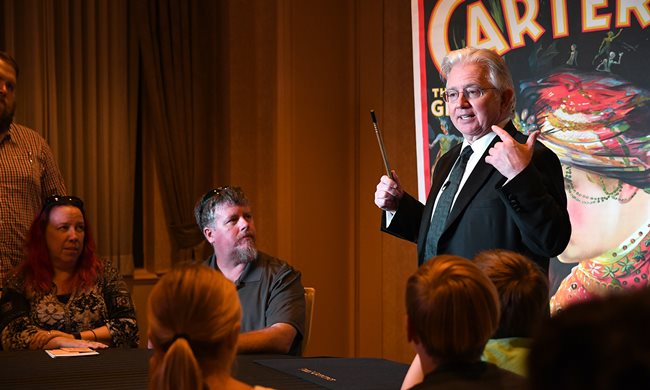 The show is a professional, adult magic show, not a kid's show, but it's accessible to children. Even though I was watching like a hawk, out of hundreds of his sleight of hand maneuvers (I assume), I only caught three. There were also times that I was speechless, and couldn't even theoretically guess how a trick was being done. I mean, usually I can at least take a guess! After the show, Paul greets guests and you can meet him and get a photo.
The show is short, just 75 minutes. Guests dressed casually, and the show is not long enough or larger-than-life enough to be a "whole night out", and might be paired with a dinner, an opening act, or flashier staging. Sometimes the setup for a trick seemed rushed. (You need a solid grasp of what's being set up so that you can be surprised when it either magically happens or doesn't happen.)
Paul Gertner's Miracles & Other Deceptions is astounding, hilarious, warm, and intimate. It's unusual in the Boston arts scene, to get to see such a small, essentially a private show, with a world-class touring performer of any type. Although some magicians go big with tigers, dancers, and giant contraptions with mirrors, in terms of the actual art of magic, the skill, it doesn't get better than Paul Gertner. He's received three Magician of the Year Awards from Hollywood's Magic Castle. He's the only magician to appear on the television show Penn & Teller Fool Us three times, with a fourth coming up. Penn said on the show, "I am a huge fan of Paul Gertner's," with gusto. It is well worth the VIP price to sit in the front row. I'll give Paul Gertner's Miracles & Other Deceptions a full 5 stars.
For more, see Miracles & Other Deceptions online.