Party in Style at the Museum of Fine Art's MFA Late Nites (5 stars PLUS)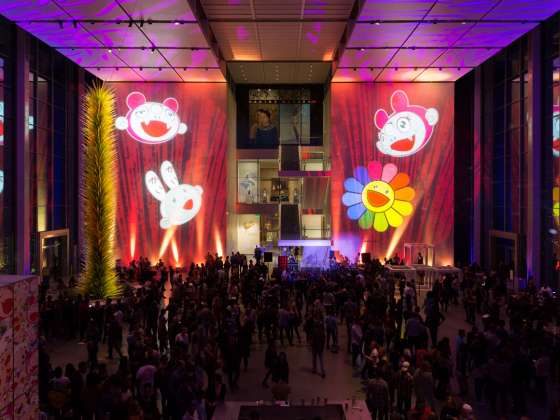 The Museum of Fine Arts in Boston is abuzz with activity during its Late Nites events, a party that spans almost the entire museum. There's no dress code, but it tends to draw thousands of revelers who want to get their art on. The event is open to all ages, but tends to be arty, young, fashion-savvy people, drawing heavily from Boston's college crowd.
Any museum can be visually overwhelming, but at the MFA Late Nites you'll find maximal stimulation. There is so much to see and do that the nearly 3 hours we spent there flew by like nothing. Visit the museum exhibits (which you can also see during the daytime), dance in the two DJ areas, and explore the museum hallways.
I don't often go to real nightclubs, because it's so loud that you can't talk with your friends or meet new people, but the MFA is so large that, except right in front the DJs, you can have a conversation almost anywhere, especially inside one of the special exhibits such as Seeking Stillness, which features art as a form of self-reflection and meditation.
My favorite exhibit was again the optical illusions and surrealism of M. C. Escher, read my review, which closes May 28 so hurry up and get yourself to the MFA! We also loved Phantasmagoria, a study of special effects in the 19th century, where live stage shows would set up "projectors" and mirror tricks. And you'll find Love Story, a film installation featuring the stories of refugees told by themselves, and retold by famous actors Alec Baldwin and Julianne Moore.
Then go to the Shapiro Family Courtyard, a giant central atrium, which has a dance floor and DJ station, with special effects lighting transforming the space into a nightclub. There you can sample from several food stations, from Caribbean to Asian. For $20 you get a coupon to eat at three of them, and with minimal waiting we were able to get seats to eat. Elsewhere there is a cafe and a beer garden.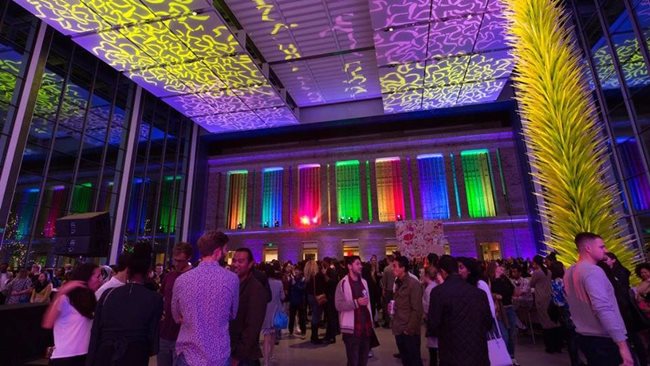 You'll also find "Performance Art Pop-Ups", including fantastic dance performances, short lectures, or make your own art.
If there's anything even approaching the arty, classy but not snooty, interactive celebration of life that is MFA Late Nites (I'm thinking possibly The Donkey Sow at Club Oberon), someone please tell me, because I want to be there.
A rare 5 stars PLUS for MFA Late Nites, making it an absolute must see. It is one of the few repeating events in New England that I never want to miss.
I'm guessing that the next MFA Late Nites will be in Fall 2018, but meanwhile, attend the MFA First Fridays on June 1, go to the MFA Community Day on June 20 and see Black Panther, the movie, projected outdoors at night, also on June 20, just one of a series of movies called Sunset Cinema. You can attend a lecture, take a course, or come see the exhibits without the nightclub experience during the day.
There's a lot more to the MFA than you think. See mfa.org/programs.