Outstanding Service and Food Make The Essex Culinary Resort & Spa the Perfect Relaxation Vacation (5 stars)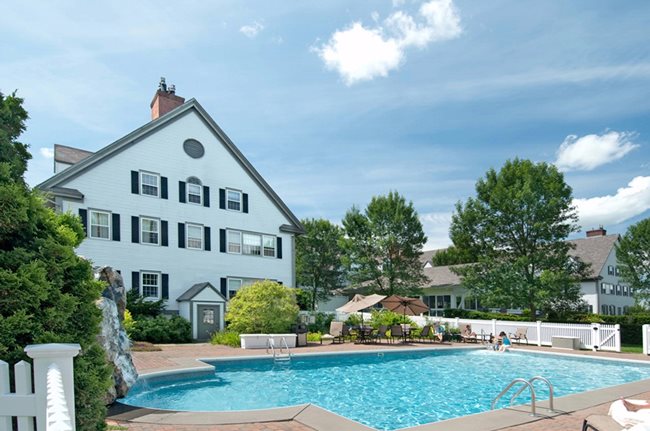 I've reviewed some of the fanciest resorts, and The Essex Resort & Spa near Burlington, Vermont is one of them. But they are especially outstanding for their people. The service you get creates a perfect environment for a relaxation vacation. And in addition to being a resort with accommodations and spa services, The Essex is also a cooking school. They call it a "culinary resort", where you can take cooking classes, and get some of the finest meals at their two restaurants, Junction and The Tavern. The site is a former campus of the New England Culinary Institute, converted into a resort — which must be why their guest rooms have no kitchens. Instead when you cook, you do it in a classroom setting in the professional kitchens on site.
Outdoors, The Essex has beautifully manicured though limited grounds. You can see hills in the distance, and there's a pond on the property, along with tennis courts, an outdoor pool and hot tub. You can stroll gardens, where they grow some of the food served in their restaurants, and there's a bonfire area, a fountain, and a gazebo. We heard that they have goats on site, too. Of course they can host your wedding or other function.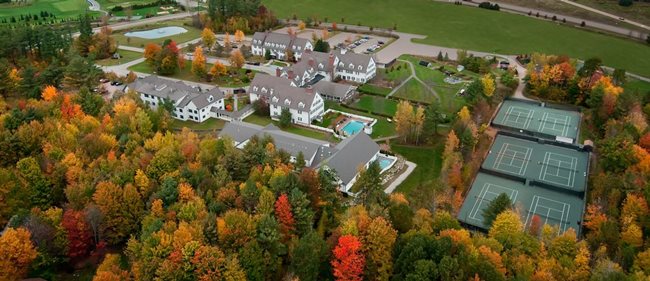 Rather than being earnestly in the mountains, The Essex is based downtown in the foothills of Essex Junction, Vermont. It's too far to use as staging place for skiing at the nearest mountains, Stowe (51 minutes) and Bolton Valley (37 minutes), and you'll get better views elsewhere in Vermont. However, at The Essex you get the convenience of being across the street from a movie cinema, mall, and balloon rides. It's an 18-minute drive from the Burlington International Airport and 25 minutes from Burlington, Vermont, which as Vermont's largest city has tons of attractions and activities, on the shore of Lake Champlain.
That makes The Essex better integrated with its community than the mountain resorts that make you feel cut off, like visiting Disneyworld without noticing that it's in Florida. To play golf, there's a golf course across the street from The Essex. There's also minigolf nearby. It's not a bad tradeoff. You shouldn't visit Vermont without exploring its mountains and farms, but The Essex reminds you that you also shouldn't visit Vermont without exploring Burlington's culture of cheese, beer, water activities, and independence. (Some 13% of Vermonters would like to secede from the United States.) 
The Room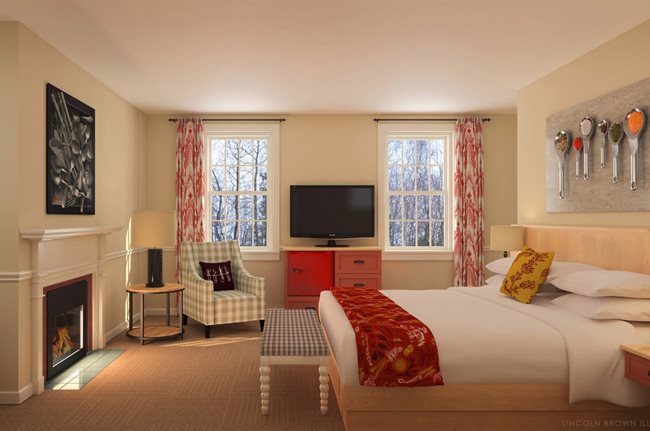 Our room at The Essex was only moderately sized, but came with some next-level touches. The large bathroom had a shower that was separate from a bathtub jacuzzi that was generously large, enough for two people. The king bed was wonderfully comfortable and did not make any noise. I am a giant person who is used to mattresses creaking under my weight. So it was a miracle that I could get up in the middle of the night to use the bathroom, yet make zero noise to disturb my partner. I mean absolutely zero noise, because it was pin drop quiet at night.
Our room also had a mini fridge (good for leftovers), a large television, and comfy chairs facing a gas fireplace. Some other nice touches: we appreciated the bathrobes, extra pillows, and luggage stands. (Pro tip: Always use a luggage stand instead of putting your luggage on the bed. Hopefully you'll never encounter bedbugs no matter where you travel in the world, but if you do, they won't spread to your luggage if you do this. Thus every hotel should offer luggage stands or a clear countertop for luggage.) I was grateful for the work desk, too, where I set up my laptop. The room also had air conditioning, which you can't assume in Vermont hotels. Although our room overlooked their outdoor restaurant and bar, The Tavern, it got quiet early.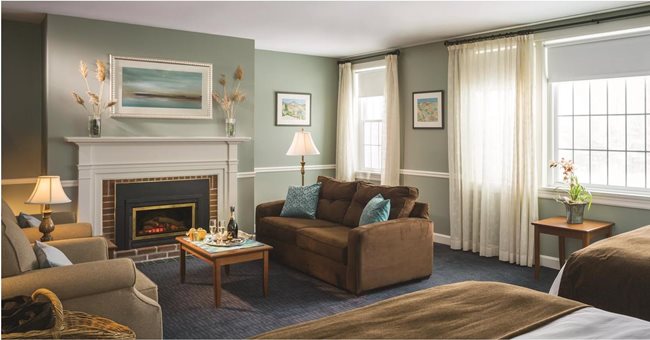 Though our room at The Essex was not the most opulent in the word, those thoughtful touches made it wonderfully relaxing and comfortable. When you stay at The Essex, you really do feel taken care of. At the front desk, we appreciated the free cookies and amazing lemonade. Oh my god! You have got to try the lemonade. I have to confess that I filled and snuck out an entire thermos of it. Even though we missed free cookie time — I suppose they schedule it as a mixer for guests to meet each other — a concierge took pity on me and gave me some free cookies, without my asking for it. As part of our guest package, a staffer brought champagne and chocolates to our room, another nice touch, and she came and went swiftly, without even a hint of hovering for a tip. (But don't forget to leave a tip for maid service. It is back-breaking work to clean a room.)
The Tavern
We had breakfast twice at The Tavern. It's an outdoor restaurant on a patio, whose retractable roof and sides indicated that they must be open in the winter, too. It has room to seat just a few, at metal tables and chairs that are wide enough to be comfortable even to large people. You sit under the sky and surrounded by a garden, feet away from trellises with grapevines, an apple tree, the lawns beyond, and the resort to one side.
There's a small platform where they must have live music in the evenings. There's plenty of shade if you ask for a shaded table. Pro tip: At The Tavern, seating is first-come, first-served, but you can skip the lines with a 'No Wait' phone app.
For lunch and dinner, the Tavern has a two-page pub menu with flatbreads, nachos, wings, Fried Cauliflower "Wings", Crispy Brussels Sprouts, soups, and salads. Their entrees include Bucatini Bolognese, which is pasta with beef and pork in a cream sauce, mussels, and Gnocchi & Vegetable (whatever that is; you vegetarians already know). They also offer more frequently found (that's what 'comfort food' means, right?) dishes such as a New York Strip Steak and Fish and Chips. Check for special dates such as "Flight Night", when you can choose four craft beers, from the thirty they have on tap, for just $6. (Vermont has more breweries per capita than any other state.)
For breakfast at The Tavern, there's no buffet. Instead, you sit and are served. The one-page menu offers many healthy choices, such as a Fruit Smoothie, House Made Granola, Tavern Parfait, and the Forager Omelet which comes with vegetable and goat cheese. There are also less healthy dishes such as the BLT Omelet, Steak & Eggs, French Toast, and Chef's Pastry Basket. Service was friendly and fast, and we were grateful to get a whole carafe of water instead of waiting for refills. (Even the best server will hardly keep up with refills, and a refill interrupts conversation.)
I avoided risk with a Belgian waffle, with side of ham and side of granola. I say 'avoided risk' because it's hard to make a bad waffle, but also hard to make a good one. Mine was a bit ordinary, but came with rich butter and I sprinkled the sweet granola on top. Our meal came with a choice of toast. We chose whole wheat, and it was so good that my partner and I each ordered a side of toast the next morning. Toast! Crisp, but with textured layers, it was not simple like a Wonder Bread, but instead had real character, and with jam added it went down like a slices of Heaven.
We also tried the Long Trail Pancakes, which were fluffy and had a signature texture with bits of cranberry, granola, banana mixed in, not just added to the top. So it tasted naturally sugared instead of processed sugar sweet. It's not often that pancakes teach you a lesson about life, but I learned two at The Essex.
First, I realized that my whole life I've been adding too much syrup to my pancakes, not because I need them sweeter, but because pancakes usually come so dry, and syrup adds moisture. The pancakes at The Tavern come served already moist, and hardly need syrup at all. Also, I'm used to going through phases when I eat pancakes. Phase One: I order the pancakes. Yum, pancakes! I can hardly wait. Phase Two: the pancakes arrive and I eat them. Delicious! Who doesn't love pancakes? But then there's a Phase Three, where the pancakes absorb water in my stomach and puff up so much that I feel bloated. Phase Three is the regret phrase. Why did I eat so many pancakes?
The pancakes at The Essex have no regret phase. We didn't feel heavy, like we'd eaten too much. The pancakes were just straight up wholesome. My partner said that they were the best pancakes she'd ever had. Our breakfast was so good that while eating I had trouble stopping myself for a moment to make notes for the review. I didn't see a vision of God and they didn't cause me to cry from the beauty, but yeah — get yourself to The Essex and get the Long Trail Pancakes.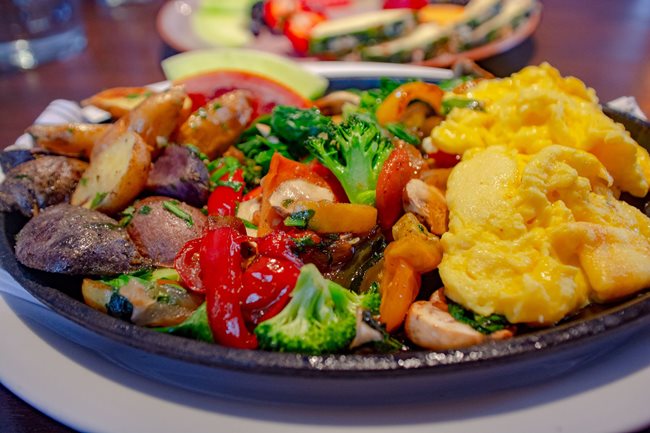 We also enjoyed the Vermonter omelet. Its potatoes come in a zesty oil, and weren't heavily fried, so you could still taste that they're potatoes. The omelet was thick and hearty instead of runny. (Elsewhere, a runny omelet can both make a mess and also may indicate that the omelet was not cooked properly, giving you a chance of food poisoning.) Small chunks of ham in the omelet gave it a wonderful chew. Its sharp, tasty Vermont cheddar accented the eggs instead of overpowering them.
Breakfast at The Tavern was energizing but also nourishing. We didn't feel gross after eating, as we often do after a big, rich breakfast. Sitting outside, we were delighted to see a cardinal perched amid the vines, and spotted a chipmunk racing past. A fly did get past my defenses and land on my side of ham. Well, such is the price for eating outdoors anywhere. Let's assume the ham was good.
Spa Services
The Essex also has a spa. When you buy spa services, you get access to their indoor pool and fitness center, an outdoor, oversized hot tub that's open even in the winter, and a small fitness center with exercise equipment including treadmills, elliptical, stairs, weight machines, and a calendar of gym and swim classes. The separate men's and women's changing rooms are large enough that you can get lost in them. They have roomy showers, saunas, and changing areas with electronic lockers. They come with supplies including cotton swabs and cotton tips, soap, body lotion, deodorant, and even shaving cream, razors, and shower caps, and plenty of free towels. It's an upscale area with a relaxation lounge where you are welcome to hang out all day, having lemongrass or peppermint tea, fresh water and fruit, and there's even a spa menu with sandwiches and salads.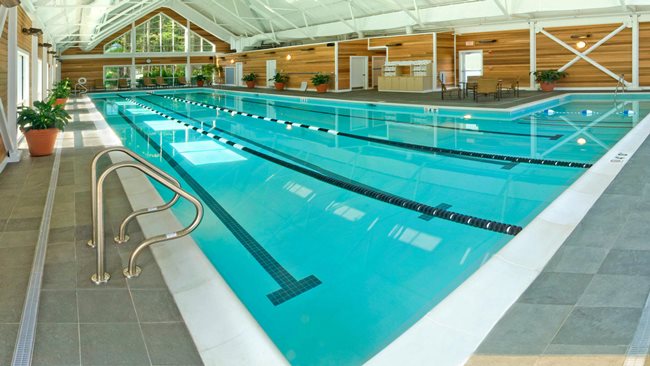 Then go up the stairs to the co-ed lounge where you meet the providers for your spa services. These include manicures, pedicures, hair styling, makeup, waxing, and facial and body "treatments". Pro tip: most of your beauty is in your personality. You are already a complete person. So go to the spa for yourself, not for others. And you definitely don't need a spray tan. Other pro tip: you don't need the pain of waxing. It's a perverse ritual that your sexual partner doesn't really care about. Just get a personal trimmer.
We tried the couple's massage. It takes place in a room with no distractions: just red-painted walls and comforting ambient music with flutes and string instruments. They have two massage tables. You can pick the gender of your massage therapist, if you like, but it isn't a sexualized experience, so doesn't really matter. You undress and are covered by a sheet. At times they lift the top part of the sheet to work on your back and arms. At times they lift the lower part of the sheet to work on your legs. Either way, the sheet covers your hips the whole time, so it doesn't matter whether you keep on your underwear. Most of the massage is what you would expect, though they did also use some unusual techniques that I had never experienced before. My massage therapist leaned into my weary neck muscles with her forearm, applying more and wider pressure than fingers can do. And she had a next level way with massaging the palm of my hand. They won't do your face unless you ask.
As the massage went on, I paid attention to my own body instead of habitually ignoring it. I realized that I had aches that I hadn't noticed, and genuinely began to relax. We got only a thin layer of massage oil, which surprisingly came off quickly and with no problem in the shower afterwards.
Overall, the experience was good, though a bit awkward. We didn't get much direction from our massage therapist, so I wasn't sure whether I was supposed to talk to her, whether I was supposed to give feedback about what was aching (it's a good idea, but you don't need to do it constantly), or whether ignoring her and just relaxing into it quietly would be considered rude (it's not). She told me that her customers fall asleep during a massage all the time. There were a couple of times that she seemed to be rubbing my bones, not my muscles, which hurt. Different massage therapists at The Essex have different styles, if you want to ask for a certain type. 
Cook Academy
We also experienced a cooking class, the most unique part of The Essex compared with other resorts. What's fascinating about a cooking class is that it's an activity that kids and adults can genuinely do together. You know what I mean. Adults and kids have different levels of ability and different interests. There are few things that they can really bond over, and learning to cook is one of them. This being Vermont, they specialize in cheese, beer, beef, and composting, but their classes span a wide range and their event calendar has at least one class every day. At the Cook Academy, learn flower arranging, Cooking with Vermont Beer, Vegetarian Cooking with Vermont Cheese, a crepe workshop, cake decorating, grilling, make sushi at Japanese French Fusion, or choose from dozens of other classes. Or take the Wine & Chocolate Tour to visit Vermont chocolate makers and wineries.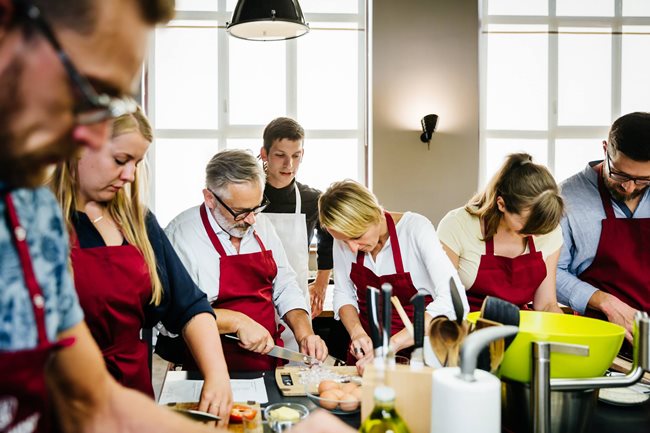 Our course on grilling, because it was raining, was held indoors in an upscale professional kitchen, with a convection oven, two sinks, three stoves, a fridge, a freezer, and a dishwasher. Ten people attended, and we were told that a typical course has 10-20 students. All the vegetables were cleaned and ready for us when we arrived, and we did not need to clean up or wash dishes at the end. Surprisingly, the air conditioning kept up with all the heat from cooking, perhaps because each stove had a hood over it that drew out heat and smoke.
It was fun just to be cooking in a professional kitchen. Our class was Grilling Basics, where we made a grilled Caesar salad, grilled steaks, corn salsa, a potato salad, grilled vegetables, and a peanut butter chocolate pie. We each got printouts of recipes to take home with us, and a certificate of participation that comes with a 10% discount on your next class. It was funny seeing a professional chef's efficiency. At home, when you add lemon juice, you drizzle it slowly in a little ceremony. It's fun. In a professional kitchen, you squeeze the lemon juice out in an instant, as powerfully as you can, and chuck it away. We did learn a few things about cooking. However, the experience was not entirely perfect.
First, there was too much food to make, grilling and preparing all the ingredients for salsa, with cilantro, onions, corn, and other ingredients, and for potato salad with homemade whole grain mustard, plus a salad, plus the steaks, plus dessert. Only about a third of the class was spent with our instructor speaking to the entire class in a circle watching. The rest of the time, our chef broke us up into groups, each of which learned only a portion of the cooking. Some learned to make pie crust from scratch, while others grilled corn on the cob and sliced off kernels for the salsa. No one learned to make the entire meal, and some of us didn't even learn the grilling.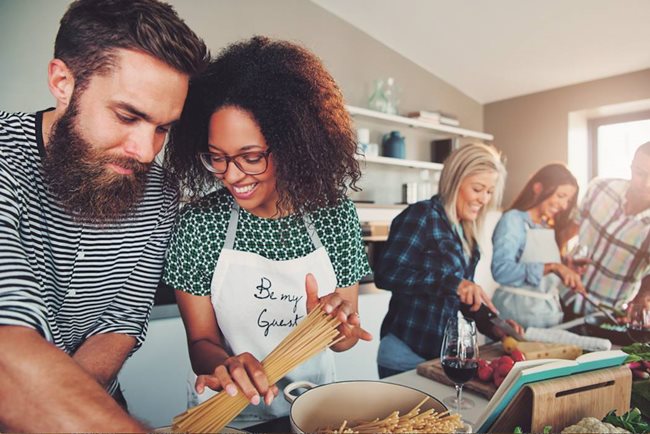 Second, and I am sorry to say this, but our instructor did not seem to be a natural teacher. Being excellent in a field does not automatically make one a teacher, as college students know of their research professors. She spoke to the individual groups instead of including the entire class. Burdened by the many courses of the meal, our chef was busied getting each stage going, which made it hard for her to give individual attention, even when kids were using knives. She gave instructions too quickly, whereas students need to be given their instructions simply, slowly, and often twice.
Also, though I understand that some people come as part of a group with the intention to watch and not participate, for example parents watching their kids, let's not assume that straightaway. Anyone who has taught knows that students enjoy being involved but need encouragement to get started. The cooking class was disorganized, and at first I wasn't sure what I should be doing. I didn't immediately offer to help with the pie crust or salsa, because I thought we'd be grilling. Then those groups filled up and fifteen minutes into the class there was one group of two cooking, one group of three cooking something else, and the other four of us were just waiting to be told what to do, while not learning anything. Speaking just for myself, I didn't come just to watch. When I finally realized that I should assert myself, I asked three times and eventually was given a task.
Finally, the class seemed like a professional class meant for serious chefs in a restaurant setting. At home, I'd never have the time to individually grill limes, tomatoes, onions, radicchio lettuce, scallions, and corn to make my own salsa and then make five other full courses also from scratch. As amateurs, we didn't need to learn (and I didn't understand) the nuances of how butchering an entire rack of meat leads to different kinds of lean and fatty portions. Our instructor told us that in a restaurant you don't have time for a meat thermometer, so she lances the meat and then puts the lance on her chin or forearm which are heat-sensitive areas of the body, or judges the meat by the color of its juices. But as amateurs, we can't judge the color of juices, or the temperature of a lance on our chin. Digital meat thermometers are instant. I have one at home.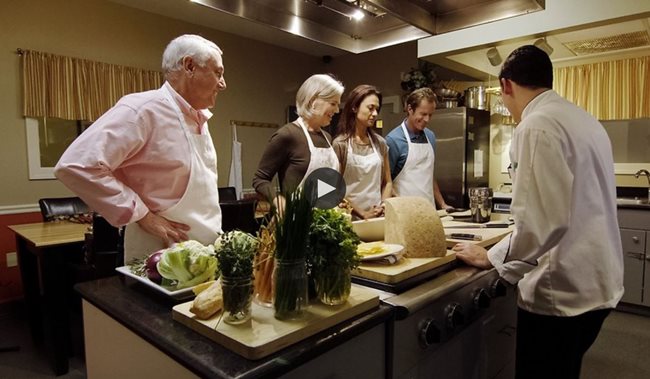 It's unfair of course to judge an entire cooking academy from one experience, but the classes at The Essex are too expensive to get a free pass, either. We enjoyed making and eating the food, but it was too rushed to be a family or romantic bonding experience, and in the rush we didn't learn as much as we would have liked to, even about the portion of the dinner we did get assigned to make.
To us, our chef should have had an assistant, not necessarily an expensive expert and possibly just a volunteer. I assume there are enthusiast Vermonters who would love to be a fly on the wall during a cooking class in exchange for guiding students with whatever knowledge they do have. And the meal should have been dramatically simplified, with most of the courses prepared in advance. That would have focused the class on its advertised topic — grilling — and allowed the pace to be slower, giving us time to take it all in, learn, and ask questions.
We could have been broken up into romantic pairs or family groups from the start, with each group making the complete meal together, in lock step with all the other groups. That would have increased bonding. Before each step, our instructor could have stopped us and given instructions to the entire room at once. (If cooking space is limited, the meal could have been prepared in the order A, B, C by one group, B, C, A by the next group, and C, B, A by the final group, with every student still getting the full experience.) Finally, the golden rule is, Know Your Audience. The class should have been adapted in its language and content for amateurs who would be using what they learn at home, in small kitchens and for small gatherings, not in a professional context.
Junction
We also ate that Junction, the other restaurant at The Essex. The Tavern is a casual pub, and Junction is more upscale and intimate. Like the Tavern, there is limited seating, so you must reserve in advance. Pro tip: no kidding, even for a Monday, make a reservation as far in advance as you can.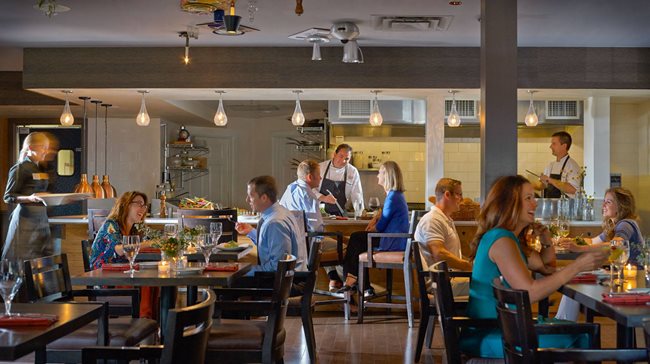 Junction is elegant without being pretentious. The walls are dark wood and corkboard, decorated with empty trays and plates as though set for a meal. Even the ceiling has upside-down plates on glasses set there! On one side is a gas fireplace, and on the other side is an open kitchen where you can see the chefs cooking, close up if you sit at the bar. Even before sundown, with its shades drawn and few windows, it was dim, but not oppressively so. Nor was the guitar music too loud for conversation. We were told that outdoor seating is available when it's warm and dry.
Junction's appetizers include Chicken & Waffles, Fried Green Tomatoes, and a Chicken Liver Pate. Get the Vermont Cheese and Charcuterie Board, which lets you sample from six Vermont cheeses and four meats. See the half page dedicated to it on the flip side of your menu, and note the prices. Ours was a fun exploration of rare and sharp flavors. We loved the white and red pickled onions, pickled cabbage, and pickles, which were sweet, unusual, and distinct. It also came with mustard and tomato jam. Its bread came perhaps too heavily toasted, but for some reason that's how bread always comes with cheese boards: a dry crunch. We could have used more bread. The whole grain mustard was wonderfully spicy and not painfully stinging like a Dijon can be.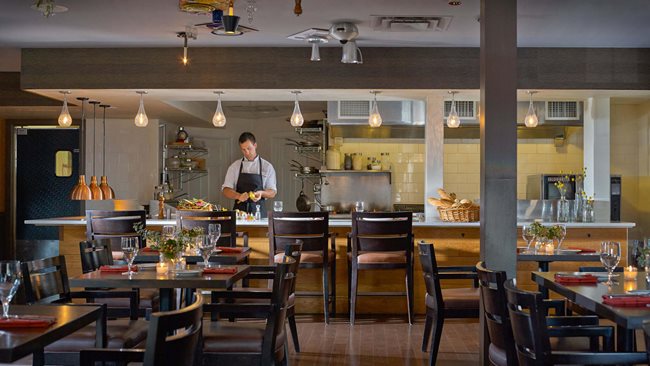 Junction serves a variety of wines and house cocktails, and for an entree, try the Seared Duck Breast, Lamb Rack, Junction Pad Thai, or House-made Pappardelle. (Isn't it funny how restaurants use fancy language, and we pretend to understand it, like we're sophisticates? I looked it up: a pappardelle is a very wide ribbon pasta. That's an original idea!) They served a basket of free rolls with honey butter in advance. The rolls were warm and fluffy, but needed the butter to have a notable taste.
Our food came with beautiful presentation, served on lopsided white plates, and with each dish's components stacked on each other. We tried the Heritage Farm Pork Chop. What a difference from the homogeneous slab we'd gotten elsewhere just the day before! It came with chutney, mashed potatoes, and green beans. It was amazing: so juicy, flavorful, and with whipped sweet potatoes. We also tried the New York Strip, served with a garlicky butter pad, potatoes, and Brussels sprouts. It was small, but hearty and all we needed.
The meat was perfectly juicy, easy to chew, and textured. Any steak, even the best, will involve some chewing, so the vegetables should be a contrast to that, and thus might have been cooked more. The cheddar scalloped potatoes were distinctive, not ordinary, with an interesting skin of cheese.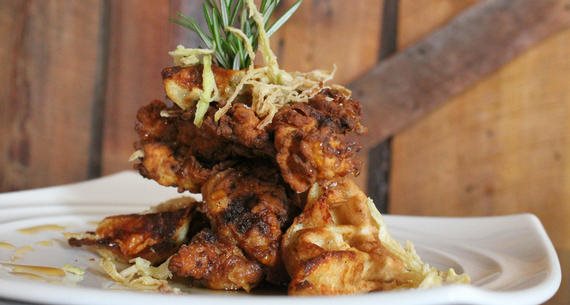 Overall
The Essex had a great spa experience, a room only moderately-sized but which came with excellent amenities, and outstanding customer service. While our cooking class wasn't perfect, maybe it was a misunderstanding of expectations that wouldn't bother other people. And our restaurant meals were nearly life-changing. Overall, The Essex is an oasis where even A-type personalities like me can't help but relax. Trust me, you will shed your stress, even if you don't know how to.
I'm glad to give The Essex Culinary Resort & Spa a full 5 stars.
See their upcoming event, the Don't Go Bacon My Heart Pig Roast, which raises money for the University of Vermont Children's Hospital, and take note of their Fall For Essex Offer where this fall you get 20% off of weekday stays, dining, Cook Academy classes, and the spa.
See essexresort.com.