Outback Steakhouse at Assembly Row Has Excellent Dishes, but Its Australian Claim is False (3.5 stars)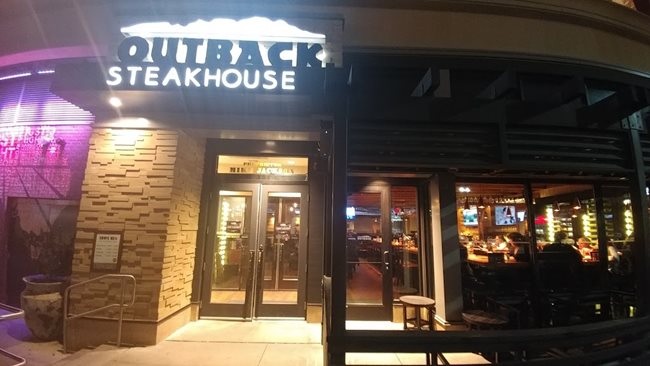 You've heard of Outback Steakhouse, the Australian themed restaurant. Their location in East Somerville, at Assembly Row, is one of the chain restaurant's twelve spots in Massachusetts, but it's their only one in Metro+ Boston. There's plenty of parking, and it's a short walk from the orange line subway.
The interior is not notable, but welcoming, with a dark wood theme. It's got dark wood walls and booths, and a full bar. There was light at the front of the restaurant, but where I was seated it was a bit too dark for the daytime. Overhead is a collection of empty bottles. Although they have mounted television screens showing sports or news, you can ask for one of the several tables where you can sit without a television in your peripheral vision distracting you from conversation. They play light rock music. Pro tip: the tables are bolted in place, so if you're overweight like me, ask to be reseated if it's too tight.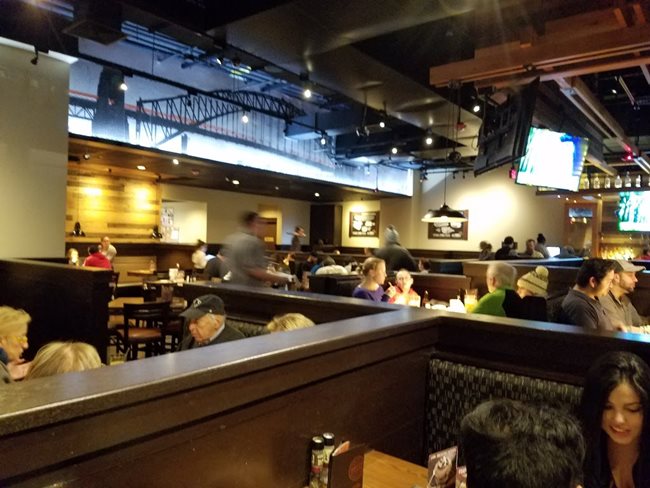 Delightfully, your server will bring free bread and butter. It's a dark brown, honey wheat bread but it didn't seem sweet to me or otherwise outstanding. Meals at Outback Steakhouse are presently simply and unremarkably on white plates. Pro tip: be prepared to choose side dishes when you place your order. They are listed in the lower left of the fully opened menu.
I tried the Kookaburra Wings, which are chicken wings with secret spices. I got the hot sauce, which thankfully wasn't firehouse hot. They're not overly fried, so you can taste the chicken. Although it comes with a side of blue cheese dressing, that's unnecessary. They're potent and interesting on their own, the wings breaded in their Bloomin' Onion flour, though a bit greasy. When I pushed my wings to the other side of the table to make room for the main course, I could still smell the spice from feet away. Pro tip: the side of celery sticks is a palate cleanser; eat one to remove the grease from your teeth.
Alice Springs Chicken is a grilled chicken breast that's wonderfully moist. It's just a good cut of chicken. It doesn't even need the sautéed mushrooms, bacon, and cheese on top. It comes with fries and a honey mustard dipping sauce.
Aussie Steak Tacos come with herb aioli, slaw, and pico de gallo (a Mexican salsa). Uniquely, the tacos come in a little rack that holds them upright. On the plus side, the tacos had a soft shell that's been cooked just a little, giving it a crunch, and they were dry, without juices to drip and make a mess. On the minus side, they cooled more quickly in the rack than if they were laid down on a heated plate. They were cool by the time I got them. Pro tip: ask for an extra side of the herb aioli, which helps with the dryness and is the most distinctive part of the dish.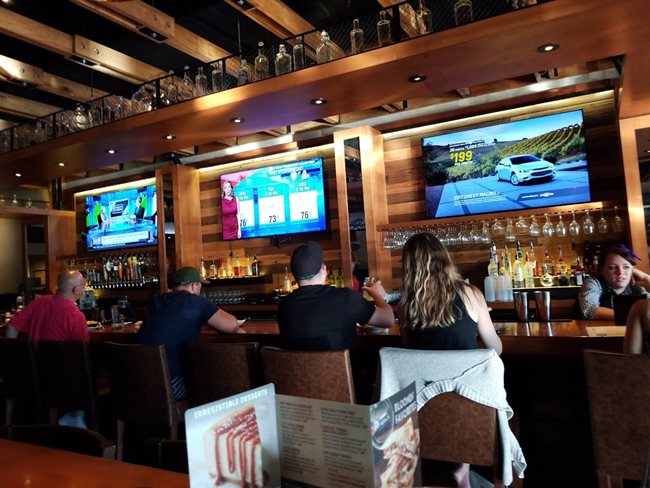 For a side, I got the loaded mashed potatoes, which come with sour cream, chives, and bacon. The toppings don't overpower the potatoes and make it too fatty to enjoy. (You'll know what I mean if you've had overloaded nachos that you regret later on.) I loved the mouth feel of finding chunks in the mound of potato, which is mashed, rather than whipped.
You will not need catsup for the fries, which come with a salt and pepper spice that makes them interesting. They're not overly fried, so you can still taste the potato. The loaded sweet potato, with honey butter, brown sugar, and cinnamon, came thoroughly baked and was soft, and not sicky sweet with its brown sugar. The steamed vegetables were not limp and had a nice crunch.
I sampled the clam chowder, which of course comes with oyster crackers. It's so warm and creamy. It is distinctive in its spices, and you'll want to eat it in small bites, because every bite stays with you. The flavor lingers. After I finished it, I looked around to ensure that nobody was watching me, and licked the bowl.
The manager told me that the steak is their #1 seller, so I tried the Ribeye Steak with charcoal seasoning. Even though I ordered it medium-well, with no pink, it was still juicy, and not stringy at all. It's a great chew and boy, that secret 17-spice seasoning has a notable kick. They aren't kidding about a bold taste! For heaven's sake, don't use a steak sauce, which is not needed. Pro tip: mop up the juice with your bread.
The Mac and Cheese and Steak was also a nice surprise. Served on the side of the steak, rather than mixed with it, the mac and cheese comes in the iron skillet it was cooked in, which keeps it piping hot. Elsewhere, I've been disappointed by mac and cheese, when the gooey, heavy cheese gets added to the heavy carbs in the macaroni. But at Outback Steakhouse, the cheese to the mac and cheese was a viscous light flavoring, not a watery ocean. It comes with a lip-smacking crouton crumb crust.
The dish's steak comes with a spice that knocks you over, so eat it in small bites. It feels wholesome, fulfilling, like it's pouring life into you. Just the smell is enough to make a vegetarian crack. While you need some fat for flavor in a steak, it was not fatty or gristly at all. I usually order steak medium-well, for an easier chew, but this came out medium, pink in the middle, and was perfectly fine, an easy chew without any stringiness. So it's okay to have your steak rarer at Outback Steakhouse.
For dessert, try the cheesecake with raspberry sauce, which is perfect. Unlike other cheesecakes, it's not too dry, so you needn't take a sip of water between bites. And the raspberry sauce has a powerful fruit taste, not watered down or covered by sugar, more like a jam sauce than a compote. Also unlike most cheesecakes, it comes in a generous portion size.
The Chocolate Thunder from Down Under dessert comes out with cold ice cream but a heated pecan brownie. So you'll need to eat it quickly to stop it from melting. Pro tip: ask for the ice cream to be served on the side, so you don't feel rushed to eat it before it melts. It's got a rich chocolate taste and I loved the crunch of the chocolate shavings, a nice twist. The brownie was soft and not too dense, in a chocolate sauce and with whipped cream. It was decadent without being too much to handle. (Sometimes, elsewhere, you'll order a chocolate dessert and they'll make a big deal about it being "chocolate overload". Yes, you have overloaded your chocolate. That is a bad thing!) At Outback Steakhouse, their chocolate dessert was just the right amount of chocolate to wake you up and enjoy, but not have regrets later on.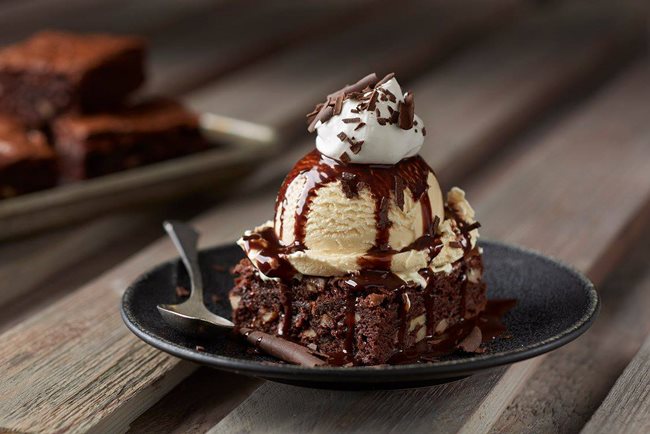 Manager Mike Jackson kindly agreed to an interview.
Events INSIDER: I realized as I was coming here that I don't really know much about Australia.
Mike Jackson: We're actually out of Tampa. The theme, when the founders started the restaurant, was to go with an Australian steakhouse theme.
Events INSIDER: So what is the theming here?
Mike Jackson: Australian steakhouse. That's the theme.
Events INSIDER: Okay, is there a meal on the menu that you wouldn't get in America, but is a big deal in Australia?
Mike Jackson: I know that the ribs do very well in our Australia locations. We're actually in multiple different countries. We're international. We're very large in Brazil and some Asian countries. We're worldwide.
Events INSIDER: Okay, but I mean, is there some aspect of Outback Steakhouse that is distinctively Australian?
Mike Jackson: The Australian theme is really about our bold flavors and our bold seasonings. You get that in our seasonings and steaks. Aside from being a steakhouse we also serve plenty of seafood, chicken, ribs, chops, things like that.
Events INSIDER: I just did a review at Fuji, where they made a big deal about the Japanese training of their chefs, and then mixing that with Boston's culture. Do you have chefs who are trained in the Australian method?
Mike Jackson: We actually do have Chef Cliff, we call him. [ Cliff Pleau was born in Chicago, spent much of his youth in New England, and went to an America culinary school. So, not Australian. ] He's the chef for the whole concept. So recipes come down from Chef Cliff, and a lot of recipes have not been changed in years. What Chef Cliff does is he introduces a lot of new recipes, and our kitchen managers execute. For example, our limited-time offer menu, that's every six to eight weeks. Sometimes you'll see something that we're bringing back. Other times you'll see something that's brand new.
Events INSIDER: Thank you.
I was impressed with the amazing, 5-star comfort food at Outback Steakhouse, which has an extensive menu, a full bar, and reasonable prices. Really, I enjoyed it more than my recent review of Mooo Steakhouse (4 stars) with its overblown prices and strange, inaccessible dishes and decor that tries too hard to say "wealth", without delivering substance. There's plenty of substance in the dishes at Outback Steakhouse.
But I slowly fell out love with the place. The presentation of its food was ordinary, and its decor was attractive but had no remarkable style. My server, who was also tending bar, got a number of surprise bar seat customers for lunch, so the service was slow (I was told this was unusual). Its fundamentals were solid but not notable. Okay, so 4 or 4.5 stars.
Then I got an itch that I could not make go away. The secret to Outback Steakhouse is that it is not really Australian. The company was founded in Florida, in the wake of Crocodile Dundee, the hit 1986 movie that portrayed Australia as a foreign "wild west", and made Australia a curiosity in America. It calls itself "inspired by Australia's fresh take on life", rather than an Australian restaurant, but that's a bit of sneaky language. Any reasonable person, from the name and branding, would expect an Australian theme at an Australian theme restaurant. Except in its branding, there's nothing in Outback Steakhouse that presents to you or educates you about Australia.
Unfortunately, you can read online that Australians at best find nothing of themselves in the Bloomin' Onion appetizer, or anything at Outback Steakhouse. At worst, they take offense. (Outback serves Foster's beer, but that's an Australian brand, not an Australian beer.)
So unlike what you expect going to a Japanese or Ethiopian restaurant, you won't learn anything about Australia's foreign culture at Outback. I asked both my server and the manager, and there's nothing much about the restaurant's decor, music, shows on their overhead televisions, or cuisine that hints of the Land Down Under. One wall had an outline of Australia in its art.
I don't mind a try and a miss, and I don't mind when a cuisine gets "adapted" for American taste, but Outback Steakhouse is not even trying. No fault of the local franchise, but as a chain, you've made a giant success using the Australian brand, but can't even try minimally to showcase Australia to us: the music, its artwork, interior design, its history, animals, or cuisine? It's deceptive. It makes me feel duped, cheated.
They say ignorance is bliss. I originally wanted to give Outback Steakhouse at Assembly Row 4.5 stars, but having researched the issues, I can't overlook its clearly intentional abuse of Australia as a theme. I'll give Outback Steakhouse at Assembly Row just 3.5 stars. I am sorry.