Octoberfest at Winslow Farm (3.5 stars)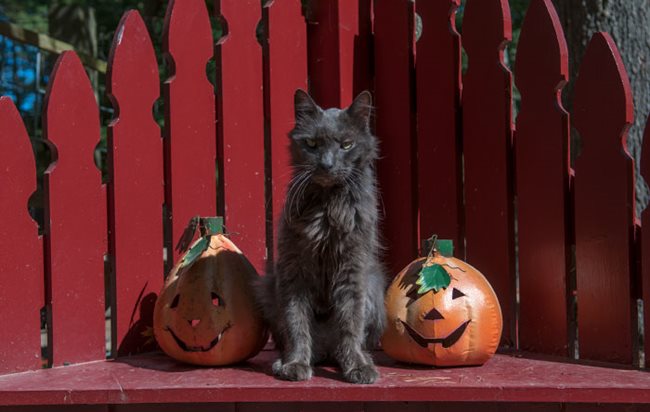 Winslow Farm is an animal sanctuary that rehabilitates mistreated animals. It's a good cause and from the website mainly farm animals including horses, pigs, sheep, and chickens. It's located in Norton, Massachusetts, which is more than halfway to Providence from Boston, and nearby the Fear Town haunted attraction in Seekonk. Their Octoberfest is aimed at children only, but features storytelling and not-so-spooky trails with Halloween decorations.
Take the guided tour of the grounds, from a ghoul with a real lantern, because the trails are not well delimited, which may leave solo travelers wondering if they have missed part of the farm or gone where they aren't supposed to go. You'll walk dirt trails to see pumpkins, flowers, and wire fences, and a playground, with plenty of Halloween decorations.
Although it's a kids' thing, and the store bought decorations don't create a visceral fright, it's done with heart. There are no animatronics or actors in monster costume to jump out at you, but the multiple cats loose on the grounds startled us with a fright! You'll find spooky fog effects coming from a barn, a donkey, and tiny horses that we weren't sure whether we were allowed to approach. Excepting the cats and some geese, we didn't get close to any of the 183 animals their website says that they have on site. (We discovered something similar at the Stone Zoo's evening events; the animals were all sleeping or staying warm out of sight.)
You can relax at the open campfire with benches, smell the animals and pine trees, and pass by a series of huts with skeletons and other decorations. Meadow Brook Pond is visible through the trees but if we were allowed to approach it, we could not find the path. You'll find mannequins standing guard by trees, a 10′ tall inflatable ghost, and a well-lit house with an actor playing a friendly witch, whom you can meet and take a photo with.
Although the attraction needs ribbons and signs to define the walkways, and takes just 20 minutes to wander through, there's nothing's better than being outdoors at night. Don't expect to find animals in the dark, but for kids it's a non-scary and attractive destination if you are already in the area. As a farm, perhaps best to go in the daytime. As a Halloween attraction, it is intended for kids so does not compete well with the scarier competitors nearby. I'll give Winslow Farm 3.5 stars.
See winslowfarm.com.