The Northeast Balloon Festival (4 stars)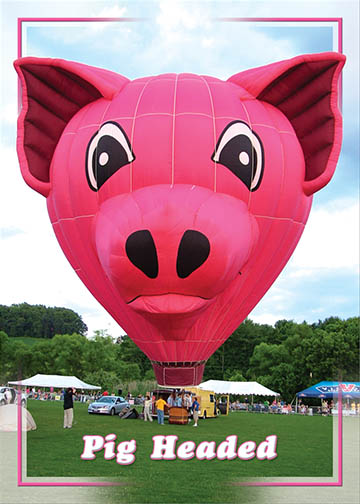 Most people have at least one fond childhood memory of The Wizard of Oz in which Dorothy almost heads home in a hot air balloon.  The Northeast Balloon Festival in Milford, New Hampshire hopes to give a new generation of children real world memories of the floating giants.  It offers a unique opportunity to see, feel and experience the balloons.
The balloons rise up and take off at 6am.  If you are not an early riser, there is a whole festival to explore as you wait till the next big launch which comes at 6pm.  The festival opted to give a wide variety of folks something.  For families, there was kids stuff.  For adults, beer and wine.  There was live music and activities as well.
The entire festival has a country fair feel to it, but small and spread out.  There is a good sized kids area when you first walk in that has festivities like bouncy castles, a rock climbing wall and face painting.  As you make your way to the field, the way is lined with food vendors and craft tents.  It is not a huge fairway but there are enough places to browse and check out some unique wares.  There were clothes, crafts and cutting boards.  If you are looking for some unique decorations to add country flare to your home, they had plenty of choices. 
Part of the main attraction of this event was that it was also a food festival.  Food trucks were everywhere.  And they had a good variety of items to choose.  BBQ, Thai Food, sea food and Italian were among the many options for lunch.  Like many fairs, this one did not miss the opportunity to deep fry almost everything.  One booth had fried Oreos, Pickles, Brownies, Devil Dogs and more.  One of the most unique dessert was Sub Zero Ice Cream, which created ice cream right in front of you by freezing it with liquid nitrogen. 
I got Greek food from Craving Shallots.  I enjoyed the gyro over salad with Tzatziki sauce and the portion was enough for me and another person to have a decent sized snack in the mid day.   If you a beer fan, there was a small but varied selection that should satisfy most folks.  We had Cider, an IPA and even good old light beer.  If you opted to bring your appetite, you could easily find something to tickle your taste buds.
The big attraction was of course the hot air balloons.  As you enter you can see them off in the distance as they rise above the trees that surround the field.  You are allowed to walk right up to the area where they are giving rides in the balloons.  I was told the wait was well over an hour, so I did not give it try.  I did get a chance to walk inside a giant balloon that was on the ground.  Inside kids played with balls as they marveled at how large the entire structure was.
The main event was the balloon launch at 6pm.  As the balloons inflated on the ground you could walk right up to them and touch them as they inflated.  Many kids had fun pressing their hands on the giant balloons.  You could hear the roar of the giant propane fires that filled the balloons with hot air.  If you got a bit closer, you could feel the heat.
It was quite a sight to see the balloons launch.  One by one they inflated and rose upwards.  The colorful giants began to fill the air and float away.  Each one had a unique pattern on it.  It was awes inspiring to see them all float off into the distance.  Just as one seemed to be going out of sight, a new one rose up.
Many of the big festivals are an all day event, and this one teeters on the half day at most scale.  There was music at a stage, but it seemed more like background noise then a main attractions.  Their were kids activities, but you could do them all on an hour or two.  You could browse all the vendors pretty quick as well.  If you are a beer connoisseur, you will be disappointed in a short selection.  Considering this is the festival's first year, I can see the need to not go overboard.  The hope is that in the future this becomes a bigger event and keeps people there all day.  Easily it could.  A third Balloon launch at noon would make sense since few people get up at 6am just to head to a festival. 
For a first year event the Northeast Balloon Festival must be commended for putting together a well organized event.  Watching the balloons launch is well worth the price of admission.  The food selection was also pretty darn good.  Since the crowd was big, I expect another festival next year.  There is quite a bit of room to add more and make it a truly excellent experience.  Let's hope they make it a bigger and better for 2019.  4 stars out of 5.
The Northeast Balloon Festival will be open all this weekend, September 1st, 2nd and 3rd.  For more information visit northeastballoonfestival.com.