Nightmares Fear Factory Scares You in Absolute Darkness at the Canadian Niagara Falls (4 stars)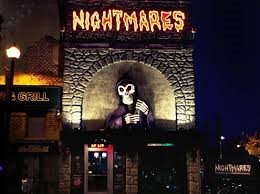 Set in the Canadian side of Niagara Falls, Nightmares Fear Factory is an all-year haunted house, part of an entire district of attractions near the water.
Waiting to enter, you can hear banging and the screaming of other guests inside. You enter only after a green light tells you to, which was nice to find because it means they're separating out the groups that go in. That way you won't be crowded from the front or behind by others.
The attraction is eight minutes, which is decently long for a storefront sized Halloween house. You walk the entire thing in complete darkness. This meant unfortunately that we saw no set design, saw no actors, with no costuming or makeup. Feel our way in complete darkness was creepy, but not as creepy as encountering vignettes, room-sized dioramas, that other Halloween destinations have.
That being said, they made ingenious use of the lack of vision. Each room had a red light which helped know where to go. This minimized fumbling around, which can be frustrating. Scares were mainly just startling us, for example with electrical effects, with lighting, with screaming. I believe there were live actors in the maze, not just recordings and mechanical banging. Sometimes the floor shook, and that was interesting.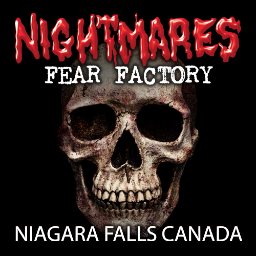 One time, we had to crawl, which was inconvenient, and sloping ramps up and down can make a stumbling hazard, but there were no stairs. Once we encountered a trap door, that they kept closed until you felt trapped, and then opened. Another gimmick was corridor lined with inflated walls so that you had to push your way through its center. As a fat person, it's not my favorite, and I always wonder if they ever clean such things.
We heard the sounds of a "car" trying to ram us, flashing lights, a bridge with someone jumping on it, and more. It was loud. Your tour ends with a cute little gift shop, where you discover they've taken two photos of you in the maze, which you can buy.
Nightmares Fear Factory is convenient to the downtown area and fun park where everything else is happening on the Canadian side of Niagara Falls.
Without set design, costumes, or makeup, but with some innovation and a very convenient location, Nightmares Fear Factory offers an acceptable scare with their small footprint building. I'll give Nightmares Fear Factory 4 stars.