Nightmare on Wolcott Street's Creativity Includes Live Rats (4.5 stars)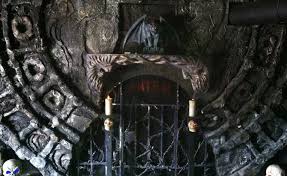 Nightmare on Wolcott Street is an all-indoor, and therefore all-weather Halloween attraction just west of Hartford in Connecticut with a strength in theatrical staging.
Even before you go in, there's much to do. Take photos out front with the batmobile, UFO saucer, hearse with a guy whose head is stuck in the windshield as if after a crash, and a skeleton horse pulling an old timey carriage with skeletons inside. Behind the attraction, there's an old public transit bus which they stock with spooky actors as well. In the lobby, where you can wait in line sheltered from the weather, there's an old pipe organ with a skeleton playing it, a giant spider on the ceiling waiting to spook you, a faux gorilla to pose with, witches stirring their cauldron, and an African headhunter and monster witch doctors.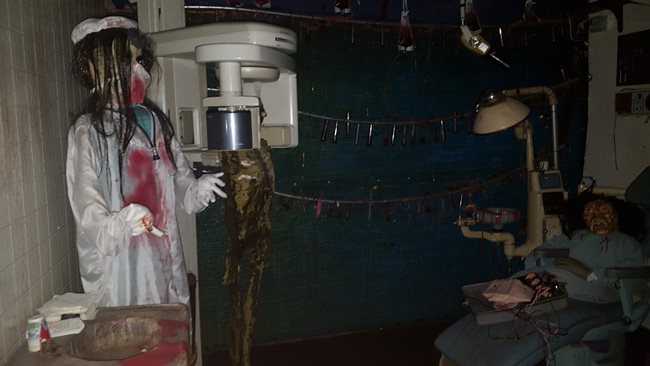 Relatively speaking, indoor haunts have a challenge. It's easy to build a haunted attraction outdoors. A woods walk is naturally scary and can be as long as you want it to be. An indoor haunt is limited by space and fire codes. At Nightmare on Wolcott Street, they solve it by having many small rooms, each with a different theme, and it takes place in a relatively large warehouse of 10,000 square feet.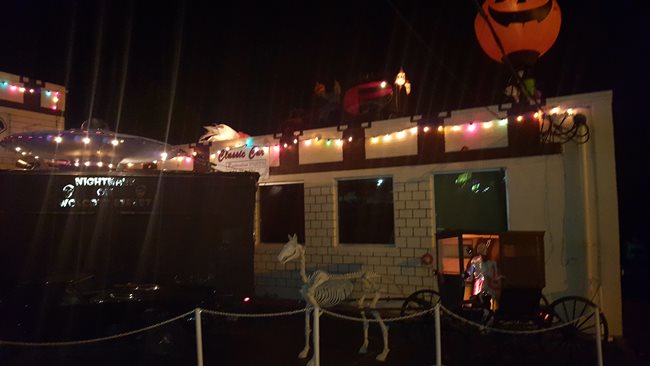 So during the 15 minutes that it takes to walk through the attraction, you pass through 50 rooms or more. Much of the staging, I was told, was purchased from old movie and television sets, notably a grand fireplace, mirror, and horrific creature from Beauty and the Beast, and another from some version of Indiana Jones. While some sections did contain filler, such as spray-painted plywood, most of the rooms were carefully and artistically set-designed with true theatricality. They also have plenty of fast-moving, genuinely scary animatronics.
You'll see a mad scientist hospital room, with an evil dentist chair and evil medical equipment. There's a haunted pirate ship with a bell that rings. There's a Frankenstein's laboratory, a spooky old mansion library, scary clowns, a psychic a with crystal ball, space aliens dissecting a guy they've kidnapped, and an old-timey bedroom with antique items, but they're items that go together well artistically. (This is a relief, because I've seen many Halloween houses built with leftover construction work stuff, not artistically set up, which is why you find so many spooky bathrooms and kitchens in haunted attractions.)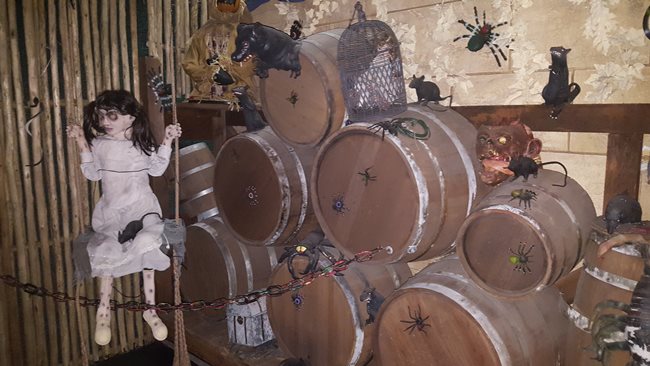 Notably, Nightmare on Wolcott Street features many themes that I've never seen before, even having reviewed 55 Halloween attractions. You'll see a faux military tank with spinning wheels, a miniature trailer I was told had some relationship with an old Elvis movie, and a dinosaur skeleton graveyard. Crikey, I've never seen a room with a mass grave of bodies before, or a biker bar with an animatronic skeleton who talks on a motorcycle! They've got a small kids-level theme park ride, which spins carrying dead dolls. There's an abominable snowman, a room where the floor shakes, and a "Vortex", which is a walkway you must traverse while a big cylinder of cloth spins around you, as though the whole room is spinning. In one place, an animatronic distracts you so that another one — a very loud guy getting shocked in an electric chair — startles you out of your skin. The walls are lined with clear plastic tubing, and I was told that in previous years they had live rats running back and forth through the tubes. Wow!
A few criticisms are possible. Because the highway that is immediately in front of the attraction is raised 8 feet above the ground, when you're driving past Nightmare on Wolcott Street, you can only see a rather amateur sign that is easy to miss. They need a giant inflatable monster up there and a giant and big and impressively creative new sign. Staff are allowed to smoke in the attraction, making the lobby smell toxic. (Smoking in Connecticut is prohibited in businesses with 5 or more employees.)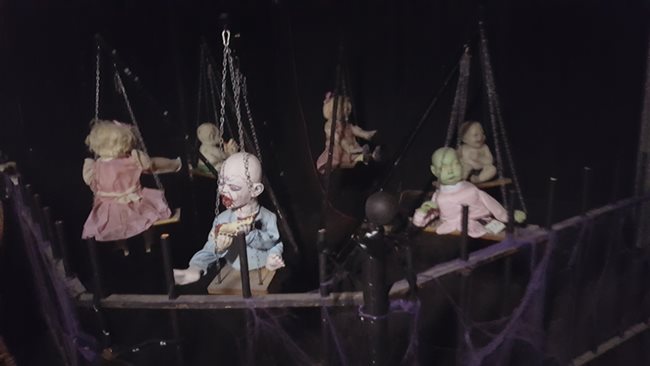 Elsewhere in the maze (near the hay) there's a strong malodorous smell, too. (I was told that they took a break from the rats this year because they had an odor, so maybe it's that.) They hang black strips of cloth in each doorway, so that you can be genuinely surprised walking from room to room. But that is a lot of cloth to push through with your face and hands, and isn't needed when there's no direct line of sight. (They tell me that they change and wash the cloth strips regularly.)
Having tired of the work ethic of teenage staffers, this year Nightmare on Wolcott Street is hiring an all-new staff of adult costumed actors to jump out and spook you. When I came, very early in the Halloween season, they weren't fully staffed up. I'll give Nightmare on Wolcott Street 4.5 stars on the faith that they will hire and train a full team of actors by the time Halloween really gets going in mid-October. Their impressive theatrical staging and unique Halloween concepts will scare you witless!
See the Nightmare on Wolcott Street website.