Night Nation Run is the World's Highest Energy Music Festival (5 stars)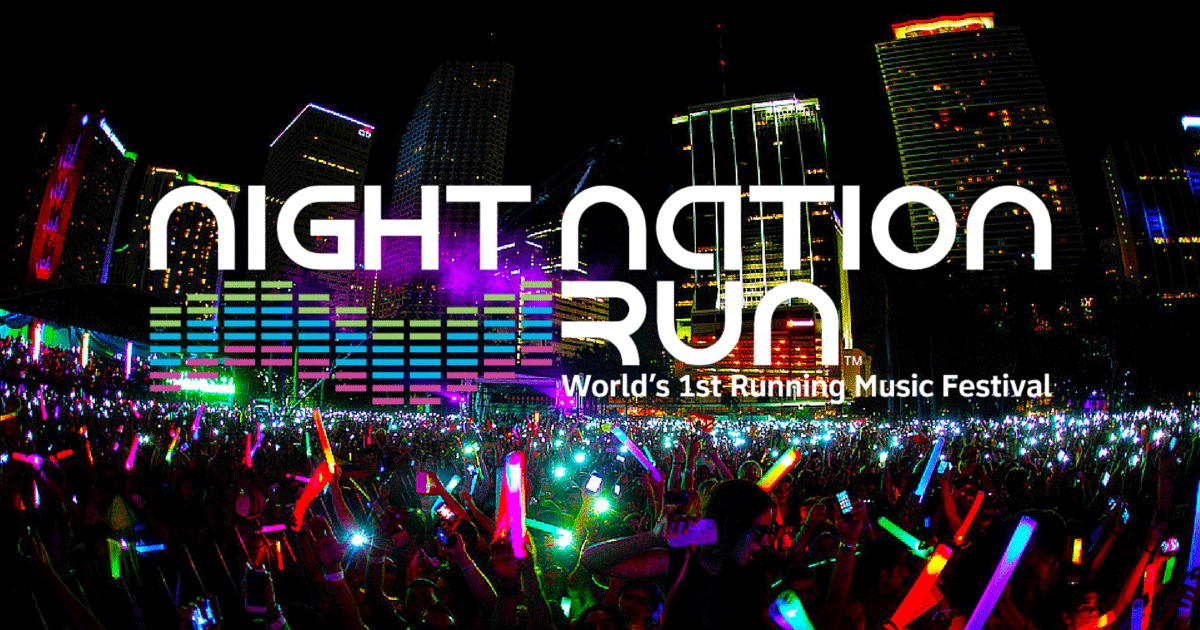 Events INSIDER was founded to talent scout and bring you unique, interactive, creative events. So take it from me, you will love Night Nation Run, which really is a music festival that travels with you on a 5K run. It raises money for "Stand Up to Cancer", SU2C, which is run by the Entertainment Industry Foundation, which has a 4-out-of-4-star rating by Charity Navigator, a prestigious ratings site, for good use of funds raised.
The event this year was held in the baseball stadium at UMass Lowell, a short trip from Boston. Arrive before dusk to find a music stage with DJs, dancers, and laser lights that gets the party started. Register, visit vendors, and buy glowing glasses or wands. Everything is glowing at this festival, and they give you free t-shirts, glow sticks and more, for registering.
At sundown the race begins. This is not a competitive race and no winners are chosen. Wearing your race number is optional. Instead it's a walk/run where you won't feel like a slacker for taking a slower pace. Even at my nominal speed jog, I didn't get passed by too many super jocks. The course is beautiful at night and winds around a river, a mix of asphalt and grass (which is better for feet). Dotted along the walk are music stages, which you can run past or stop and take photos and a breather at, with bubble machines, free water, and high energy lighting.
Then you arrive back at the baseball stadium to a live show. Although it doesn't shoot quite as high as with a live band, and the DJs were not famous enough to be named in the advertisements, the energy was sky high from all the endorphins of the run and the good cause being supported. Audience members didn't really dance but they jumped around, waved their glow stick wands, and tossed beach balls around. The glow stick wands died quickly if waved too vigorously.
I attended this event because it was too weird not to see firsthand. I can confirm that it's a fantastic experience, whether you are in shape or not. The event is over for 2017 but presumably will return! Strangely they don't seem to have a signup for emails on their website, but you can follow them on Twitter and Instagram.
This would have been an easy event to run poorly. I would find some excuse to give it 4 stars. Instead I'm glad to say that it was an inclusive, high-energy, good time, a truly professionally run event where they seemed to think of everything. An easy 5 stars.