"The Niceties" Challenges Racial Power Structure & Encourages Dialogue on Race Relations in American Politics & Education (4.5 stars)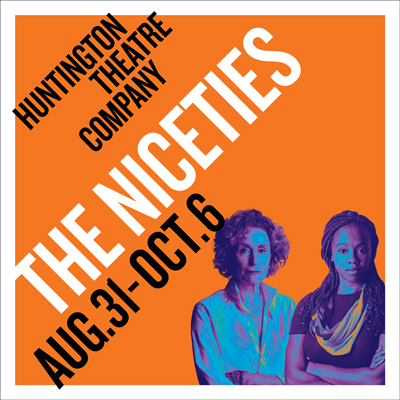 "The most common way people give up their power is by thinking they don't have any." –Alice Walker
"You have too much power!!!" exclaims Zoe, a black student at Yale University, to her white professor Janine from the theatrical production "The Niceties" playing at the Calderwood Pavilion at the Boston Center for the Arts from Aug. 31-Oct.6, 2018, and is written by Brookline native and Yale University graduate Eleanor Burgess and directed by Kimberly Senior.
"Niceties" tells the story of Zoe and Janine who meant to discuss the virtue of Zoe's term paper on the effects of slavery on the American Revolution. However, neither woman expected what transpired next: a war of words on race relations in America (yikes!) which garnered national attention and consequently proved capable of ruining both their lives.
"For months I was stuck in an endless succession of unsuccessful conversations about race, over and over and over again," Burgess explains about an incident that actually happened back in the fall of 2015 while she was a student at Yale. It started when a campus email warning student not to wear potentially offensive or "insensitive" Halloween attire caused a ripple effect when a professor safeguarded the idea that the holiday should be a time of intentional "transgression"; that students should be able to express themselves without the pressure to be politically correct.
Burgess began to ponder about how the conversations went so wrong so fast, even within her own assorted range of classmates and friends. She went on to say, "I was obsessed with why my interactions were going so badly between smart and well intentioned people. It made me evaluate, as an undergraduate history major and former high school history teacher, what I was taught, what I believed, and what I taught to others."
The production itself set the stage for the power dynamic narrative and discussion between Zoe and her white professor Janice.  They meet in Janice's office with a colossal sprawling desk seemingly perched upon a structure that makes it appear high and imposing, while Zoe sits across from Janice in a chair positioned far below the mammoth sized desk. And the fact that for the most part Janice was standing and hovering over Zoe speaks further to the power structure dynamic between the two.
George Washington hangs on Janice's office wall like a haunting commanding figure from the past and its mere presence communicates power and influence; which Zoe takes offense to when she describes Washington in a manner that brought a visceral jolt to the senses and psyches of the viewing audience as they are pelted with opinions and facts which they are forced to experience and confront.
Jordan Boatman delivered a searing, jaunty, impassioned, and astute performance as Zoe, an idealistic black college student with a resplendent intellect and puissant advocate for diversity in our educational system, exigent in her quest for social justice. She constantly adverted to the practice of racial inequality due to the lack of minorities in the American educational stratosphere.  When Janice tells her to "play nice" in order to get ahead in a predominantly white society, she elucidated that it's "unfair" that minorities have to ingratiate themselves to those who oppress them.
Lisa Banes rendered an erudite, emotionally charged, at tines passive aggressive and circuitous characterization of Professor Janice; that is until at the very end when she became more brazen in her opinions on race by blurting out a word that stunned Zoe and the audience. At times, I felt like I wanted to know more of her point of view without her hiding behind her education and status as a tenured professor. I wanted more of what she revealed about her true and unambiguous feelings on race towards the end of the play.
The rapid fire and, not surprisingly, acerbic dialogue kept audiences perched on the edge of their seats, who often responded with gasps of guttural utterances during particularly tense moments. There were numerous allusions to the context of history as it pertains to racial inequality and gaping chasm in our country that prompted my interests in further explorations of racist ideology and practice in American pedagogical society. History is written by the victors and not the victimized. I want to read a different version of history, one that was written on behalf of the oppressed or by the oppressed. The play inspired me to want continue to read books like "A People's History of the United States" by Howard Zen and "Lies My Teacher Told Me" by James W. Loewen, both books criticizing American text books as presenting a transparently Eurocentric and mythologized view of American history and emphasizing the muffled voices of those left out of the history books by presenting a more balanced and historically accurate version of the past. After all, it was a white southern writer by the name of Mark Twain who corroborated this notion when he said, "The very ink with which history is written is merely fluid prejudice."
"America is an engine of racial oppression!" bellowed Zoe to Janice. This prompted both characters to dialogue about racial power dynamics especially in academia but perpetrated by our politicians designing policies to benefit the majority at the expense of the subjugated racial minority.
"A good grade from me would open doors for you…" declares Janice to Zoe and Zoe challenging that notion of why that has to be, why does she and others like her have to continually be subjected to partitioned, biased and monolithic pedagogy being dispensed by privileged white educators?  
In order to decrease what Zoe perceives as "micro aggression" in academia—a term devised in 1970 by Psychiatrist and Harvard University professor Chester M. Pierce to describe spontaneous degradations of marginalized groups whether intentional or unintentional — she calls for more diverse primary sources and educators of color in academia, more diverse services on college campuses; a student body that matches the U.S. population, investments in minority businesses and that people who make the law are not necessarily more important than those who live under them. After all, the U.S. constitution dictates that government for the people by the people and that all man are created equal.
"The Niceties" is an indispensable missive to the power of the white majority in this country, it is of transcendent importance and is akin to an uncompromising muckraker, an unapologetic harangue, a stream of opinionized form encouraging us to reconsider our familiar tropes and listen to another point of view.  Having  seen this timely and important play makes me wonder about why we continue to need plays like this, and why do we continue to need film makers like Spike Lee ("Blackkklansman" 2018) and Michael Moore ("Farenheight 11/9" 2018) all addressing the issues of race and inequality in American society. All these artistic offerings have one thing in common: they all encourage us to talk as well as to listen to each other. "The Niceties" implores us all to come together and share, not shout, our different points of views with each other, recognize that we all need to feel equal if we are to sustain our American democracy.
4.5 stars.
Jacques Fleury's books Sparks in the Dark: A Lighter Shade of Blue, A Poetic Memoir" about life in Haiti & America was featured in the Boston Globe. It's Always Sunrise Somewhere and Other Stories is a collection of short fictional stories spanning the pervasive human condition. Their topics range from politics to romantics, from sex to sexuality, from religion to oppression. 20% of proceeds for both books will go to Haiti charity Partners in Health.