Niagara Freefall & Interactive Center Lets You "Skydive" Without Leaving the Ground! (4 stars)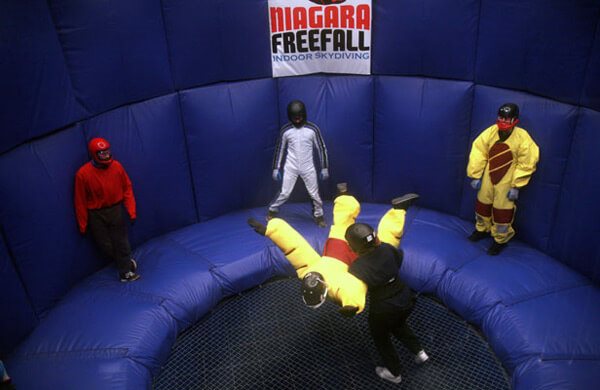 09/07/18 by
Johnny Monsarrat
Niagara Freefall & Interactive Center
Niagara Falls, ON, Canada
On the Canadian side of the Niagara Falls border, the Niagara Freefall & Interactive Center is the first indoor skydiving wind tunnel in Canada, and still the only one in the Niagara Falls area. It all happens inside their building. You stand on a mesh of wire, and then a giant fan beneath you blows up air vertically so that you can "skydive" on the generated wind without making a terrifying leap from an airplane. You stay at ground level the whole time.
Their skydiving chamber is 20 feet high and 12 feet wide, which I believe is bigger than what we saw at iFLY in Orlando. You can fly in air speeds of us to 140mph, and I've heard that there really is no difference from real skydiving. What you feel is exactly what it's like in the sky, and can be used for training. You must weight 260 lbs or less, and the experience takes some 50 minutes, most of which is getting suited up and trained, and then 3 minutes of flying. That is plenty, by the way. It is a thrilling, visceral experience and you will want a break after even 2 minutes. Indoor skydiving is a bucket list opportunity.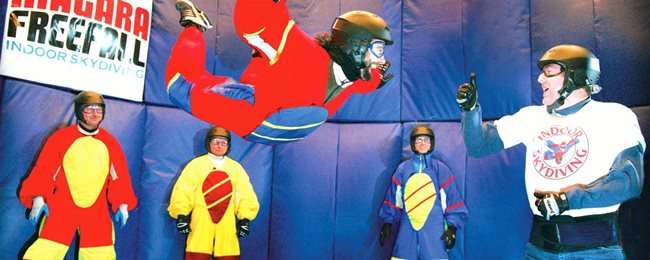 They also have LazerBall, which is like paintball except it uses soft foam balls. So there's no mess and it's a lot more visceral and safer than paintball. In their playfield, you hide behind bunkers, shooting at your friends and family.
Prices are inexpensive. Play 10 minutes of LazerBall for just $10 CAD with unlimited shots and the freefall skydive is just $70 CAD, or get a discount for a volume purchase. They have an indoor, 32-foot tall rock climbing wall as well, plus pinball machines and other arcade games. You'll find a store where they sell T-shirts and more.
Due to time restrictions, and because we've already been indoor skydiving twice elsewhere, we rode their mechanical bull instead. You get to try it twice for just $10. The first time, have them set it low, at 40%, and then you can work your way up if you can stay on top of the bull! I could not handle 70% for more than a few seconds, but as a very tall guy, I have a high center of mass, even when seated on a bull. Sure, that's my excuse.
There's nothing like the Niagara Freefall & Interactive Center in Niagara Falls, on the Canadian or American sides, and it's part of a vibrant activity district in Niagara Falls, Ontario, where nearby you'll find go karts, a Ferris Wheel, and much more. Although we've been to more glitzy looking, big and modern skydive experiences in Orlando and New Hampshire, it would be unfair of me, not having tried the freefall experience at the Niagara Freefall & Interactive Center, to rate it. The interior is worn-looking, though.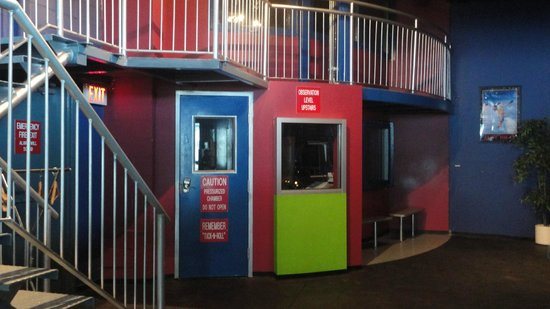 So I'll give just the bull-riding experience at Niagara Freefall & Interactive Center a solid but not perfect 4 stars, and for the rest you should try it for yourself!
See niagarafreefall.com.