Niagara Falls State Park, the American Side, is a Natural Wonder that Puts You Right in the Action (5 stars PLUS)

Before my recent trip to review Niagara Falls, which is on the American-Canadian border in western New York, I heard that the Canadian side was somehow better than the America side of the falls. I didn't find that to be true at all. Instead, they are very different and unreasonable to compare destinations.
The Canadian side of the falls, as you'll read in my review (5 stars), has a bustling tourist street and theme park, but very little actual parkland. So you can party, but you can't commute with nature nearly as well. The American side does have world class amenities, such as the Aquarium of Niagara, but they're placed in 400 acres of parkland, the Niagara Falls State Park. There you'll find enormous natural beauty, with experiences to see the falls from every angle and even walk right up to and touch the water.
This review describes the American side, where I recommend that you get the Discovery Pass, which admits you to the top five attractions. Don't just get in line for an attraction (or the trolley) with your pass. At each site, you'll need (it seems unnecessarily) to exchange your Discovery Pass for a real ticket.
Go to the Maid of the Mist first. It's a boat ride on the Niagara River that takes you first to the American Falls, a separate and giant waterfall, and then Niagara Falls, which is even wider and larger. The lines are surprisingly short, even in mid-August, on a weekday. They give you a blue poncho, but pro tip: don't wear it until you need to, because being underneath all that plastic in the humidity will make you sweat.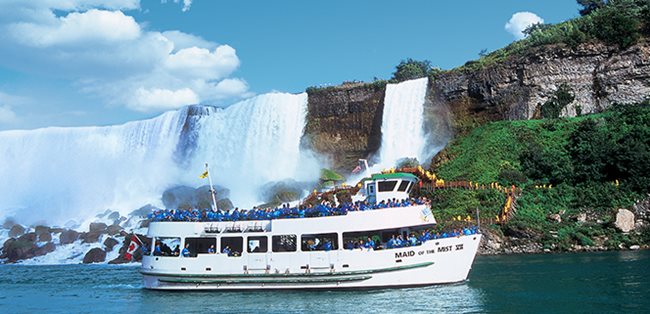 We found there was plenty of room on the boat. They played a prerecorded narration over loudspeakers, it was inaudible due to the open-air boat, the rush of the water, and the noise of the tourists, but you don't need it. You are at Niagara. Just take it all in.
The ride becomes very misty, so you'll want to take photographs early, and eventually to pull the poncho around your face. You get up so close to the falls that your vision will be obscured, and you can't see the entire falls. It's sort of pointless to try and take a photo just because of all the mist, but go ahead and try. Better yet, forget about social media and just experience it. There's no way for a photograph to do justice to the experience of being there, anyway. Instead, get photos from the observation deck which is above Maid of the Mist and above the American Falls.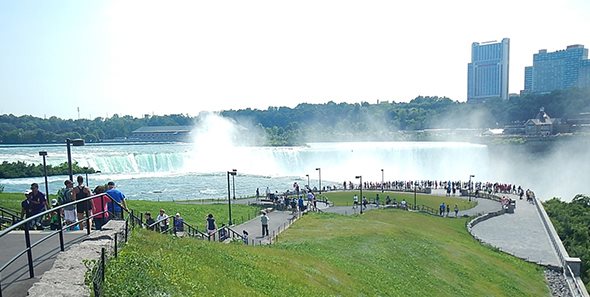 The boat deck has plenty of friction, so that you don't slip, and they allow you to wear sandals. Or wear shoes that you don't mind getting wet. Pro tip: put your bags underneath the poncho so they don't get wet. You will get really wet. But you can also go below decks. Seeing the American Falls is so spectacular, and then Niagara Falls is so enormous — it will take your breath away. Having been on the Maid of the Mist, you will not need to go on the Canadian-side Hornblower Niagara Cruise, which takes the same route. (We originally wanted to go onto the Hornblower because there are no nighttime fireworks cruises for Maid of the Mist. But it turns out that the nightly fireworks over Niagara Falls are brief — not something to get bent out of shape trying to over-experience.)
Afterwards, dry off and find air conditioning in the cute gift shop, where they sell water bottles, key chains, photographs, ton of T-shirts, jackets, stuffed bears, and more. You'll find real bathrooms and gift shops everywhere in the park.
Then go to Cave of the Winds, which is a long walk away, so take the trolley instead. The trolley isn't just transportation; they also narrate a tour and tell you about the falls and the park. Some of the cars are open to the weather, and some are sealed for the cold I suppose. In the warm summer, make sure to get onto the open-air car, because the sealed cars get too hot.
Cave of the Winds also has a little gift shop where they sell snacks, ice cream, have real bathrooms. It's right across the street from a whole downtown area row of shops, little restaurants and gift stores, that are not as commercial (but also not as high production value, think Hard Rock Cafe) as you'll find on the Canadian side.
At Cave of the Winds, you don't have to arrive any more than 10 minutes before your thing. There's no advantage to being first in line because the first thing they do is let you in to a waiting area museum. There you'll mingle with all the people who were ahead or behind you in line. It's air conditioned, modern, and there are plenty of interactive videos. Then you're led into a small theatre and shown a movie that describes the history of the falls. It's fun and interesting.
They must be tired of people having their shoes destroyed, so they give you sandals and require you to use them. Your old shoes go in a water safe bag. Pro tip: sit in the back of the movie theaters. Then you can exit first, get your shoes first, and get to the main attraction first. You descend in an elevator, and then are let loose onto a series of wooden stairs that take you directly down the rock face wall and right up to the American Falls.

Wow! You get close enough to the 100 feet of falling water to reach over and put your hand in it. You get to wade through part of the stream that invades the wooden platforms, creating a giant puddle. Pro tip: take your photos before the mist becomes so intense that it's going to obscure your camera lens. Again, it's very hard to get a photo that does this attraction justice. To us, getting long shots of Niagara Falls was beautiful, but experiencing the falls, almost being in the falls — now that was an intense, bucket list, unique life experience. There is nothing like it on the Canadian side. The Cave of the Winds was the most interesting American-side attraction we did.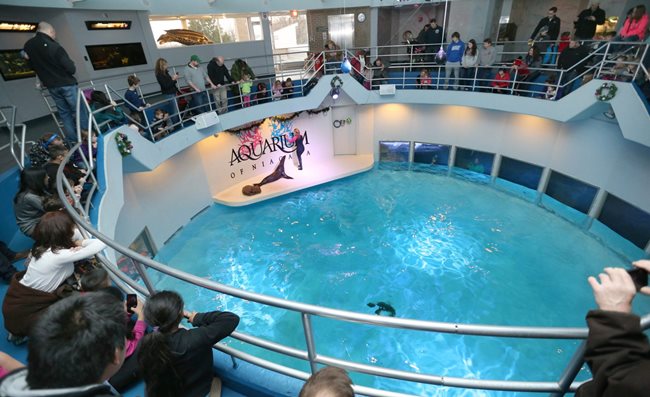 We also explored the park by just walking around. The parkland is extensive, well curated, and you'll never get lost. While it's a bit touristy, they do a good job keeping it classy and retaining the natural beauty of the place. Walking the park requires no hiking ability or effort. It's all paved paths and stairs.
You could easily spend a weekend on the American side of Niagara Falls. We had limited time, but found that in four hours we visited the major attractions. We could also have visited the Aquarium of Niagara, the Niagara Gorge Discovery Center, where you'll find a museum and rock-climbing wall, the Niagara Adventure Theatre, with a show that runs 45 minutes, Niagara Power Vista, an electric power station with a museum, Old Fort Niagara, or gone to the Art Park or to see Niagara Power Baseball. Or just spend your day walking to the numerous overlooks.
Romantic, indescribably beautiful, and large enough that you won't feel swamped by tourists, we enjoyed the American side of Niagara Falls more. It is classier and more natural than the bustling but more touristy-crass Canadian side. I gladly give it my rare 5 stars PLUS, making it a must-see.