The Newport Mansions are Educational, Spectacular, and a Cautionary Tale (5 stars PLUS)

Have you been to Newport, Rhode Island? It's a New England destination that's both impressive but also uniquely ours, like Salem and Plymouth. There you can see the International Tennis Hall of Fame, visit Fort Adams with its many tours and events, and the Newport Art Museum and Newport Vineyards. But the main attraction is the mansions, the 11 historic properties managed by The Preservation Society of Newport County, 7 of which are National Historic Landmarks. The mansions along Bellevue Avenue mainly date from 1885 to 1905, a time when the richest of the rich would summer in Newport as a retreat from Rhode Island. In their competition to live the high life of the Great Gatsby, their houses became both striking and symbolic of an age of overconsumption. When Mark Twain called it the "Gilded Age", he did not mean it as a compliment.
Newport makes a good day trip from Boston, but you could easily spend an entire weekend. For this single day review, we visited three ticketed locations, the Green Animals Topiary Garden, The Breakers, and Rosecliff, and strolled for free along the free Newport Cliff Walk towards Newport Beach. Our entire day was spent exploring and making discoveries in the small details.
Green Animals Topiary Garden
First we visited Green Animals, which takes just 30 to 60 minutes and is technically not in Newport, but it's on the way in Portsmouth, Rhode Island. It's a 7-acre estate with a historic home, whose gardens have bushes in the shapes of animals! There's nothing else like it in New England; it is the oldest and most northern topiary garden in the United States.

You can see how hard they're working to make the shapes. Look closely and you'll see scaffolding inside the bushes that direct growth. It's both decorative and creative! You'll find a giraffe, elephant, camel, bear, lion, and much more. In addition to the shaped topiaries, the grounds have gardens lines with short hedges in rows. Search and you'll find some shade under the trellises with ivy, a fountain, a vegetable gardens, and plenty of benches including one picnic table in the shade. Try even harder and you'll see an actual pet cemetery with headstones — surely built before Stephen King's novel — and a tyrannosaurus rex dinosaur on the grounds, that's a challenge to find. Look carefully and you'll see signs giving the names of the flowers and bushes, including Japanese holly in shape of an urn or teacup.
Pro tip: come early and you'll still see dew from the previous night glistening on daffodils and on spiderwebs. We saw an actual rabbit in the garden, and lots of butterflies. The first time I visited Green Animals, I didn't realize that you can stroll the grounds all the way down to the water. And they have a historic home tour that is mercifully freeing. It's just a 5-minute introduction and then you can wander through the roped-off rooms seeing the 1872 estate.

Pro tip: cool down in the gift shop, which has chairs by its air conditioner. There you can buy jam, sea salt caramel, salad dressing, cute ceramic table settings, sun hats, fridge magnets, soaps, kids' books, refrigerated drinks including lemonade, and more.
The Breakers
Next we visited The Breakers, the largest and most opulent of the mansions, and the most visited tourist destination in Rhode Island. You'll often find their parking lot full — they should station a guard there to spare visitors the torment of driving through and through it. The secret is to just park on the street nearby. Drive around and park where other cars are parked. That way you need only park your car once to visit The Breakers, Rosecliff, and the Newport Cliff Walk to the east. Pro tip: to make this work, you'll need to bring a picnic lunch, since there aren't nearby restaurants and the cafe at the Breakers, while a welcome new addition, is pricey and limited in its offerings. More pro tips: cell service can be spotty, so get a physical map of Newport, and leave your kid's stroller in the car, because you can't bring it in.

Built in 1895, The Breakers is the old-time home of the Vanderbilt family, who are still famous for their railroad empire. It's called "The Breakers", because you can look out over the water, where waves break against the shore. The place has been updated with air conditioning, as was Rosecliff, so is a good destination on even hot days. There you'll pick up headphones and a smart tablet for a self-guided tour. Pro tip: we realized too late that the Beneath the Breakers Tour, the wonderful "underground" tour of the boiler room, basement, and tunnels, is ticketed separately and you must pick a specific starting time. Pro tip: buy those tickets in advance because tours fill up on a summer weekend.
However, we found just the self-guided tour to be remarkably well done. The tour is intellectual enough that it's genuinely educational, while not being overloaded with facts. They have versions in many foreign languages, and also a kids' version! Unlike at Rosecliff, you can adjust the volume to suit. In every room, you have an opportunity to click for more information, or to simply continue into the next room. The directions were flawless; someone has worked hard so that even weary tourists who aren't thinking straight won't get lost in the mansion.
You may be fatigued of politics that glorify the billionaire lifestyle or reality shows about rich celebrities. But visiting The Breakers really was not like that. As much as you can be awestruck by the displays of wealth, such as Spanish leather embossed with gold, the place is as ugly as it is magnificent, and the tour doesn't glorify the Gilded Age or its billionaires as much as it simply explains its place in history. You'll see carved limestone ceilings with angels and dragons, and a fountain under the stairwell dolphins and scallop shells. You'll see a billiard room with mosaic tiles.
Taken as a whole, the mansion is overdone and garish. However, pay attention and look carefully, and you will find little delights in every nook, "Easter Egg" surprises to look for. You'll see a secret turtle and train worked into the designs. You'll see that, because electricity was not reliable back then, that the house was also piped for gas lighting. There are hidden doors cut into the walls, old timey crank telephones, and speaking tubes. Going both upstairs and downstairs, you'll wander through bedrooms, bathrooms, and a giant kitchen for throwing parties. The self-guided tour says much about women's history, and at the end of the tour, just remove the headphones if you don't want to listen to the request for a donation.
My only complaint is that the tour lacks places for visitors to sit, except two small benches. Going to Newport, especially if you take in more than one mansion and do the Cliff Walk, involves a lot of walking on a hot day, and you may get tired of standing. There's plenty of room for the occasional chair or bench to be placed, as one sees at Rosecliff. You can do the tour is only 40 minutes, or cue your device to give you details and background, staying for 90 minutes. We would have stayed longer if we could have rested. My favorite room was the 'upper loggia', a porch that looks out over the ocean. You can also stroll the grounds and look out over the water, which I believe can be done free of admission. The tour of course ends with a gift shop that goes beyond the usual baseball caps and stuffed toys to include lollipops, jello / cake molds, ceramic dishware, kids' books, salad dressings, marinades, chocolate chip cookies, and cookie cutters. You can rest your feet at the brand-new welcome center, the same place where you buy tickets if you didn't get them online, but the cafe didn't have the pricing or breadth of options to interest us for lunch.
Not having the sense to bring a picnic lunch, we went to the Bellevue Gardens Shopping Center, because it offers free parking for two hours. Then we returned to the same area for Rosecliff.
Rosecliff
Rosecliff is another of the Newport mansions, built in 1902 and used in movies including The Great Gatsby, True Lies, and Amistad. We preferred it to The Breakers, because Rosecliff is elegant but not garish or crazy overdone. Instead it's just beautiful. They also have a self-guided tour with a smart device and headphones. I confirmed that they sanitize the headphones after every use, but unlike at The Breakers there was no way to adjust the volume, which was slightly too quiet for me.
Rosecliff also has air conditioning, and thankfully for tired visitors on their feet all day, it comes with seating available throughout the tour. Pro tip: look for the air conditioning vents at floor level and stand in front of them to cool off.

It's a 30-minute tour. You'll see a remarkable grand ballroom and rooms with wood-paneled walls. Musician Cole Porter was a frequent guest in the 1920s and 1930s, and, tales tell, reworked his musical Anything Goes there. Just at the tipping point where you've had enough mansion viewing, you'll be delighted to find that the second floor has been turned into a museum! On exhibit is John James Audubon: Obsession, about the naturalist and artist who fancied birds and gave us the Audubon Society and its many parks.
You'll see museum section with hand-colored engravings by James Audubon, taxidermy of birds, and even a plaster mask casting of Audubon's face. You'll also see ladies' hats of the 1910s and feather fans. The gift shop sells ceramic vases and bowls, Audubon paintings and books, tote bags, sun hats, candy dishes, napkins, books, women's silk scarves, ties, kids' books, tea, cookie cutters, incense, salad dressing, flavored popcorn and candy treats, and even lawn ornaments and Christmas tree ornaments.

After the tour, stroll through the rose garden, the magnificent lawn that leads down to a stunning ocean view. Rosecliff is available for weddings and on weekends you'll see chairs being set up near the end of day. Once an Indian couple having their wedding arrived by elephant. Another couple arrived by hot air balloon. Having reviewed some of the highest end wedding locations in New England, I can vouch that Rosecliff is possibly the best looking!
Like The Breakers, the aging Rosecliff mansion became impossible to maintain and was donated to a preservation society.
Cliff Walk
Going back and forth to your car, the mansions, lunch, and then the beach and cliff walk can be exhausting. We walked more than six miles on our trip! So another pro tip is to use the #67 bus that runs between the mansions and the cliff walk. We couldn't quite figure it out, but I'm sure it's on Google Maps in public transit mode.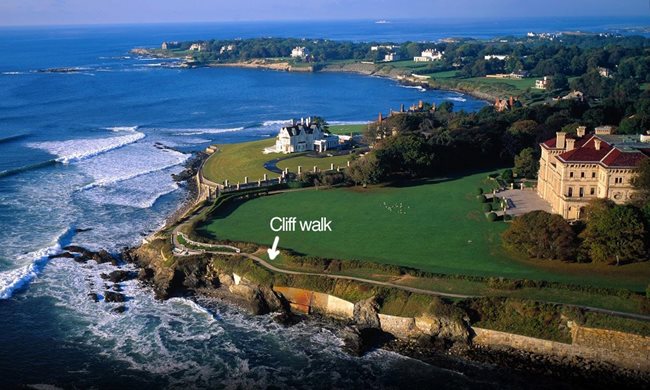 The Newport Cliff Walk is made possible by some law that says that nobody can own the ocean. So these elegant mansions don't actually run all the way down to the water. Instead they end, leaving a strip of land between oceans and mansion grounds. That strip of land is the Newport Cliff Walk. It's a 3.5-mile public walkway that has a fence on the ocean side to keep you from falling 50 feet to the water. Almost everywhere, it's wide enough for you to stop and take photos without feeling pushed from behind. Parts are handicapped access, but there are stairs everywhere.
Pro tip: Start from Marine Avenue or Ruggles Avenue, the access roads next to Rosecliff or the Breakers, and work your way north. To the south the path is too rocky and doesn't give any different views. Another pro tip: bring a blanket and a picnic lunch! There's no need for a scenic view stop, because the entire thing is a scenic view, with mansions on one side and the beautiful water on the other. But there are a few scenic stop points, including one (the end of Narragansett Ave) with public restrooms and where you can drink or fill your water bottle at a water fountains, which locals call bubblers!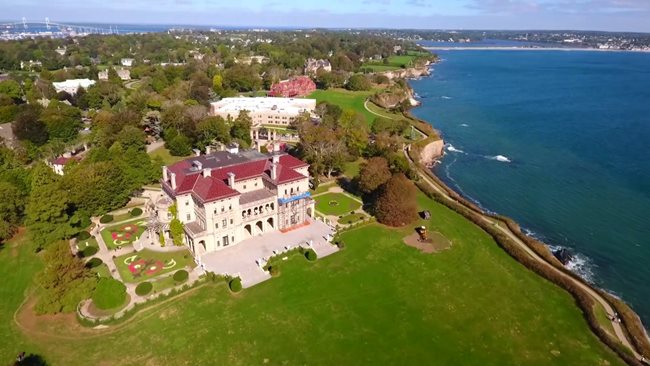 Thankfully, there are plenty of benches to just sit and relax. Look carefully and you'll also find QR codes, bar codes that you can scan to get more information about the mansions you're seeing. Or just bring up Google Maps and click on what you can see. Everywhere you'll get a nice breeze and see butterflies. Another pro tip: go on a day that is threatening (but only threatening) to rain, and the hot sun won't compete with your enjoyment. There is no shade. You'll end up at the beach, but you may choose to do what we did, which is to turn back and return to our car. The beach to the north is the obvious place to park, and so you may find it full. Instead, park as we did to the south among the street parking near the mansions.
A Beautiful, but Cautionary Tale
New England has so many historic homes from the early 18th and 19th centuries, so it's a treat to see old timey homes from the 1890s and 1900s. Visiting  the Newport Mansions is both a visual spectacle and it also makes you think. We learned delightful facts, such as the party at The Breakers where guests slid down the staircase on trays. We also heard cautionary tales. Though built as monuments, the Newport Mansions were each so complex and expensive to maintain. For example, one bathtub carved from a single block of marble looks good but, because stone drains heat away quickly, needed to be filled several times with hot water to stay heated. Ultimately the descendants gave away the "white elephants" to the preservation society. (However, there is a secret third floor closed to the public that family members still use.) 
Also, as technology advances, what once was rich is now commonplace. Speaking for myself, while I might like to have a fountain or two, I wouldn't trade living the rich lifestyle of 1895 for today's modern air conditioning, transportation, and healthcare. Cornelius Vanderbilt built The Breakers, but died at 55, shortly after investing so much of his wealth in building the place, and his oldest child Alice died at the age of 21 from typhoid, which today is easily treated. So in a sense today we are all living lifestyles of the rich and famous from 1900. We did love all the marble and gold though!
There's no better place in Rhode Island to go for a sunny walk and learn some history in an entertaining fashion. I'll give the Newport Mansions my rare 5 stars PLUS, making it a must-see. Really you have no business calling yourself a Yankee if you have not visited the Newport Mansions.
See newportmansions.org.