Muse Paintbar is a Painting Class, Party, and Night Out at a Bar (4.5 stars)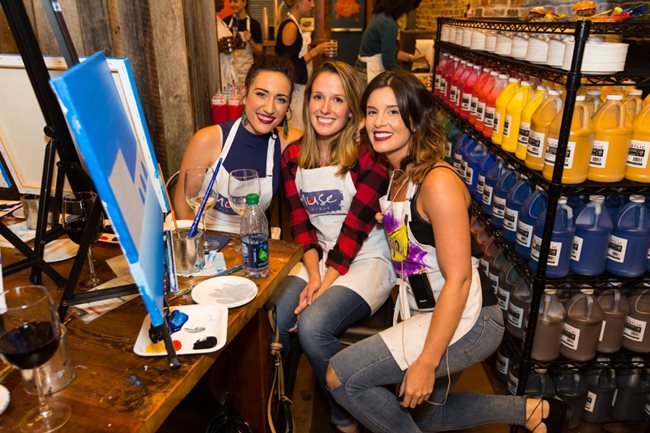 What's better than going to a bar? A painting party at Muse Paintbar, where you learn to paint in a social atmosphere that happens to serve snacks and beverages, including alcohol. Muse Paintbar has 11 locations just in New England, with more beyond, and we were grateful to be invited to their location at Patriot Place in Foxboro, Massachusetts for this review.
No experience necessary. You pay an inexpensive fee and join a class with a twist of party experience. You learn to paint with acrylics, onto either a 16″ x 20″ canvas, wine glasses, or mason jars. At the end of the class, if you like your work you can take it home with you. Admission includes a drink but of course they hope that you'll buy more. At Patriot Place, you'll find red wine, white wine, beer, and snacks including a hummus platter, chips and dip, baby carrots and dip, pretzels, chicken fingers, pizza, meatballs, and ice cream.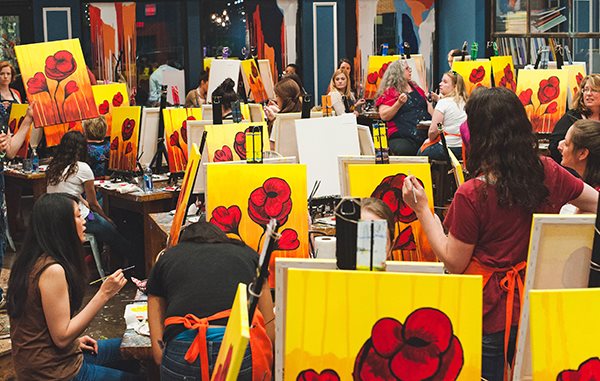 I'd just been to review PopUp Painting in London, a similar event, and am glad to say that we enjoyed Muse Paintbar more, because it was better organized and led, hosted in a space wholly dedicated to painting classes. (There is no regular bar seating.) Classes take place 7 days a week, giving you an option for a slow Monday, and allowing you to pick from their website which work you are most interested to paint. Our night, a Monday, drew more than 30 people, which only filled half of the place.
When you arrive you're given a smock and a seat at a work table with a blank canvas and palette of colors. The class alternates between instruction from a single teacher, and recent pop music as you try to paint. The class is well organized and our instructor, who thankfully had a microphone, was easily heard, painting each step along with the class, unlike our recent experience making pottery in Brookline where the instructor dumped 10 steps on us before we touched the clay. Each of the example paintings hung on the walls is a careful balance of an interesting topic but not too advanced for beginners in a single evening's class. Muse Paintbar is meant for those with no experience, and while you can buy a 3-pack of classes or more at discount, they don't seem to have a track for advancement to students with experience wishing more difficult paintings.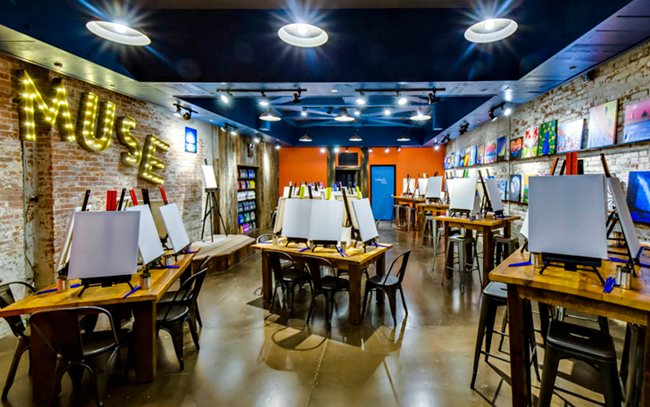 Our instructor was encouraging and clear. At 30 people, the class was large for a single instructor, but she did find time to visit and speak with us multiple times, even taking a moment to paint a flourish we couldn't quite handle on our own. She had experience with the class's target artwork, giving clear instructions including funny names for some of the brush strokes. Her colorful and helpful descriptions of what to do, and upbeat attitude helped keep us going. She gave help that was useful, instead of just saying "looks great, keep going" to everyone. That being said, she seemed to be someone who teaches a lot of children, from her sing song encouragement that could come across a bit hollow or condescending to an adult. And she took it personally, not hiding her reaction, that my guest and I chose to paint our own topics, even though she'd begun the class telling us that we could paint anything we liked. (The water view that the rest of the class painted didn't hold personal resonance for us, and if your amateur (i.e. bad) artwork can't at least hold personal meaning, why keep it?) Meanwhile, her one assistant mainly stayed behind the bar to serve drink orders. Thankfully, she didn't walk around pressuring us to buy drinks.
You paint with acrylics, which won't wash off clothing easily, but isn't hard to keep from dripping. Still, put on a smock when you arrive — get an adult-sized one, not a kids' smock. Our Muse location had paint everywhere: covering the tables, flecks on the floor, and on both front and back of smocks. We wondered how often the smocks get cleaned. Muse is open 7 days a week for at least one course, but that keeps it closed much of the day. (I've often been surprised walking past seeing it closed; just one or two students an hour would keep the place open all day, you would think, and having it open for browsers to walk in would advertise the classes better than leaving the lights off for people to peer inside and wonder what it is.)
Of course you can rent out the space for a private party. The whole thing was 2 hours including a break to let the acrylic background dry before painting on the foreground. At the Patriot Place location, parking is free, but note that big events in Gillette Stadium may complicate your arrival. Their public events are open to children as well as adults, but it seemed to be mainly young adults with their friends or with a parent.
We learned a lot, such as how to plan the background first, let it dry, and paint a foreground. And that it's okay to rest your hand on dried paint to steady your grip for precise strokes. Our instructor brought over a tinier brush on request and even painted part of a flourish that we couldn't quite handle. Unlike pottery night at the Brookline Arts Center it was a full service experience that we neither had to set up nor clean up. I was surprised they didn't try to upsell us a second course or a frame for our paintings — an easy way to make more money, I would think. Seating was more cramped than at PopUp Painting, restricting us a bit from socializing in our group, between groups, and getting up to order drinks. The bathrooms were clean and arty.
While I could think of ways to improve the event — increasing the party atmosphere, encouraging groups to socialize with each other, a certificate of accomplishment, offering glow-in-the-dark paint, silly "awards" such as most kooky or most colorful, more audience interaction with the teacher, or giving attendees easy ways to personalize the given artwork (for example, bring their own sunset photo to paint, or adding text, stickers, glitter, or other bling to their work) — the event was easy, inexpensive, lets you bond with the friend or date you bring with you, and you get to keep something to remember the event. It's a good value and fun night out. 4.5 stars.
To find a Muse Paintbar near you, see musepaintbar.com.