Mooo… Restaurant, a Steakhouse, is a Celebration of Wealth, For What It's Worth (4 stars)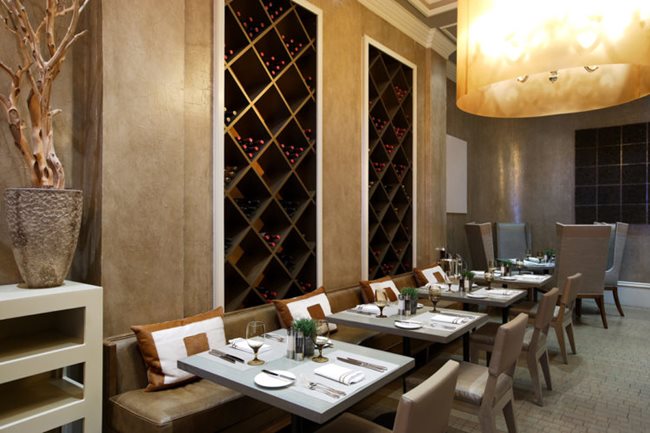 Mooo Restaurant, or just "Mooo…" is a Boston steakhouse that's part of the XV Beacon Hotel, on the left when you enter the lobby. Just walking into Mooo is breathtaking. You stop for a moment and think, wow, what is this place? It creates a mystery that goes beyond the striking first visual impression, and keeps you thinking. It's a single color theme, a neutral beige, with tree branches styled as trees, a floor of real cobblestones, and recessed lighting and covered chandeliers covered giving the place a dim glow. Thankfully, it's dark enough to create intimacy, but not oppressively dark.
Despite its name, Mooo Restaurant is not full of humor, though it has touches of surrealism. The only concession to the name, Mooo, implying cows, implying steakhouse, are the dappled, cow-patterned lounge pillows and the abstract, close-up photographs of cows on the walls. Near its entrance you'll find luxurious, rounded couch seating, and a long, full bar of light sandstone with a glass top, with pottery on display. Towards the back are standard tables and chairs. They call it classic, yet modern, and the bartender told me that Mooo tries to remain themeless, having their own unique style. They serve breakfast, lunch, dinner, and Sunday brunch to 65 seats at 22 tables.
The music changes between upbeat, ambient euro chic to old jazz, and it's not too loud to talk with your friends. Sundays, they host a live performance jazz brunch. Seasonally, they can seat you on the hotel's roof deck, and downstairs, below the restaurant, they have function rooms called "parlor suites", one of which is a wine cellar, an entire room of wine racks with a high vaulted ceiling and ancient Roman tiled mosaic wall. It's a working wine cellar, a private museum of wine, with some rare specimens. I don't even drink alcohol, but it's visually fascinating. The entire hotel was formerly the private home of Edward Bromfield, an early 18th century merchant, and a cornerstone from 1722 and some of the foundation is preserved there on the basement level.
The service at Mooo is clairvoyant. They know what you want even before you do. The marketing manager asked if I'd like to check my coat, and her associate overhearing this offered me a ticket and took my coat without being asked. As I was speaking into my recorder making notes, trying to figure out which dishes on the menu I'd just ordered, my server used his pen as a pointer and showed me, without being asked. There were a couple of times that my server asked "Do you need anything?" but said it in such a conversational way that I forgot for a moment that we were not actually having a conversation. He was just checking in.
At your table you'll find an ice bucket for chilling wine and a small lit candle. Get a table with high-backed chairs, which are comfortable for settling in and relaxing.
Mooo has perhaps the largest wine menu that I've ever seen, some 20 pages. The wine menu is so large that it has a table of contents. I can't even summarize it in a short review, except to say that you'll find any wine you can think of, from expensive to so expensive that you would only buy a glass to show off. You can also order cocktails and beer. I tried a "mocktail", but its mint taste was too intense, and the expensive drink in a small glass was mostly ice. (Then I ordered a lemonade off the menu, which was good but also mostly ice.)
The dinner menu at Mooo is one large page that includes salads and appetizers including calamari, escargot with red wine, steak tartare with quail egg, oysters, and "Mooo Meatballs". Then you'll find 16 kinds of steak, including Australian and Japanese varieties, Mooo specials including Rack of Lamb and, Wiener Schnitzel, and seafood Shrimp Scampi and Linguini and New England Littlenecks (also known as quahogs: hard-shell clams). Ask your waiter whether your meal comes with sides, or whether you'll want to order some separately from the menu's variety of sides and starches that include Brandy & Butter Mushrooms, Foraged & Exotic Mushrooms, onion rings, and Maine Lobster Mac & Cheese.
Without my needing to ask, a server brought Parker House rolls with seaflake salt, which come in a cast iron pan straight from an oven. Just the smell is invigorating, and they were so soft and so warm, though too buttery even without adding butter.
I tried the Japanese Wagyu Beef Dumplings appetizer. If you're used to Chinese pork dumplings, or pot stickers, then you're used to the meat being a bit mysterious and easily separating from or even falling out of the doughy shell. The Wagyu Beef is something entirely different. As with Kobe beef, the farmers raising Japanese cows in a special tradition, which doesn't really include feeding them beer and giving them massages, although it's a nice story. The dumplings come decoratively presented on a large circular plate with a tiny bowl in its center. It's not fried, but rather so doughy that it has a chew to it, and the beef is perfectly homogenous, smoother, better integrated, with scallions. My waiter told me that its hard-to-describe taste is umami.
Take a moment to admire and take in a whiff of the main meals before eating. The Broiled Maine Lobster comes already shelled in a metal cooking pan, with autumn vegetables including potatoes, stewed tomatoes, and onions. I found it a bit chewy but appreciated not needing a cracker and bib. The Creekstone Farms Prime Ribeye is served simply, on a round white plate, with 12 oz being more than enough of a portion size, although larger cuts are available. Although you can order a side sauce, none is needed. The steak had some char, but it also had a hearty protein taste. You want some fat in your cut of meat because that's what adds some of the flavor, but to me, this choice of steak was too fatty. The fat wasn't gristle, though, but smooth.
My favorite dish at Mooo Restaurant was the "Mooo… Side Flight". It's a sampler that includes truffled parmesian fries, creamed spinach, whipped Yukon gold potato, and roasted brussles sprouts. It comes on a long, natural wood board, in a large size for sharing. The creamed spinach is so smooth and cooked thoroughly. It melts in your mouth. The mashed potatoes are whipped to perfection.
For dessert, selections include a Cheese Plate, an Apple Walnut Tart, Bananas Foster (caramelized with rum sauce and sponge cake), and a pumpkin cheesecake (surely a seasonal fall option). I tried the Valrhona Chocolate Cake. It comes with a tiny scoop of high-quality vanilla ice cream, good enough to remind you that vanilla is actually a flavor, on a bed of chocolate powder that is a stunning presentation and taste. The chocolate cake glistening with icing was too dense and dry for me. Eat it in small bites, alternating with drinking water.

If you're having a private function, Mooo has an icing printer that can literally print your corporate logo or birthday message onto food such as a sugar cookie. They brought out a sampler of this. I liked that the sugar cookie was not sweet, allowing its sprinkled sugar crystals to give it sweetness. The strawberries dipped in chocolate with blue sugar crystals were fresh and had a nice crunch to them.
I'm conflicted about Mooo Restaurant, or "Mooo…". The name suggests that they don't take themselves seriously, but the menu pricing and food terms are very serious. I had a friend once who was a museum curator and who admitted that a lot of art is how you talk it up. We feel guilty if we don't "get" artwork. Well, it's true that with more education, you might get more nuance from art. But it's also true that if a piece of art doesn't move you, then it's either the fault of the artist for not being accessible — or it might even indicate that beyond there's no substance behind the jargon, an "Emperor's New Clothes" situation.
Going to an upscale restaurant can also be inaccessible. There's nothing wrong with style over substance, if you enjoy the show, but Mooo's style didn't have a thematic direction. The atmosphere and decor at Mooo intentionally avoid being pigeonholed, and it is indeed unique, but (except for the wine cellar, a private function room) the neutral colors aren't a bold enough style to create a replacement theme. I didn't sense a central personality that tied the menu, decor, and service together, except a desire to look wealthy and exotic.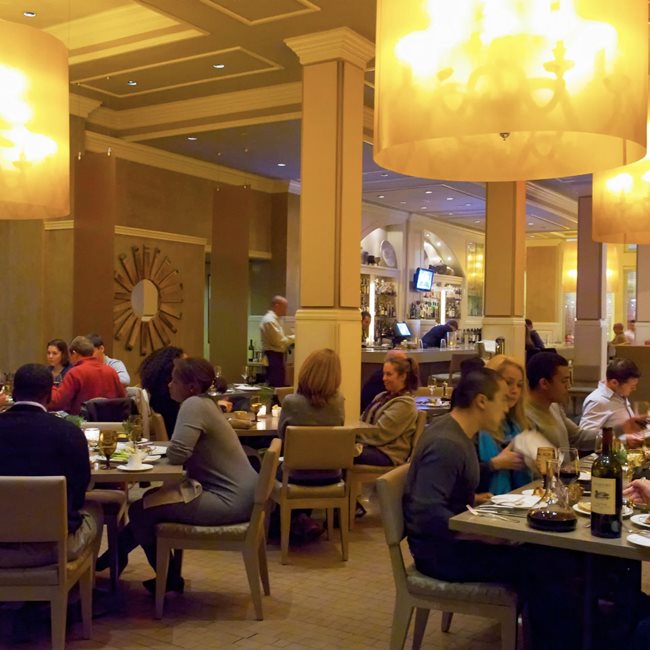 It even made me a bit uncomfortable at times. Part of the thrill of a fancy restaurant is nodding your head like you know what branzino is, and pretending with your friends that you are rich for an evening. I enjoy being called "sir" occasionally. But what kind of self-involved jerk would I need to be to enjoy waitstaff being servile, obsequious? Even my appetizer came in a covered dish with a little ceremony of taking off the cover. Okay.
Mooo's dishes have excellent presentation, but for these prices, I thought the food was pushing too hard to be fancy (bone marrow butter? rubbing rosemary on my steak?) rather than providing superior value. Science has shown that even experts can't tell niche wines apart, and the people of substance that I want to associate with would be more impressed if instead of buying a $1,000 bottle of wine that you gave that money to charity. (And maybe we shouldn't fetishize alcohol, which kills 88,000 every year in America, more than the opioid epidemic we take so seriously.)
You can see on Events INSIDER that our reviews tend to be generous. We don't take an ego trip from criticism. Mooo is undeniably an excellent restaurant, but at this pricing, expectations are higher. Their meals should have been accessible and perfect, and weren't quite, compared to for example The Essex. Their atmosphere seemed constructed rather than coming from the heart. I'll give Mooo Restaurant a solid 4 stars.
Coming up, for Thanksgiving, they serve an All Natural Whole Roasted Turkey Breast & Thigh, with traditional stuffing, cranberry sauce, autumn vegetables, and gravy, but their holiday menu is otherwise the same.
For more, see Mooo Restaurant online.